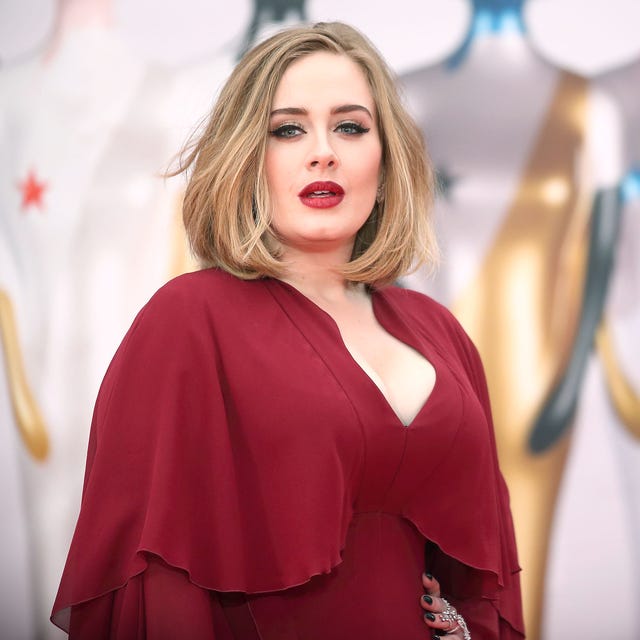 Mike MarslandGetty Images
"There's only one of you, so why would you want to look like anybody else?" Adele famously once said.
The 33-year-old is often hailed as one of the UK's greatest talents; a multi-award-winning singer who has captivated the world with her incredible voice and moving lyrics. She's got more Grammy Awards than we care to count and has even won an Oscar, for the Bond soundtrack Skyfall. But she's also been known to have a scene-stealing red carpet moment, too.
While the songwriter doesn't attend events hugely regularly, when she does, she does so in style, often working with designers – like Christopher Bailey, when he was designing for Burberry, or Riccardo Tisci during his time at Givenchy – on beautiful bespoke looks. Adele once joked that she's "like Johnny Cash" because she "only wears black" – and, while there's certainly a lot of the classic shade in her repertoire, she's also not afraid to embrace colour when the time calls for it.
From Valentino sequins to Giambattista Valli ruffles and glittering Armani Privé, we look back at 10 of Adele's greatest fashion moments – from red carpet to stage.
1 of 10
2016 – The Brit Awards
Adele took to the stage during the 2016 Brit Awards to both perform and collect multiple awards, wearing this playful sequinned Valentino dress.
2 of 10
2012 – The Grammy Awards
The singer showed she meant serious fashion business at the 2011 Grammys in this glittering Armani Privé gown.
3 of 10
2016 – On tour
For her 2016 tour, Adele collaborated with Burberry's Christopher Bailey on this striking sequinned dress which sparkled in different colours under the stage lights.
4 of 10
2017 – The Grammy Awards
Adele impressed in not one, but three Givenchy looks at the 2017 Grammys, the first being this elegant sage green design.
5 of 10
2017 – The Grammy Awards
She then appeared on stage in her second Givenchy look, which featured a brightly coloured bodice and pleated skirt.
6 of 10
2017 – The Grammy Awards
She rounded off the night by performing in a black Givenchy gown with its dramatic fringed cape and sleeves.
7 of 10
2013 – The Grammy Awards
For the 2013 Grammy Awards, Adele opted for this ladylike Valentino design, featuring pink and red floral lace.
8 of 10
2013 – The Oscars
Adele chose British designer Jenny Packham for her big Oscars moment, collecting her gold statue in a gown covered in delicate embellishment.
9 of 10
2016 – The Brit Awards
Adele embraced colour at the 2016 Brit Awards, walking the red carpet in this flowing Giambattista Valli dress with gently cascading ruffles.
10 of 10
2016 – The Grammy Awards
The singer was classically elegant at the 2016 Grammy Awards in black Givenchy.
Advertisement – Continue Reading Below
This content is created and maintained by a third party, and imported onto this page to help users provide their email addresses. You may be able to find more information about this and similar content at piano.io