When asked to name their top three beauty essentials, most dermatologists and makeup artists will list a quality SPF for your face among their picks, and with good reason; sun exposure is considered to be the primary cause for premature skin aging, with many experts holding it responsible for up to 90% of damage (the other 10% is widely thought to be down to genetics).
SPF has the capacity to protect from sun damage, skin sagging, and wrinkles, so take sunscreen selection seriously before heading to the beach or vacation. This essential layer also serves as the foundation of your everyday makeup look, making it one of the most important aspects of your daily skincare routine. 
While full sunscreen creams are important for holidays, don't think SPF usage should be reserved only for sunny, bright, arid, desert-like days; this essential daily skincare product should be applied every day, whatever the forecast. And, much like choosing an outfit that can stand up to changeable weather, when it comes to choosing the best sunscreen for the face, several decisions come into play: tinted or clear; cream or gel; mineral or chemical? 
We tested the top choices across the market to see which facial sunscreens offered sufficient protection as well as comfort for consistent daily wear. From premium options to affordable alternatives, this collection includes something to suit every skin concern and budget. 
How to choose the best facial sunscreen: key terms to look out for
Before we dive into our list of best facial sunscreens, we've summarised some of the terms that you'll invariably see on the packaging—we want to help you make the best-educated decisions for your skin and sun-safe routines, after all. 
UVA: The ultraviolet rays responsible for skin aging and skin cancer/ melanoma (think "A" for "aging")
UVB: The ultraviolet rays responsible for skin reddening and burning (think "B" for "burning")
SPF: Refers to the Sun Protection Factor, and only determines protection from UVB rays. Dermatologists widely recommend using SPF 30 as a minimum 
PA: The Protection Grade of UVA is measured via plus signs (+)—the more pluses, the better the protection
Broad spectrum: Absorbs or blocks both UVA and UVB rays
Chemical sunscreen: These widely-used formulas contain chemical compounds that transform UV rays into heat that is then released from the skin
Mineral sunscreen: Contain natural reflectors, such as zinc oxide and titanium dioxide, that physically block the sun and reflect UV rays away from the body
Reef-safe: According to Save the Reef, this is any sunscreen product with ingredients that "aren't on the HEL List"
The best sunscreen for the face, as chosen by beauty experts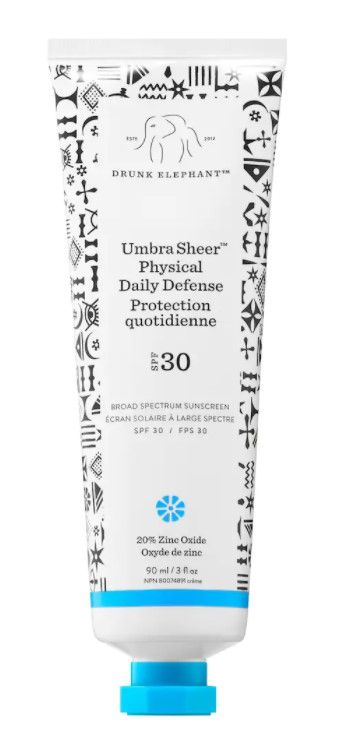 Loved by women of all ages with different skin types, this SPF is a universal favorite. As the name suggests, this ultra-sheer physical sunscreen is super lightweight. This formula goes on smoothly and, as well as protecting the skin from the sun's harmful rays, targets fine lines and wrinkles, dark spots, dullness, and uneven texture. 
Formulated with sunflower shoot extract, rich algae extract, and raspberry seed oil, this powerful zinc oxide broad-spectrum SPF defends against damage and external environmental aggressors. And, as this SPF is also fragrance-free, it's ideal for sensitive skin and those who avoid chemical sunscreens.
With clean ingredients and plenty of product for the price, it's a no-brainer.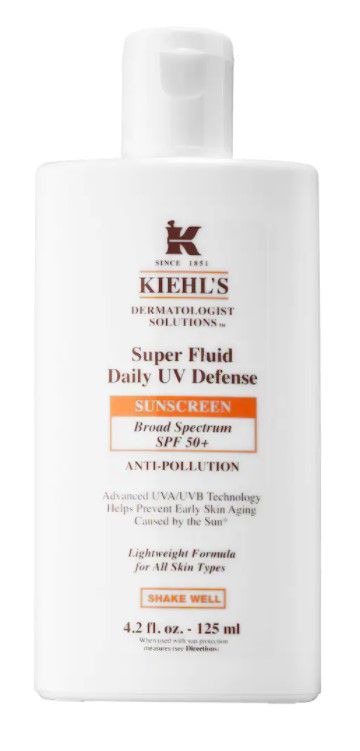 When it comes to the best sunscreen for oily skin, we turn to the skincare experts at Kiehl's for one that delivers on multiple fronts. This particular product is lightweight, fast-absorbing, and boasts SPF 50+ for true protection. It delivers a matte finish, which can be beneficial under makeup, and for those with oily and acne-prone skin.
This offering is formulated with skin-benefiting vitamin E, to minimize the look of pores, as well as your classic chemical sunscreen actives that help protect your skin from UV rays. As it contains oxybenzone, a chemical that's been known to bleach coral, this product is rendered non-reef safe so can not be shipped to Hawaii. Otherwise, in more urban settings, this non-comedogenic sunscreen is super comfortable for daily wear.  

Perhaps the biggest multitasker of this collection, Tula Protect & Glow Daily Sunscreen is packed with powerful probiotic extracts to balance out your skin and deliver beneficial results. It also tackles blue light and pollution. 
We love this sunscreen because it doesn't have that white tint many SPFs leave, and for how glowy our skin looks after application. This sunscreen's sheer coverage won't overwhelm your skin either, and while we feel it's best for drier types, those with acne-prone skin can also benefit—as it's non-comedogenic, there's no risk of this product clogging pores.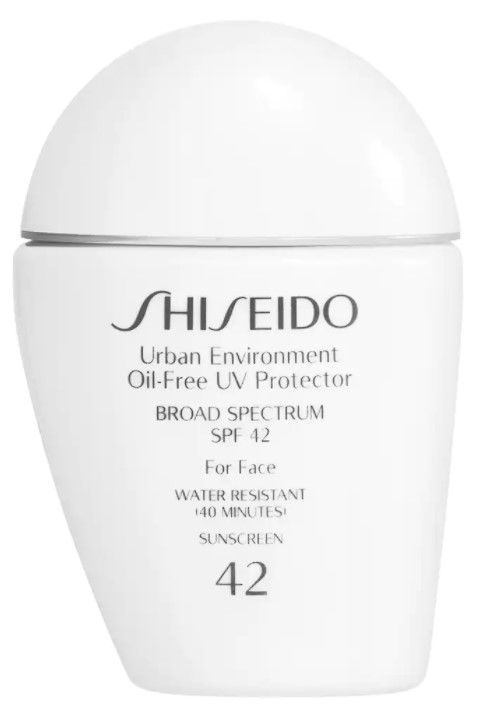 This ultra-light sunscreen is water—and sweat-resistant, making it ideal for summer days at the pool, afternoons at the park or just anywhere you expect to get major UV exposure. This lightning-fast absorbent formula is not only feather-light, but it also works double-duty to eliminate excess oil and reduce the appearance of pores—in the same way a makeup primer does. The formula layers well and preps skin for the best foundation you have on hand, producing a really even finish. 
The bottle might be small but, as a little bit of product goes a long way, it will last quite a while. We recommend giving the bottle a good shake before application and using your fingers to blend the product in properly over your face as it contains zinc oxide. And, something to note if you're planning to undertake any ocean water sports: this sunscreen lists octinoxate as its first chemical active, meaning it's not allowed to be shipped to reef-conscious states such as Hawaii. 
On the upside, its antioxidant-rich formula—of rose apple leaf extract and thiotaurine—has been tried and tested against the big-city pollution and free radicals of Tokyo (where the product was developed), meaning it's ideal for daily use in urban areas.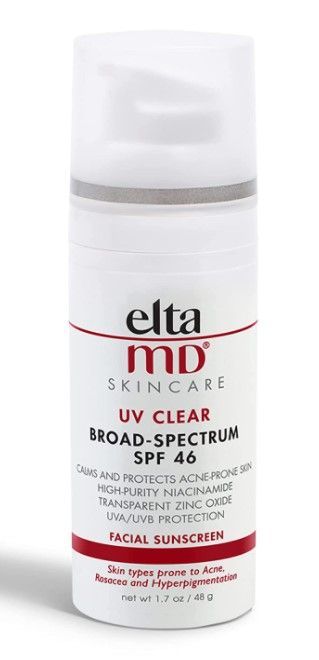 From the broad-spectrum protection to the fact that it goes on clear with no white cast, there's little to nitpick about this dermatologists' go-to. We love an effective mineral-based formula—zinc oxide doesn't irritate skin—and the lightweight texture is a bonus. 
Whether worn alone or under makeup, this powerful formula won't trigger any flare-ups for those prone to redness and rosacea, meaning it's also gentle enough to shield vulnerable, post-procedure skin from UV exposure. 
This product's weightless consistency absorbs quickly and delivers a barely-there finish that's virtually undetectable unless you want it to be—yes, this facial sunscreen is available in both tinted and regular versions.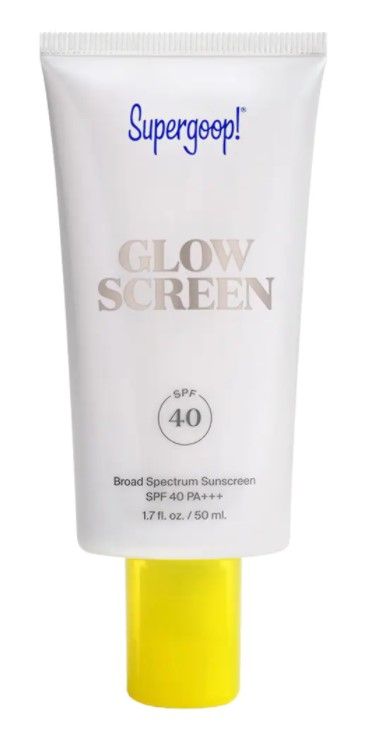 This do-it-all SPF product protects your skin from sun damage, while also working as a makeup primer that virtually retouches your skin (yes, it actually reduces the appearance of wrinkles, fine lines, and pores). As you might have gathered from the name, the formula is also hydrating and glow-inducing, and serves as the ideal barrier between your skin and makeup—it has a gripping effect that helps keep cosmetics in place all day. With the help of crowd-pleasing ingredient hyaluronic acid, it also boosts moisture for a plumped, hydrated effect.
Reviewers love this sunscreen; lightweight and easy to apply, it creates a dewy finish (rather than leaving a white cast). It isn't, however, ideal for use on oily skin, as it can skew towards greasy if you already suffer from a shiny T-zone. There's an added bonus too: if you're a work-from-home veteran, this SPF's blue-light-blocking properties protect your skin during long hours in front of a screen.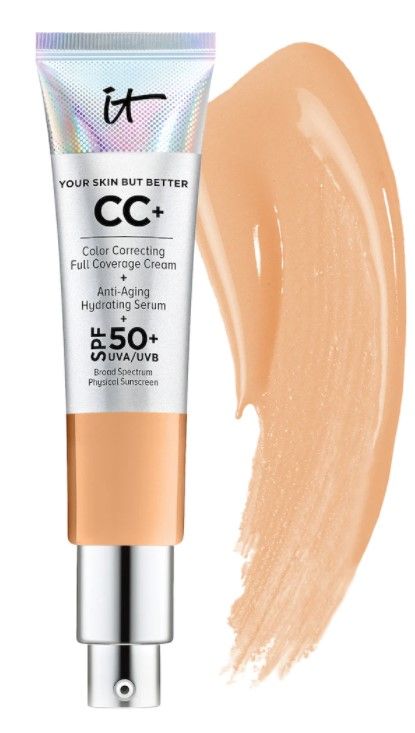 If you are a full-coverage foundation wearer on a daily basis, and are looking to combine your SPF with your base products, then the industry-famous IT Cosmetic CC Cream is for you. With SPF 50 and borderline perfect coverage, this CC cream is a physical mineral sunscreen that delivers a flawless, airbrushed-looking finish, while not scrimping on other skincare benefits either.
Packed with collagen, peptides, and hyaluronic acid, this formula enhances elasticity and locks in moisture to diminish the look of fine lines and wrinkles. Niacin helps the fight against hyperpigmentation too, so those prone to (or paranoid about) dark spots can rest easier. 
This formula blends easily and delivers complete coverage and sun protection, without feeling heavy on the skin—something we would expect from a regular BB or CC cream. Our only gripe is that this could do with a far more extensive shade range—a full-coverage offering should have more than 12 skin tones in its roster.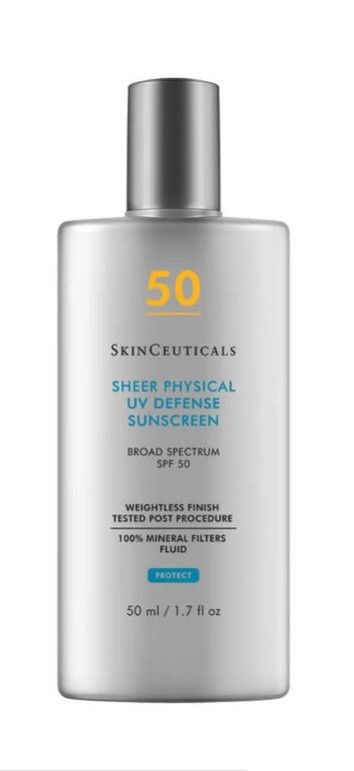 This offering from elite skincare brand Skinceuticals has been quietly yet confidently making its way onto "best-of" roundups in terms of suncare. Sheer Physical UV Defense has been slaying the competition: the impressive SPF 50 doesn't leave a white cast, which is all the more impressive when you know this sunscreen is completely mineral-based.
Sensitized, aging, and hyperpigmented skin types will appreciate the non-reactive components of this 100% mineral filter sunblock. The addition of artemia salina—a plankton extract that boosts skin's natural reaction to UV, heat, and environmental stress—amps up the protection offered by the silky liquid. Long-term fans have been quietly using this product on their dermatologists' recommendation for years, and now it seems the secret's out!
Sunscreen essentials: what you need to know about sun-safe skincare today
There's more to sunscreens than acronyms and packaging symbols. Many people still don't fully recognize the damage that the sun can do to the skin, thinking that applying any SPF, even a factor 8 or 15, is satisfactory protection for a day on the beach. The fact is, that's really not the case—something that becomes clear when you begin to understand the nitty-gritty (and maths) behind those SPF figures, for example.
The Australian Academy of Science explains clearly what SPF numbers actually signify—specifically, how well the sunscreen protects against burning. This is calculated by measuring the time (in seconds) it takes for skin to slightly redden when covered in sunscreen, divided by the time it takes for it to slightly redden without any protection. So, if it took 300 seconds for skin to burn with sunscreen, and 10 seconds to burn without it—300÷10—a sunscreen would carry an SPF 30. 
Apply and reapply regularly. And remember, it's not just sun-loungers in the midday sun that your skin needs protection from; broad-spectrum sunscreens now also work to protect against the blue light that's associated with screen time and smart tech, as well as free radicals that can be caused by pollution and urban environments. That's right, you need sunscreen at your desk and in cities, too. 
But, that said, some sunscreens are no longer able to accompany you beyond the cities you live in to protect you during your coastal vacations. In order to protect their coastlines and underwater habitats, some parts of the world have committed to sunscreen bans on chemical sunscreens—and some mineral ones—that contain ingredients that aren't considered reef-safe. 
At the moment, Hawaii, Key West (Florida), Palau, Rivera Maya (Mexico), Los Cabos (Mexico), Bonaire, Aruba, and the US Virgin Islands have sunscreen bans that don't allow the delivery or sale of particular products to their region. Before you travel, it's good to be aware of this. By all means, enjoy the water and your favorite watersports, but use reef-safe, mineral sunscreens to protect the local environment while you do. 
We expect we'll be seeing more of this in other places in the future, so why not get ahead of it now, embrace the science-backed skincare, and choose products that help alleviate damage to our oceans.