If rock and roll has a high priestess, Stevie Nicks is it. In 1975, the singer-songwriter joined British blues band Fleetwood Mac, her otherworldly songwriting and mystical stage presence elevating them into one of the most legendary rock groups of all time. Known for her pop sensibilities and literary lyrics, Stevie is the woman behind some of Fleetwood Mac's most beloved songs, from the wistful "Landslide" and spellbinding "Rhiannon" to the eternal "Dreams." On top of her work with Fleetwood Mac, Stevie also forged a wildly successful solo career, being proclaimed the "Queen of Rock and Roll" by Rolling Stone and becoming the first woman to be inducted into the Rock and Roll Hall of Fame twice.
As a rock icon of such stature, Stevie's also crafted an utterly singular sartorial style, one that embodies the mysticism of her work and enhances her larger-than-life stage persona. Described by the singer, herself, as "something urchin like out of 'Great Expectations' or 'A Tale of Two Cities,'" Stevie's signature look takes in layers of chiffon and lace, theatrical top hats, velvet platform boots, celestial jewellery and a collection of shawls that numbers in the hundreds. Almost five decades since her debut with Fleetwood Mac, Stevie's style legacy continues to inspire and enthrall, influencing fashions both on and off the runways. Despite its distinctiveness, Stevie's signature look has also evolved over the course of the last half-century, taking in trends from the 80s, 90s and beyond, while maintaining the singer's ethereal vibe. Here, to celebrate the icon's 73rd birthday, we chart her style evolution from the 70s to today.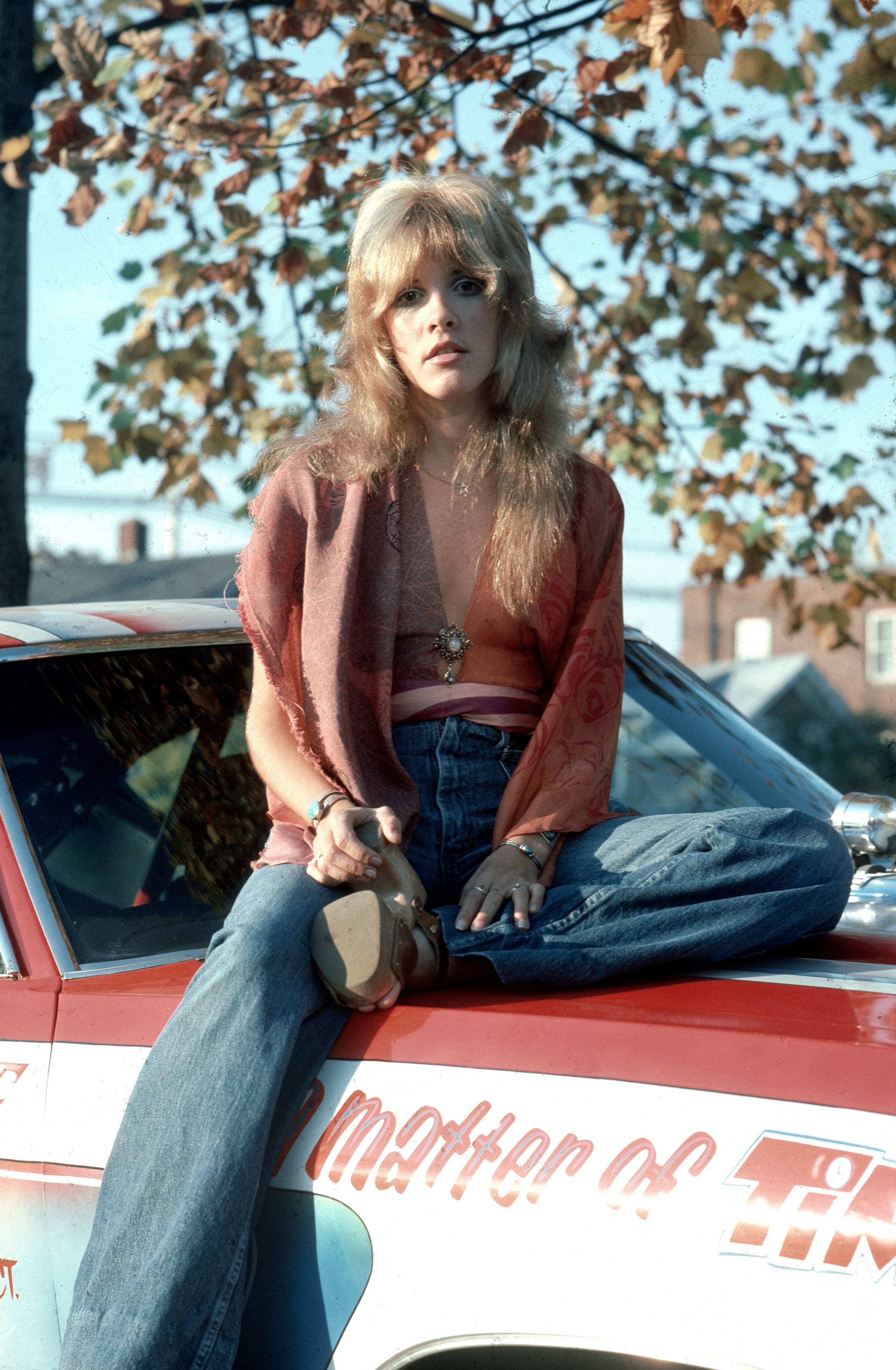 Photo by Fin Costello/Redferns
During a promotional photoshoot for Fleetwood Mac, 1975
In 1975, American singer-songwriter Stevie Nicks — alongside then-boyfriend and musical partner Lindsey Buckingham — joined British blues band Fleetwood Mac. The addition of the duo would not only transform Fleetwood Mac into an intercontinental group, but into the legendary rock band it is today. To the group, Stevie brought a much-welcomed pop sensibility — one that brought the band's formerly blues-y sound into soft rock territory — and a catalogue of some of Fleetwood Mac's most beloved songs. Written by Stevie in 1972, prior to joining the group, rock-pop bop "Rhiannon", along with the band's self-titled 1975 album, launched Fleetwood Mac to international fame. The album reached the top spot on the US Billboard 200 and was certified seven times platinum. Here, a few months after the album's launch — but before the kick-off of the album's tour — Stevie wears a very 70s outfit: sunny orange halter top with the era's ubiquitous bell bottom jeans. Although Stevie's signature shawl makes an appearance here, this colourful, early-career get-up is a far cry from the witchy look Stevie is now known for.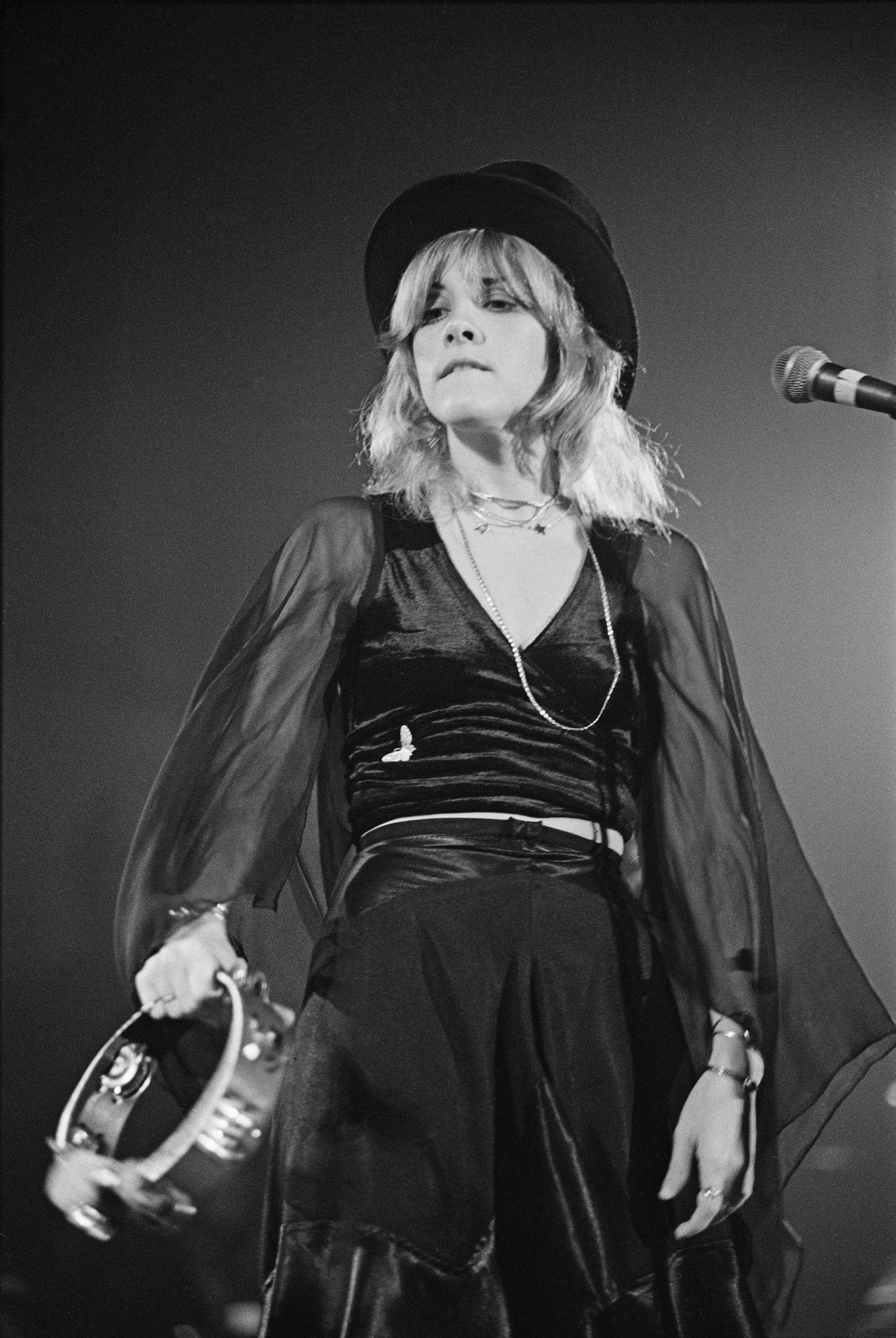 Photo by Fin Costello/Redferns/Getty Images
Performing with Fleetwood Mac, 1975
Did you know that Stevie's signature layered-and-draped look was originally engineered to counteract early-career stage fright? In 1975, before the kick-off of her first tour with Fleetwood Mac, Stevie consulted friend and designer Margi Kent to create her shrouded on-stage ensembles. Of the concept behind the look, Stevie told The New York Times, "I'll be very, very sexy under 18 pounds of chiffon and lace and velvet. And nobody will know who I really am." Together, Stevie and Margi came up with a rotation of leotards, chiffon blouses, jackets, maxi skirts and boots, which would become Stevie's stage uniform. Here, performing on Fleetwood Mac's 1975 tour, she wears an outfit from that very rotation: velvet-and-chiffon cache-coeur top and a satin skirt, accessorized with a top hat, layered necklaces and her tambourine.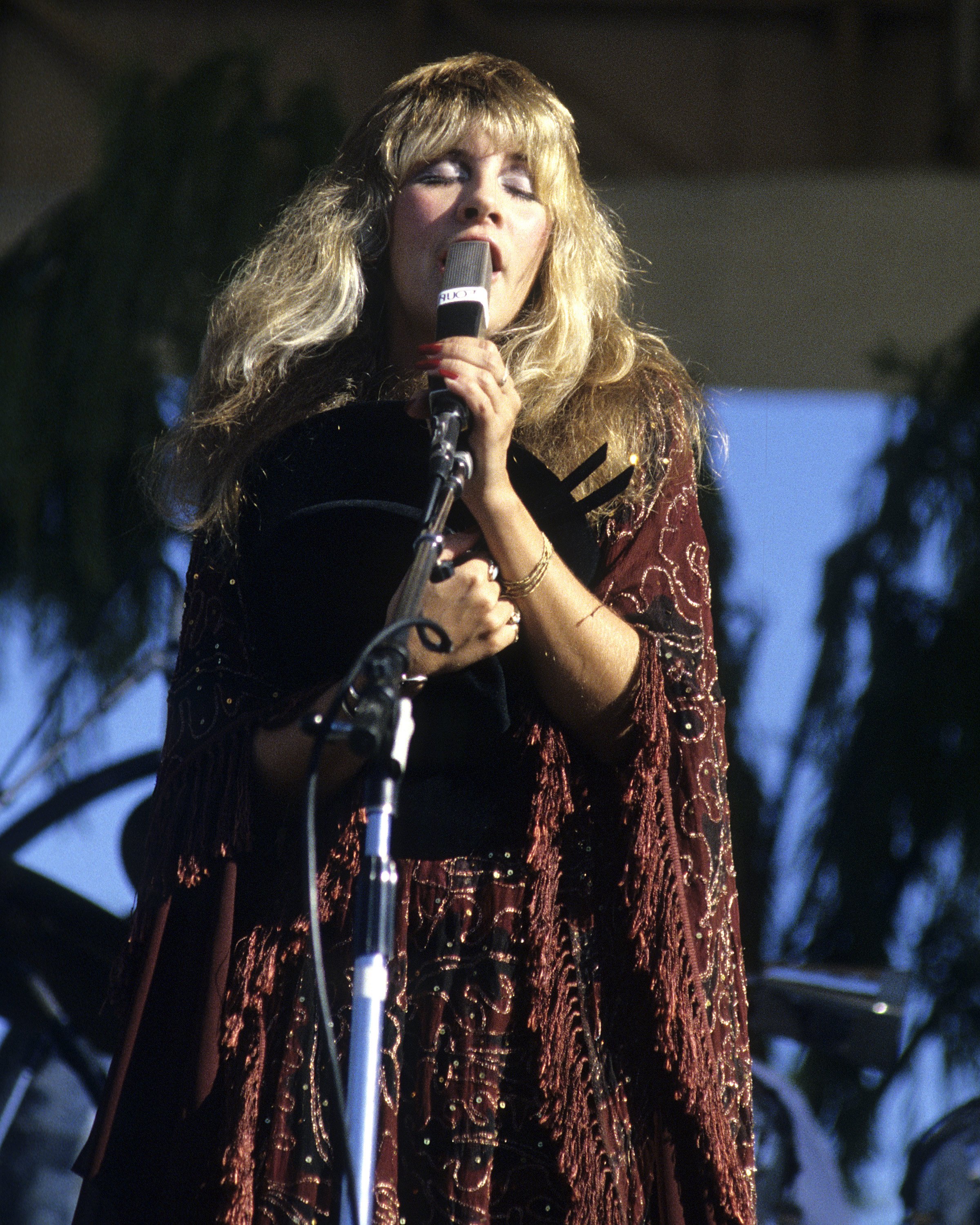 Photo by Larry Hulst/Michael Ochs Archives/Getty Images
Performing with Fleetwood Mac, 1977
Nothing epitomizes Stevie's style — both past and present — more so than her signature shawl. In fact, Stevie wore, and still owns, a whole collection of the cape-like toppers. In 2009, the singer told The New York Times that she keeps her shawls in a temperature-controlled vault, joking, "I'm trying to give my shawls away — but there's thousands of them. If I ever write my life story, maybe that should be the name of my book: 'There's Enough Shawls to Go Around.'" Without question, the glorious, billowing accessories are an integral part of Stevie's stage persona, enhancing the mystical aura that surrounds her performances. Of her collection, numbering in the thousands, Stevie's most iconic shawls are definitely the black-and-gold one, which accompanied her Bella Donna era, and this spangled burgundy number, first worn during Fleetwood Mac's Rumors tour. Stevie still pulls both of these styles out of the vault to accompany her performances to this day.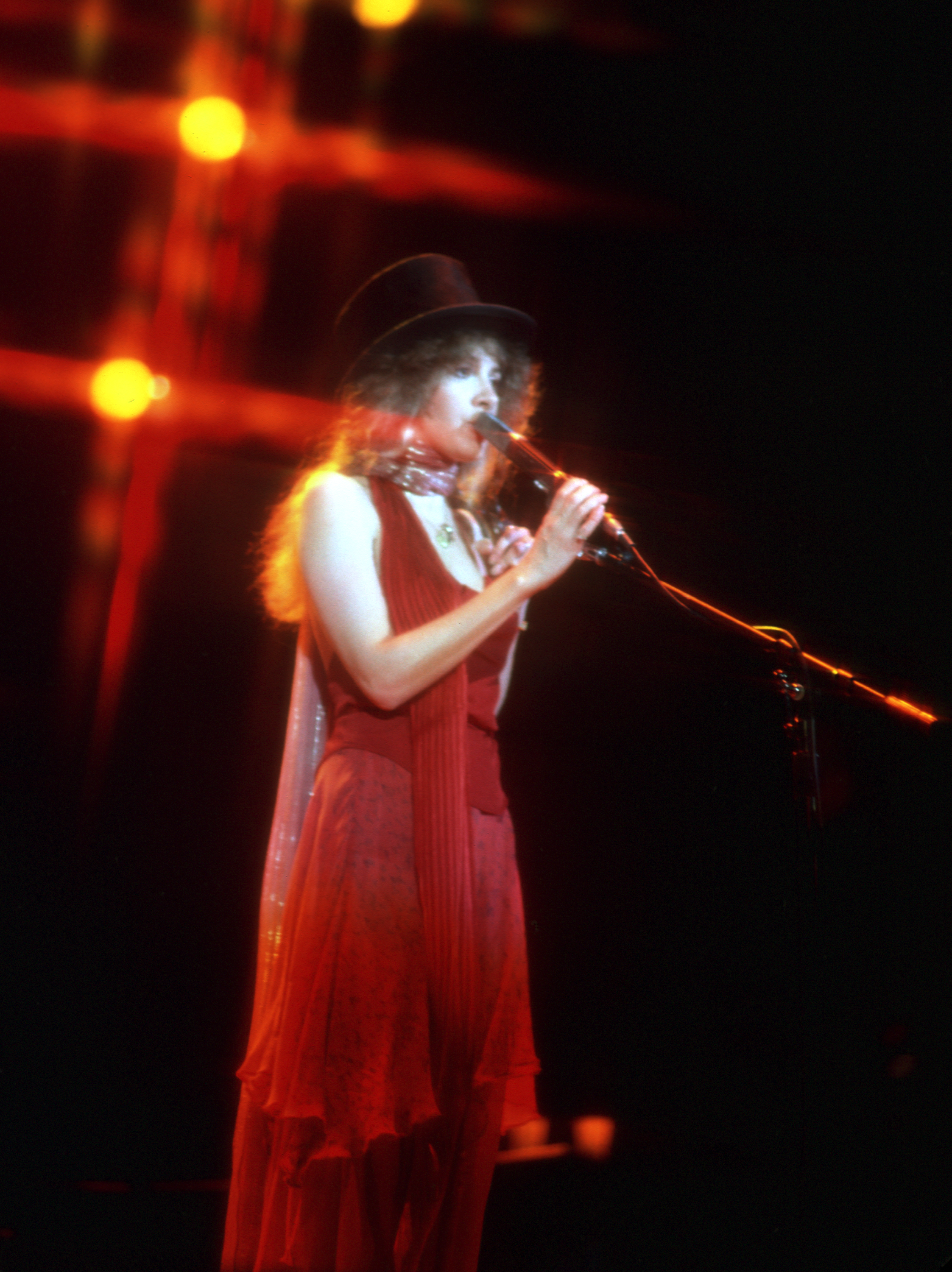 Photo by Michael Ochs Archives/Getty Images
On stage with Fleetwood Mac, 1979
The Tusk tour had Stevie seeing red — literally. During the string of performances supporting Stevie's third release with Fleetwood Mac, the singer incorporated the bold colour into her on-stage look with lace dresses, chiffon capes and velvet jackets in tones of merlot, scarlet, crimson and mahogany. During this era, when Stevie wasn't wearing her favourite top hat, she wore her hair up in a messy top knot, similar to styles from the Edwardian era.
Photo by Michael Ochs Archives/Getty Images
At the American Music Awards, 1978
Widely considered to be Fleetwood Mac's all-time best album — and the album that brought us the eternal, Stevie-penned bop "Dreams" — Fleetwood Mac's eleventh record Rumours brought the band unprecedented critical acclaim. The year after its 1977 release, the band won major awards at the Grammys, AMAs and Juno Awards, including the much-coveted Grammy for Album of the Year. Stevie's first foray onto the red carpet saw the singer — and stylist Margi Kent — take a pared-back approach to her signature look. And nowhere is this more evident than Stevie's 1978 AMAs get-up: a tiered jersey dress that nodded to the singer's penchant for maximalist layering, but with a decidedly minimalist bent.
Performing with Fleetwood Mac, 1982
During Fleetwood Mac's 1982 Mirage Tour, in support of Mirage, Stevie swapped her signature witchy look for something a little more angelic. This time around, the singer's favoured layered looks were rendered in shades of white and ivory, rather than the dark palettes of tours past. The most notable wardrobe addition from this era is the delicate bow Stevie often wore around her neck. Here, the singer wears a black cord choker alongside her stage staples: cape-sleeved chiffon wrap top, leotard and lace skirt. Elsewhere on the Mirage Tour, Stevie donned a red silk iteration of the choker — perhaps a callback to her Tusk era looks.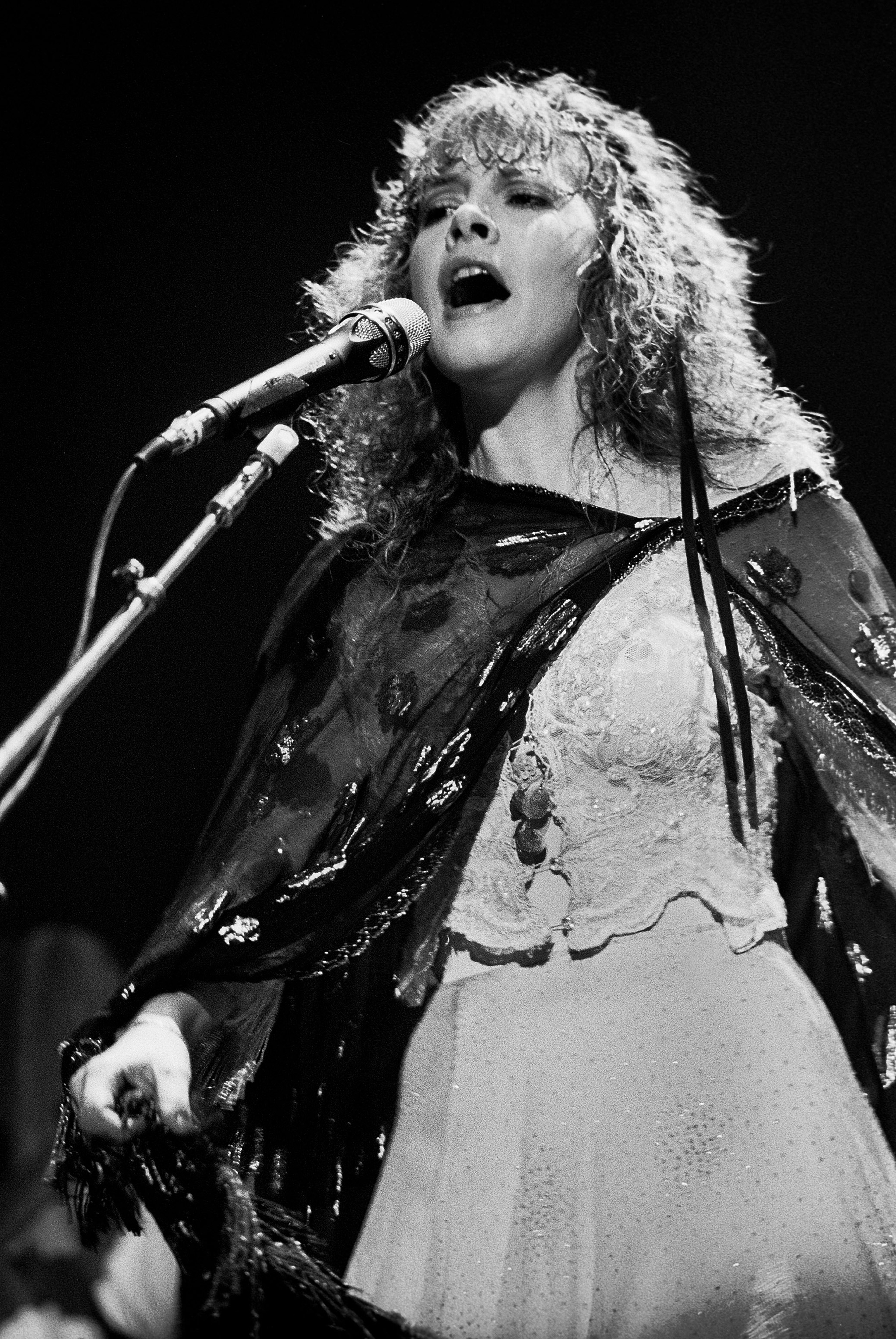 Photo by Paul Natkin/Getty Images
Performing solo, 1983
After the release of her multi-platinum debut solo album, Bella Donna, Rolling Stone dubbed Stevie the "Reigning Queen of Rock and Roll". Naturally, her on-stage style evolved to match her new title. During her solo tours — supporting both Bella Donna and 1983 sophomore album The Wild Heart — Stevie's stage outfits incorporated sequins, glitter, tinsel and the colour cobalt blue, all emblematic of a more glamorous look for the solo singer. Here, performing on The Wild Heart Tour, Stevie wears a beaded top and glittered skirt beneath a shimmering, tinsel-woven shawl.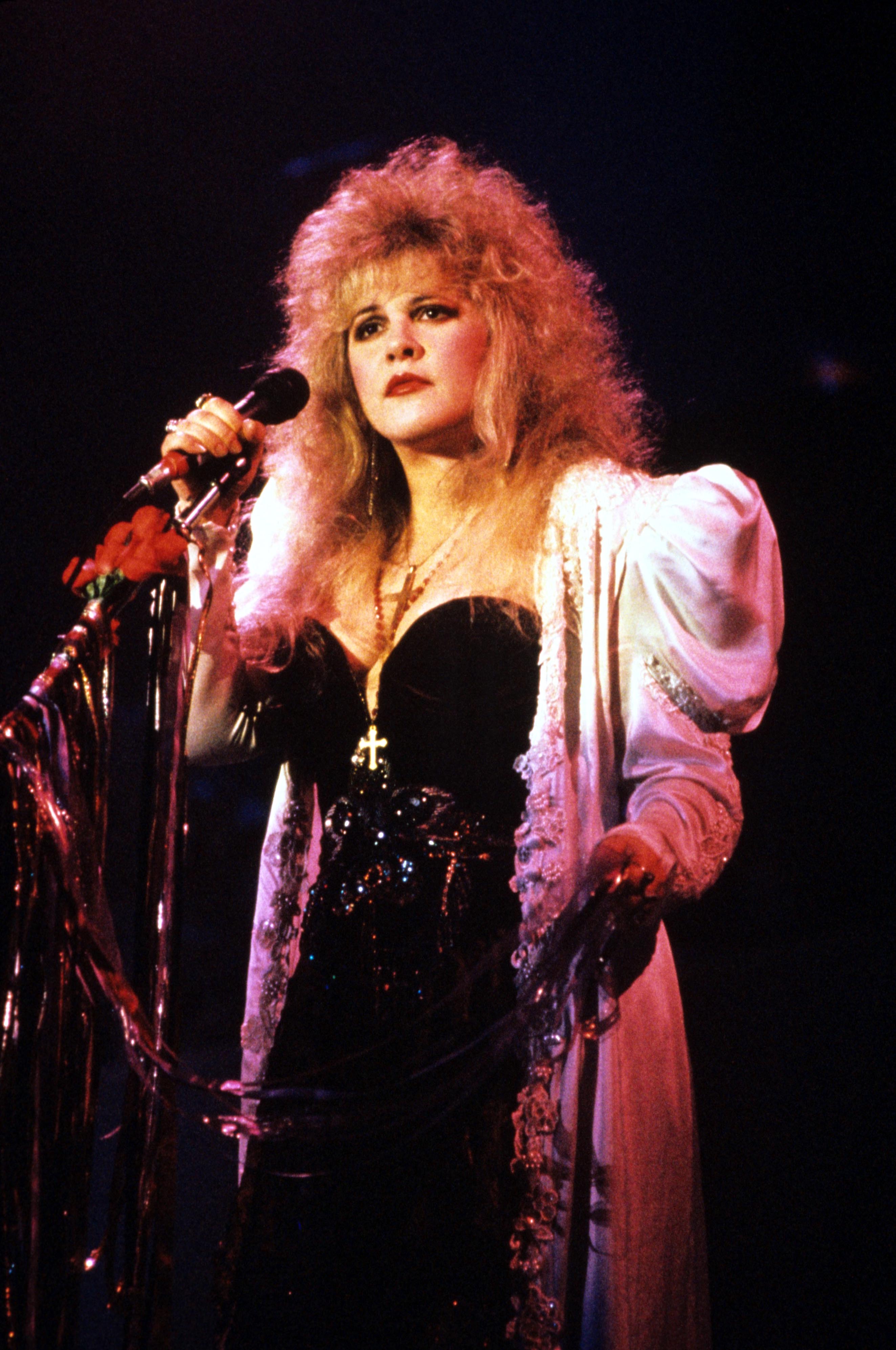 Photo by Brian Rasic/Getty Images
Performing with Fleetwood Mac, 1989
Despite its singularity, Stevie's signature look has evolved with the decades' top trends. This is most notably seen in the singer's 1989 tour outfits, which reflected the 80s over-the-top opulence. The decade's mantra was "the bigger, the better" and on stage during this era, Stevie donned massive shoulder pads and a puffy blow-out 'do. Also emblematic of the decade of excess were the singer's plunging corsets, rosary necklaces and dark eyeshadow.
Photo by Ron Galella/Ron Galella Collection via Getty Images
At the Interview with a Vampire premiere, 1994
To the premiere of supernatural period drama Interview with a Vampire (where else?), Stevie updated her quintessential look for the 90s with a goth-y burnout gown, velvet cloak and layered cross necklaces that wouldn't look out of place on the set of 1996's The Craft.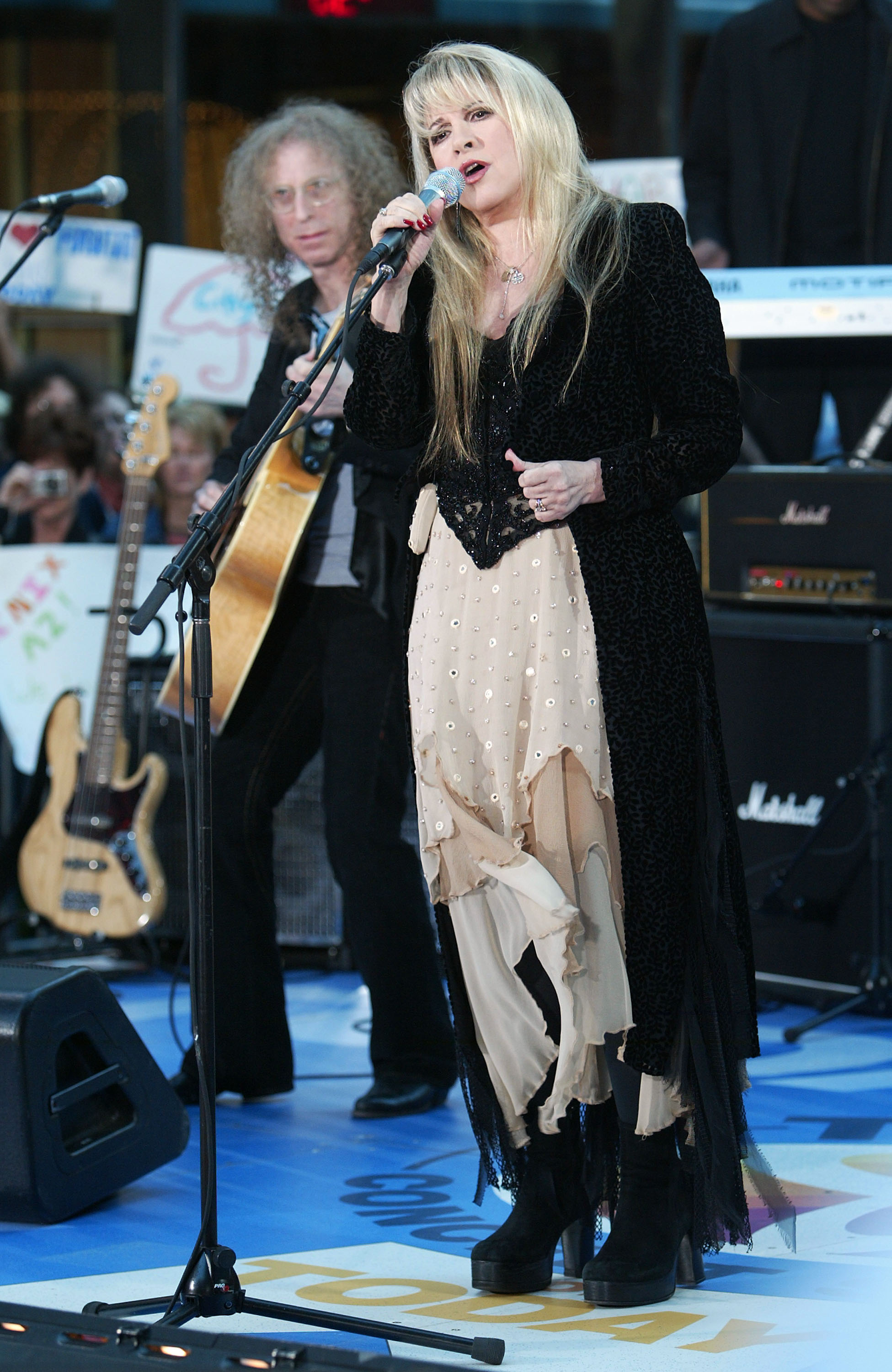 Photo by Peter Kramer/Getty Images
On the Today Show, 2005
Throughout the aughts, Stevie's flowing silhouettes became more streamlined. Whether performing solo or with Fleetwood Mac bandmates, the singer swapped out her shawls (for the most part!) for tailored toppers, including peplum blazers and this structured velvet duster, worn to perform solo on the Today Show in 2005. While the look as a whole definitely has a contemporary feel, many of its components are mined from Stevie's vault, including the very 80s-leaning corset and her perennial velvet platform boots.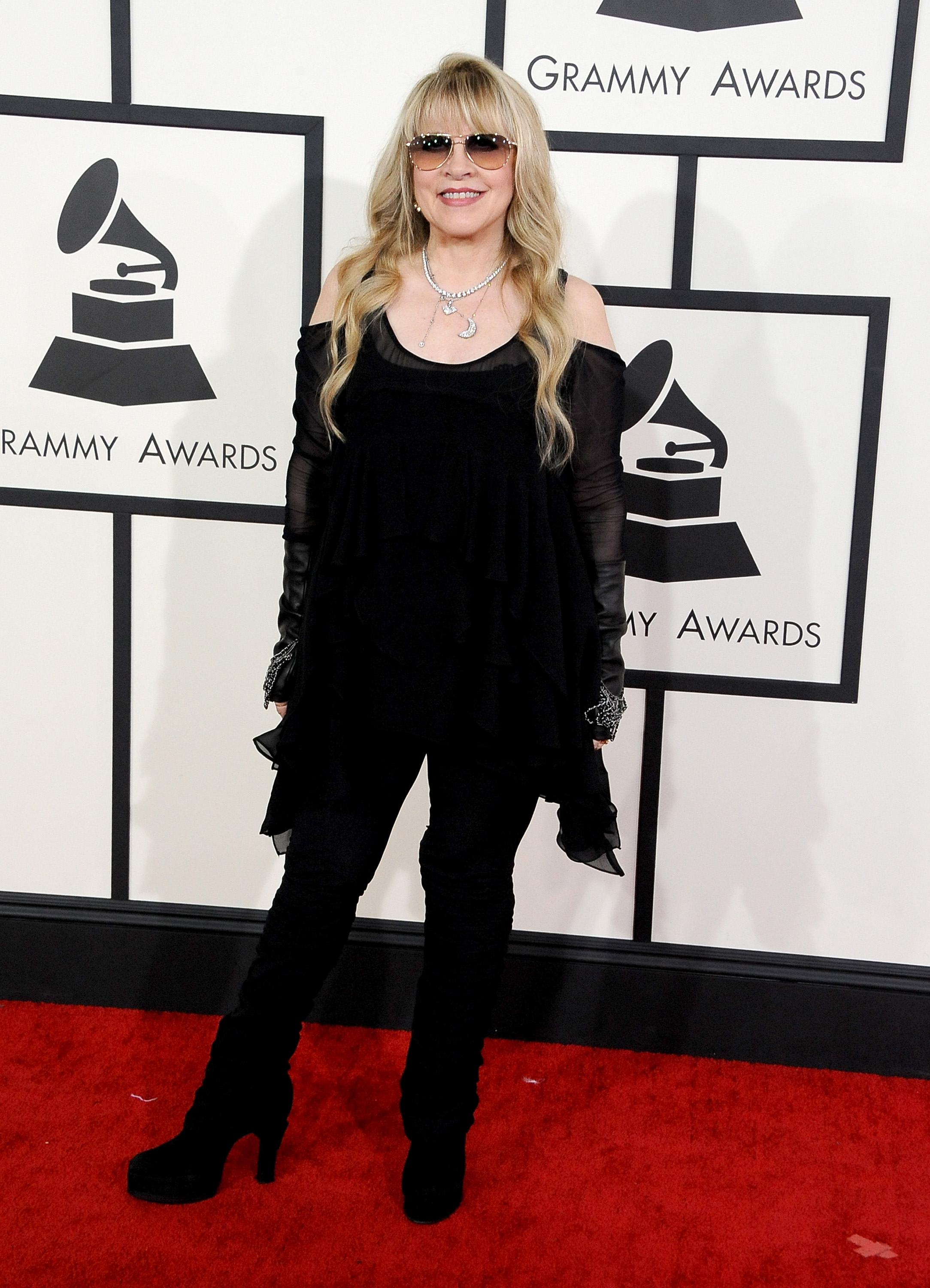 Photo by Steve Granitz/WireImage
At the Grammy Awards, 2014
Stevie's been a devout wearer of skirts and dresses since her first tour with Fleetwood Mac in 1975. "I don't do casual very well," the singer admitted to Rolling Stone in 2019. In the early 2010s, however, the singer began incorporating tailored trousers into her rotation of wardrobe stalwarts. The pants — always paired with her iconic platform boots — were often worn with biker jackets and aviator sunglasses, both emblematic of a more modern rockstar look. Here, to the 2014 Grammys, Stevie wears the streamlined bottoms with a very mid-2010s cold-shoulder top and her signature moon necklace, an accessory that dates back to the singers' very first Fleetwood Mac tour.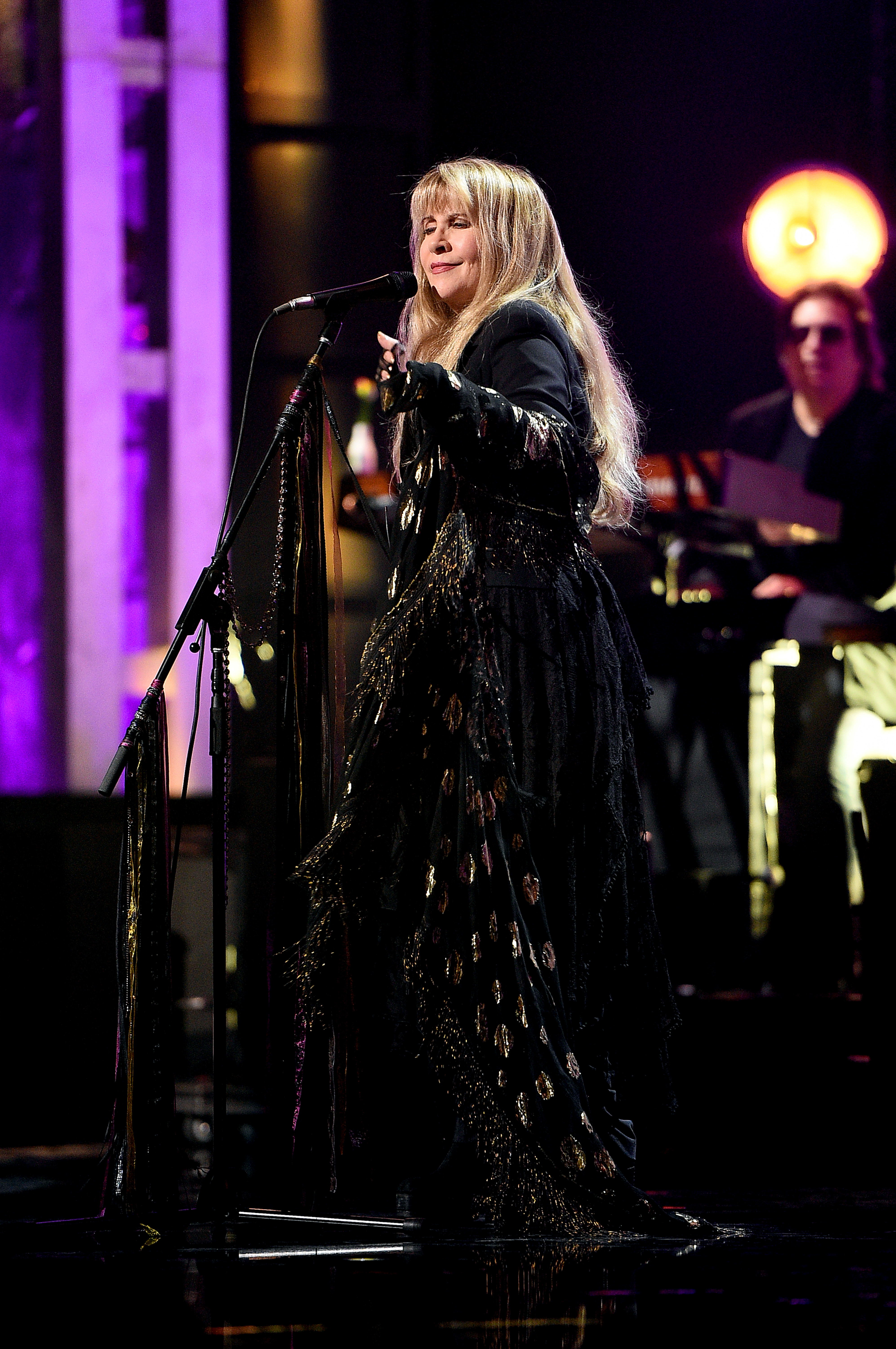 Photo by Theo Wargo/Getty Images For The Rock and Roll Hall of Fame
Being inducted into the Rock and Roll Hall of Fame, 2019
Nearly 30 years after being proclaimed the "Reigning Queen of Rock and Roll", Stevie became the first woman to be inducted into the Rock and Roll Hall of Fame — twice! The singer-songwriter was first honoured by the rock music institution in 1998, when she was inducted into the hall of fame as a member of Fleetwood Mac. Over 20 years later, Stevie was finally honoured — once again — for her equally-iconic solo career, in 2019. To the induction ceremony, the star wore a glorious lace-trimmed skirt suit. She accessorized the look with the same shimmering shawl she wore while touring her sophomore solo album, The Wild Heart. A powerfully symbolic moment for an incomparable rock music power house.