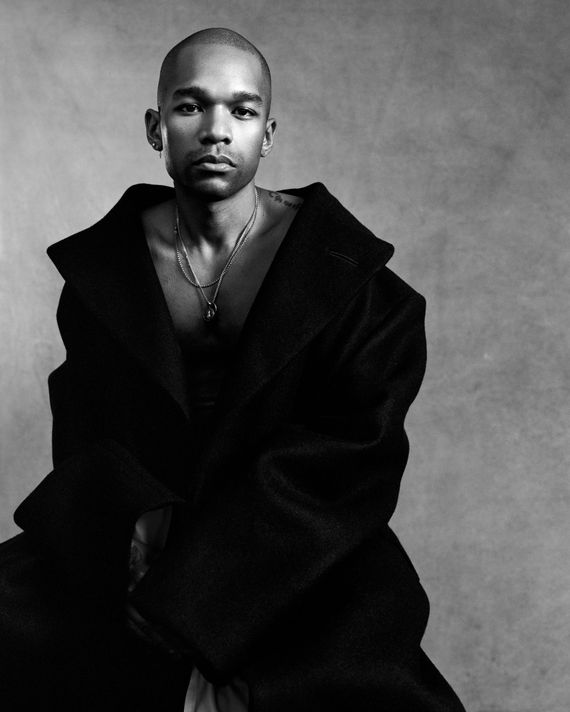 Photo: Photograph by Luis Alberto Rodriguez
Growing up in Queens, Carlos Nazario had two wardrobes: Sean John jeans paired with Jordans or Timbs for day and miniskirts with thigh-high Converse boots for night. Most weekends, he'd sneak out and take a two-fare trip into the city to clubs like Happy Valley and Splash, or to Warehouse in the Bronx, where your outfit could make your evening. His looks were paid for, in part, with money he made Photoshopping his peers' report cards (and doctors' notes and gym slips), although sometimes he'd swap and borrow clothes with the friends he made on the scene — people like Shayne Oliver, who later started Hood by Air and who made Nazario seem conservative by comparison. "The styles were wild," Nazario said. "You could just tell that everyone woke up at 2 p.m., ran a few errands and then from 7 p.m. on, it was all about getting dressed."
It was a snowy morning in early February, and the 32-year-old stylist was reminiscing at his desk in his Tribeca studio. He wore his signature black Yankees baseball cap, a vintage dark-blue Jil Sander sweater, Supreme jeans he's had since he was 20, and black leather Prada Wallabees — the designer version of a classic New York shoe. With his cute smile and gentle demeanor, it was hard to imagine him operating a racket for fake grades. On the wall hung a large photograph of his grandmother Efna. Last year, when Italian Vogue asked him to style 100 women in Prada for 100 versions of its September cover, he put her on the list.
For Nazario, this kicked off a season of career highlights. He dressed Lizzo in a bright-red Valentino ruffle dress for the October issue. He styled Representative Alexandria Ocasio-Cortez in a Black-owned brand by a designer from her district for the cover of Vanity Fair. And for the November cover of American Vogue, again, he put Naomi Campbell in a deity-grade Dior couture gown. Nazario was joined on set by friends from his club days who had gone on to become hairstylists and modeling agents. "We're standing there, and Naomi Campbell is on fucking stilts in this silver creation," he said. "Naomi, to little Black boys, it's like the height. You don't get any bigger. We really had a moment." And yet when Nazario looks back on this remarkably prolific run of work, the Efna shoot remains his favorite accomplishment. Getting his own grandmother on the front of Italian Vogue? That was everything. That was power.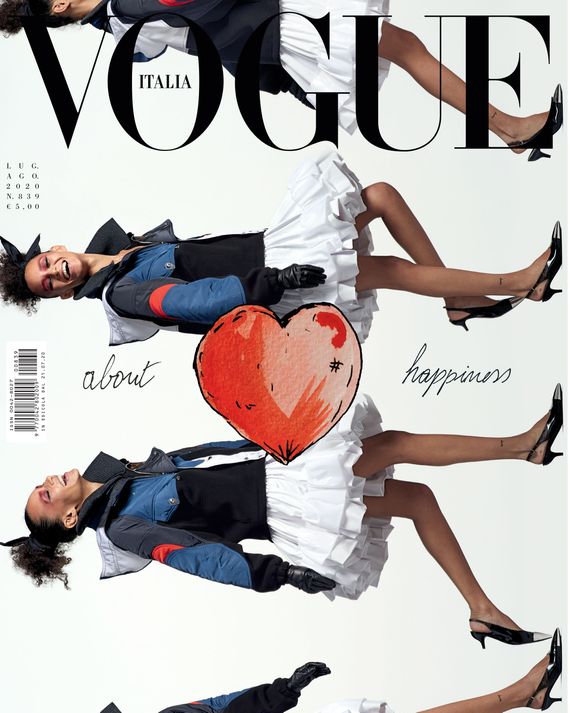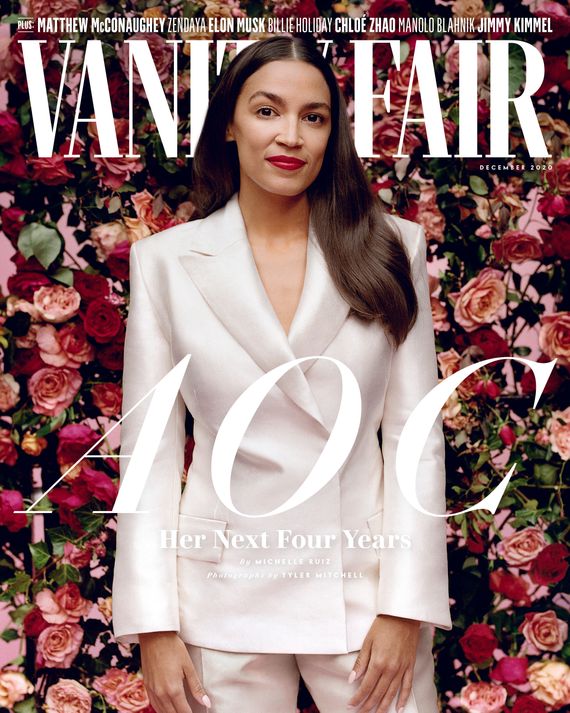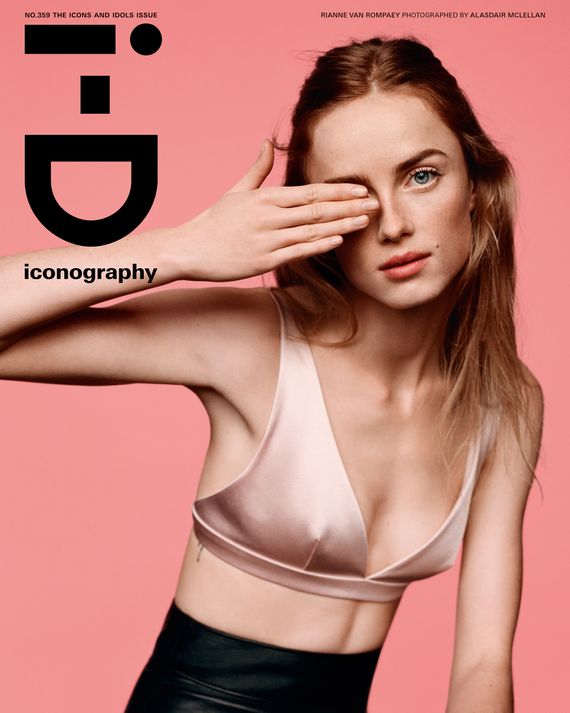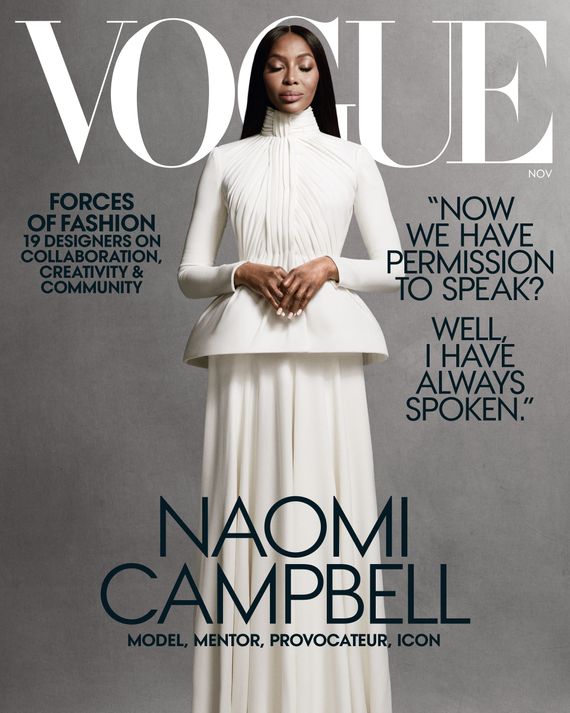 Nazario, who identifies as Afro-Latino, was 15 when he moved in with his grandmother in Cambria Heights, on the border of Nassau County. His parents were divorced, and he didn't want to live with his father anymore. Efna was more lenient and shared his preoccupation with aesthetics — in her youth, she had modeled for up-and-coming photographers and gone out dancing in Harlem. He would watch her get up in the morning to do her eyebrows, put on her makeup and wig, and go to work for the postal service.
Nazario knew he wanted to be part of the fashion industry someday. He toyed with the idea of being a photographer or designer but knew those specific disciplines weren't for him; he wondered what other ways there might be to somehow have a hand in shaping the magic he saw in magazines and advertisements. He'd fallen in love, first, as so many teens at the time did, with the beefcake images of Bruce Weber. (Public allegations of sexual misconduct against the photographer were years in the future.) "It was like a utopia; people felt rich and carefree and gorgeous and sexy, and it wasn't something that I knew," Nazario said. "Even if I wasn't born into a glamorous lifestyle with a famous last name, I wanted to be a part of something that felt fabulous and beautiful."
Not until he started dating a stylist did he understand what the job entailed. He read the 2007 book Stylist: The Interpreters of Fashion, and he studied the careers of some of the most influential members of the profession: Melanie Ward, who helped Helmut Lang shape his raw but rarefied look; Carine Roitfeld, who elevated the sexiness of Tom Ford's Gucci.
"Instantly, I was like, That's what I should be doing. That's everything that I love," Nazario said. It was a job that let him share space constantly with fashionable, artistic people and have a hand in nearly every stage of the creative process — pulling strings, having sway, but remaining usefully behind the scenes.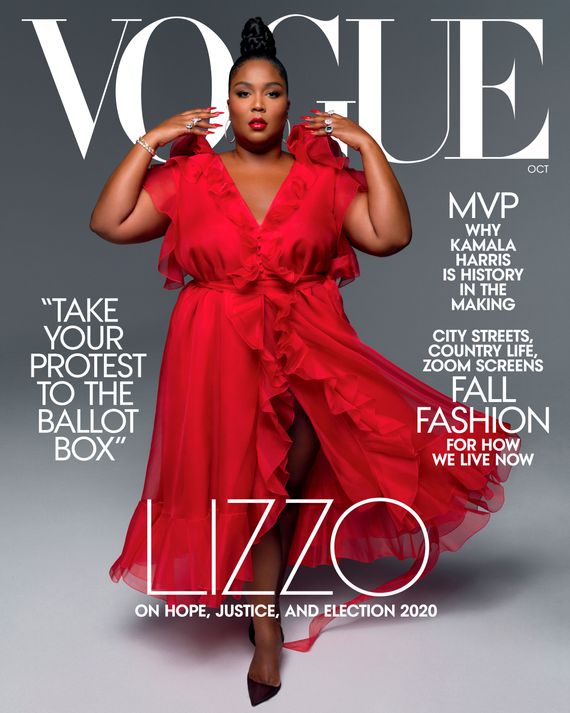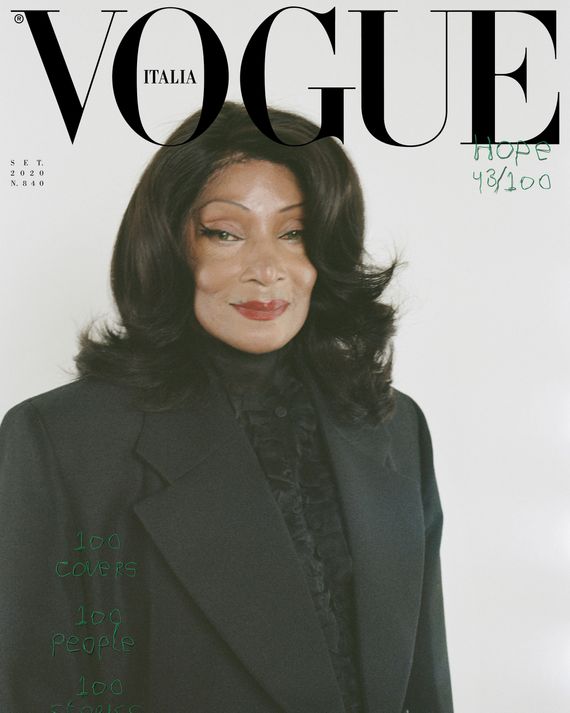 Despite possessing a fraction of the name recognition of photographers, much less designers, stylists have long wielded disproportionate power in anointing what is valuable and worthy of our attention. Nazario does this chiefly through perches at three major institutions — he's a contributing editor at Vogue and the fashion director for both i-D magazine and Hood by Air. Alongside a regular crew of collaborators, many of whom are friends from his two-fare days, he is part of a rising generation of talent that is using its influence to change what fashion looks like and what it chooses to see — creating new representations of wealth, glamour, and beauty, and broadening the scope of what is considered desirable.
Typically, a stylist's work is divided between commercial and editorial — the former is how they make money, the latter how they earn cred. Nazario consults for brands as disparate as Lanvin, Burberry, and John Elliott, styling their runway shows and campaigns and advising on casting and photography. At Hood by Air, which returned from a long hiatus last summer, he's charged with streamlining Oliver's vision. "A lot of times with the team, we're very emotional about the work. It's very visceral and reactionary and emotive," Oliver said. "Carlos gets to the root of what's actually being said. He's the eye. He literally acts like an editor, like an editor-in-chief."
Because Nazario is so involved in the collections, magazines rely on his insider knowledge to say, Okay, the trend is teeny-tiny bags, the trend is traffic-cone orange, the trend is platform flip-flops. "My editors at the magazines that I work for, they routinely ask me, 'What's happening at such-and-such house?,' or, you know, 'What do you feel is going to be the vibe of this season?' " If three's a trend in fashion publishing, the open secret is that one stylist, through their various brand-consulting gigs, could have been responsible for midwifing each one.
Once he set his mind to becoming a stylist, Nazario dropped out of Baruch College after just a few months and packed his bags for Paris. It was, he admits, pretty naïve — he'd never been to Europe and didn't speak French. But he was on a mission. He met photographers on Craigslist to do test shoots with wannabe models and sought out underground designers before Instagram made it easy to do so. Nazario's grandmother sent him money and care packages with hot sauce, figuring he couldn't get it there.
After about a year, he moved back to New York and landed his first serious job in fashion as an intern at W magazine. It was, he said, the first time he felt the mass exclusion of people of color from the industry, and particularly its class divide. It seemed as though everyone he worked with came from money; the only other Black person working at the magazine at the time had also gone to the "right" schools. He realized, Okay, that's how this thing works. But he wasn't deterred. Nazario went on to do a few more internships, including for Marc Jacobs, then for Katie Grand at Love in London, where name-dropping the magazine was enough to get him past the velvet rope at parties. He began to feel like a part of the fashion world. No one knew where Cambria Heights was, and he didn't tell them.
After a year at Love, he cold emailed Joe McKenna, who had styled those Weber campaigns for Abercrombie & Fitch and Calvin Klein that Nazario had pored over as a teenager, and got a job as his assistant. It was an ideal education. On set with McKenna, Nazario came to understand the minutiae of how a fashion image gets made — how one subtle tweak to the way a person wears a garment can create an entirely new silhouette and attitude and, in turn, make even the most sophisticated consumer think, I want that. There was no need to be over the top to have an impact.
After five years with McKenna, Nazario began to contemplate the next step of his career; he knew he didn't want to become a "poor man's Joe" — a road he says he'd seen McKenna's previous assistants go down. "Probably part of the reason why I stayed with Joe for so long," he said, "was because I did psych myself out, and I did sort of think, I'm not good enough. I'm not white enough. I don't have a strong enough point of view. No one gives a shit about a kid from Queens."
As Nazario took on his own projects, he combined McKenna's refined elegance with his own sensibility and contacts — talent the rest of the industry was only dabbling in. Instead of Mario Testino, say, or Guido Palau, Nazario worked with photographers like Oliver Hadlee Pearch and hairstylists like Jawara (another friend from his youth). The casting director Walter Pearce helped him find unknown models, and he pulled from the Hood by Air universe. Nazario soon amassed a crew that didn't look like the fashion Establishment. His work was unburdened — down-to-earth yet sublime, presenting people who looked like him in ways that he himself would want to be seen. "Just Black and brown people, looking beautiful and dressed really well" is how he characterizes his early work. "Which shouldn't have really felt unique at the time, but it did."
It can be hard to articulate, on a clothing level, what makes a Carlos Nazario look a Carlos Nazario look. He read a comment online once that said he doesn't stand for anything, doesn't have a recognizable aesthetic. His response is that he has always been more interested in a process that reveals character — scouting, casting, and editing — than he is in the clothes themselves. In a way, his pared-back, almost anti-Instagram attention to detail is what differentiates him from his peers. Take the Vogue Italia shoot photographed by Mark Borthwick. The subjects, many of whom had never been on a cover before, wore minimal makeup and were understyled to the point where some looked as though they hadn't even finished getting dressed. The lighting was soft, the images grainy. While other September issues begged glossily for our attention, his had a quiet confidence. He somehow made Kaia Gerber look like just a girl in her bedroom.
After landing some big covers in 2018 — styling Solange for T, Rihanna for Garage, Gigi Hadid for W — Nazario got on a shortlist of stylists that Vogue wanted to add to its roster. "I don't know if I'm speaking out of turn," he said, "but it was my impression that Vogue was going through a transitional phase where they were exploring what the next generation of Vogue editors was going to be." By early 2019, Anna Wintour's blind spots were obvious. People she'd elevated were revealed to have abused their power; her longtime lieutenants were white and retirement age. A changing of the guard was long overdue.
Nazario was an obvious choice. He wasn't just young, digitally adept, and incredibly well connected — he had also come up through traditional channels. He knew the rules — that Vogue is a business, not an art project, that you have to please advertisers and celebrities, that you're selling a fantasy. "Carlos is both thoughtful and intuitive about fashion — and he understands Vogue, and the history of Vogue, but he's never overwhelmed by it," Wintour wrote in an email.
With Bella Hadid and Tyler Mitchell.
Photo:  Courtesy of Carlos Nazario
After one small assignment and a spread with Gigi Hadid, Nazario took on a collaboration with Tyler Mitchell, the 23-year-old photographer who had recently become the first Black person to shoot a Vogue cover. At the time, the magazine had never run a couture story with all Black models, so that's what the two did for the April 2019 issue. They both have a casting-first approach and are interested in depicting models with "a sense of glamour as well as effortlessness and timelessness," as Mitchell put it. "We wanted to do beautiful studio pictures and reimagine what a classic Vogue sitting could be," Nazario said. "What would they look like with a whole new casting, with the whole new gaze on beauty?"
Wintour wrote of the shoot: "He took the most elevated expression of fashion, which is sometimes photographed in a way that's a little too historicist and reverential, and he (and Tyler) made couture feel so romantic but also tangible and real." Following that shoot, Nazario styled a powerful portrait of a tuxedoed Stacey Abrams for the magazine as well as an exuberant fashion story shot in New Orleans with, again, all Black models.
After his Lizzo cover in October, Nazario was named a contributing editor at Vogue. He could have stuck to European publications that would give him more artistic freedom, but as an American with lingering reverence for the magazine, Nazario understands both the power that Vogue still has to declare what is valuable, modern, cool, and beautiful — and how much work there is left to do to change people's minds. "It has been challenging in a good way — trying to figure out how I fit in there, with varying degrees of success," he said of navigating his time at the magazine. "Some of my Vogue stories I haven't been stoked about."
As Nazario's influence continues to grow, he is still figuring out how best to deploy it. "It's really therapeutic to make work, especially right now, because we get to respond to what's happening in culture and in the world, hopefully in an artistic way," he said. "And with that comes a really great responsibility to be a lot more thoughtful about what images we're putting out there and why." As someone with the power to put other stylists and photographers up for jobs, he says he's asked himself whether he's been doing enough to make sure that other people of color were being uplifted and had a similar platform, specifically women of color. "Who is making the pictures sometimes is just as important as what the picture is," he said.
He has also been taking a harder look at his own influences — including his idealization of the American Dream that was sold to him growing up. Over the summer, as protests against police violence erupted, he had conversations with his peers about the merits of working to upset traditional fashion from within versus doing his own thing — and perhaps how he can do both at the same time.
Despite the pandemic, Nazario has been busy. The day after our conversation, he headed to Milan, where he would work on both commercial and editorial jobs in a mostly digital European Fashion Week. "I think the industry that I signed up to work in and that most of my peers — meaning people in my age group and older — signed up to work in doesn't exist anymore," he said. "And I think a lot of us have had a hard time accepting that. But it's just a fact. And I'm having a really good time, and I'm excited to be a part of the generation that gets to redefine what we do and redesign this industry for a new world."
*This article appears in the March 1, 2021, issue of New York Magazine. Subscribe Now!