Photo by Steve Granitz/WireImage, by Sylvain Gaboury/FilmMagic and by Jim Smeal/Ron Galella Collection via Getty Images
A-list actresses like Angelina Jolie only come around once in a generation. Since making her Hollywood breakthrough with Girl, Interrupted in 2000, Angie has become not only a bonafide movie star but an international icon. As her career — and personal life — has shifted track across three decades, so has the actress' sartorial inclinations. From Hackers-era cyber attire and Lara Croft biker chic to Hollywood mom glam and Brangelina ballgowns, Angie has gone from 90s goth to 00s glam and beyond. "I am still at heart — and always will be — just a punk kid with tattoos," Angie told Vogue of her fashion choices in 2004. Does the sound bite still hold true in 2021? Here, to celebrate the star's 46th birthday and new movie Those Who Wish Me Dead, we chart Angelina's style evolution across three decades.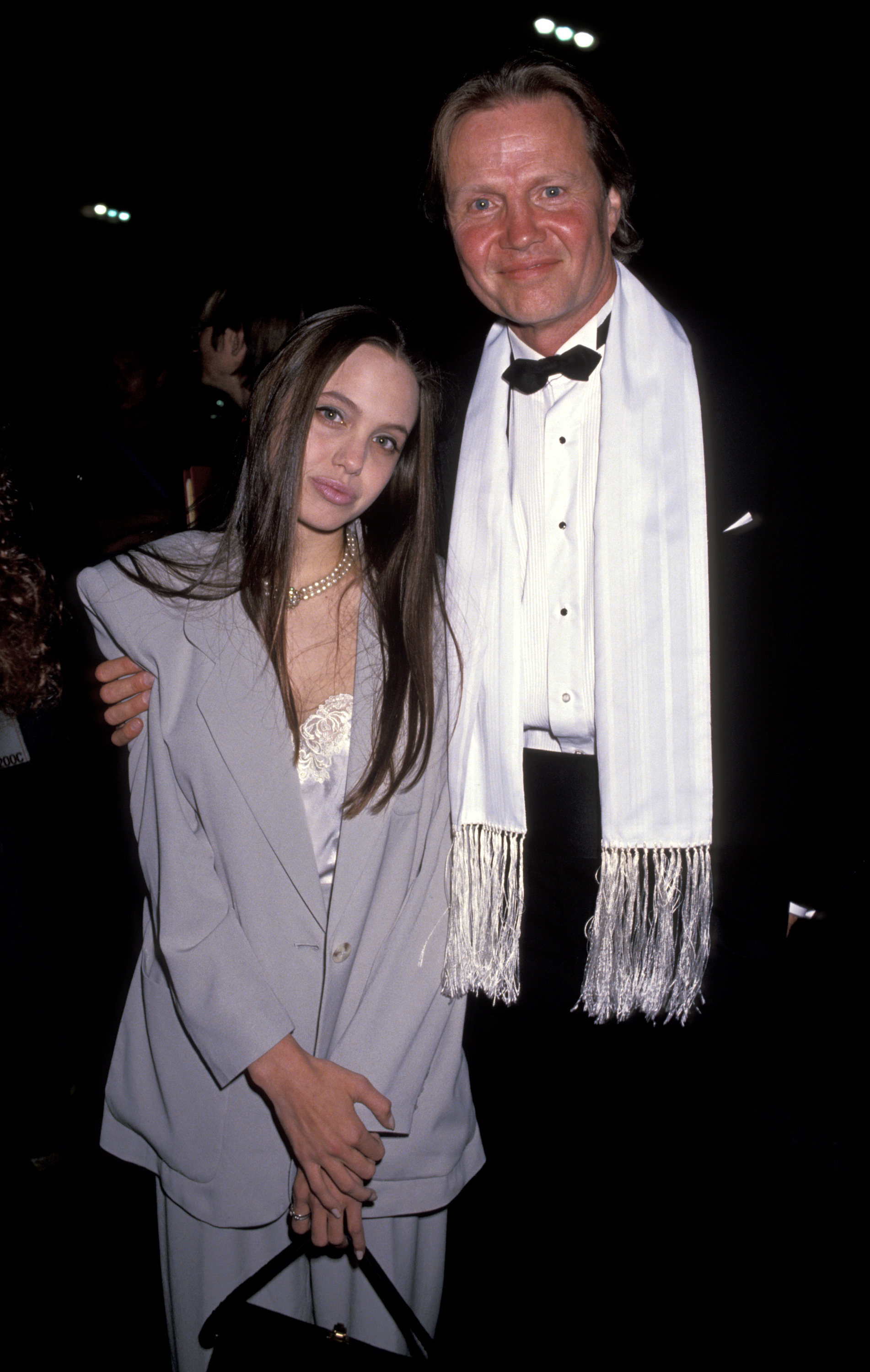 Photo by Jim Smeal/Ron Galella Collection via Getty Images
At the reopening of Tru, 1991
The daughter of actors Jon Voigt and Marcheline Bertrand, Angelina made her film debut at age 7, playing opposite her father in a bit role in 1982's Lookin to Get Out. A few years after her first screen appearance, however, Angie dropped out of acting classes to pursue a career as a funeral director, enrolling in at-home embalming courses. In 1991, at age 16, Jolie restarted her theatre studies, and, two years later, began her acting career with a starring role in low-budget sci-fi flick Cyborg 2. Angie's early career style — seen in headshots, photo sessions and at premieres — took in the 90s most ubiquitous trends, all lightly tinged with the actress' goth-y inclinations. Think babydoll dresses in bruise purple, bustiers in blood crimson and black-as-night leather. Here, with her father — and first co-star — Angie wears the era's oversized suiting with matching camisole and two swipes of eyeshadow in the same shade of corpse gray.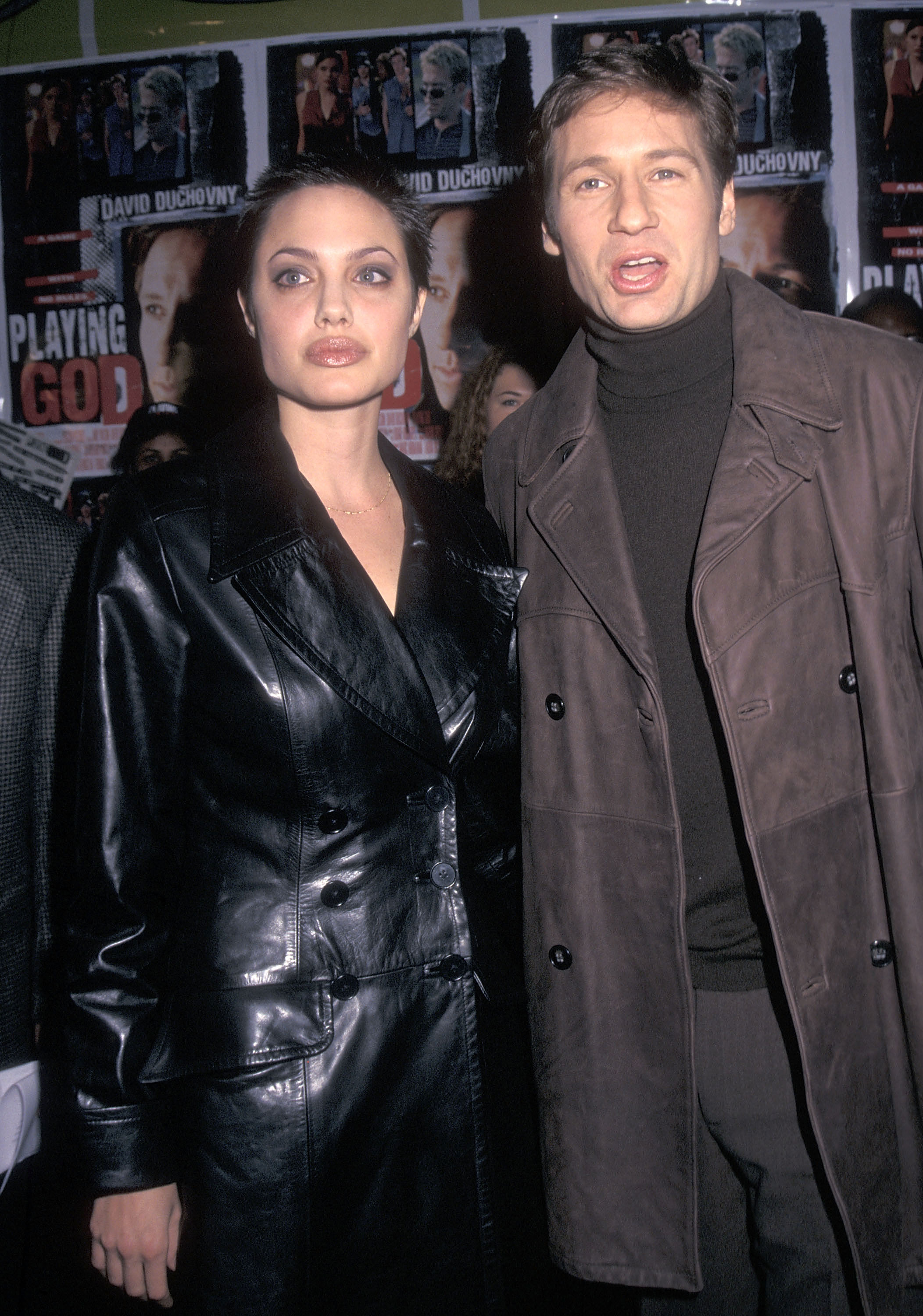 Photo by Ron Galella, Ltd./Ron Galella Collection via Getty Images
At the premiere of Playing God, 1997
In 1995, Angie garnered her first mainstream film role, starring as cybercriminal Kate Libby in teen crime film Hackers. As Angie established herself in the industry, she came into herself sartorially, fully embracing her gothic predilections. Throughout the mid-90s, the actress wore velvet capes, iridescent slip dresses and velour maxi dresses. Here, at the premiere of Playing God, Angie wears a floor-length leather coat — and a buzzed head — perhaps inspired, in part, by the cyber-goth style of her Hackers character.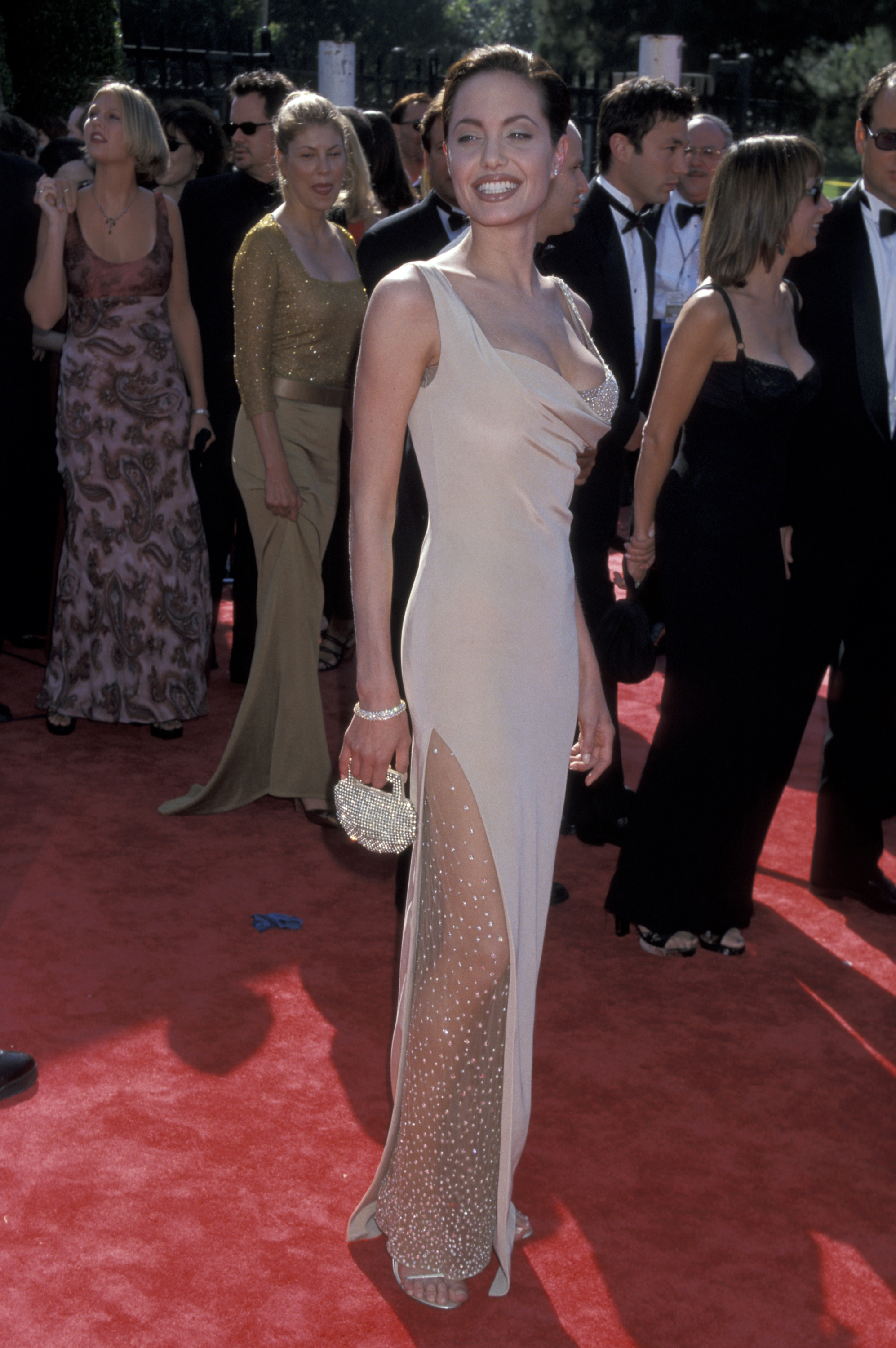 Photo by Jim Smeal/Ron Galella Collection via Getty Images
At the Emmy Awards, 1998
The aforementioned buzzcut, which Angie rocked throughout 1997, actually came courtesy of her turn as ill-fated supermodel Gia Carangi in the eponymous HBO miniseries. For the role, Angie was nominated for (and won) myriad of the television industry's most prestigious awards from a Golden Globe to a SAG statuette. For the Gia awards show circuit, the actress abandoned her goth-y get-ups for softer, more glamorous garb. Think gowns in silver sequins, intricate beaded embroideries and cream satins. Here, to the Emmys, Angie wears a beige bustiered number with a beaded slit — an accent that would become the actresses' red carpet signature for the next two decades.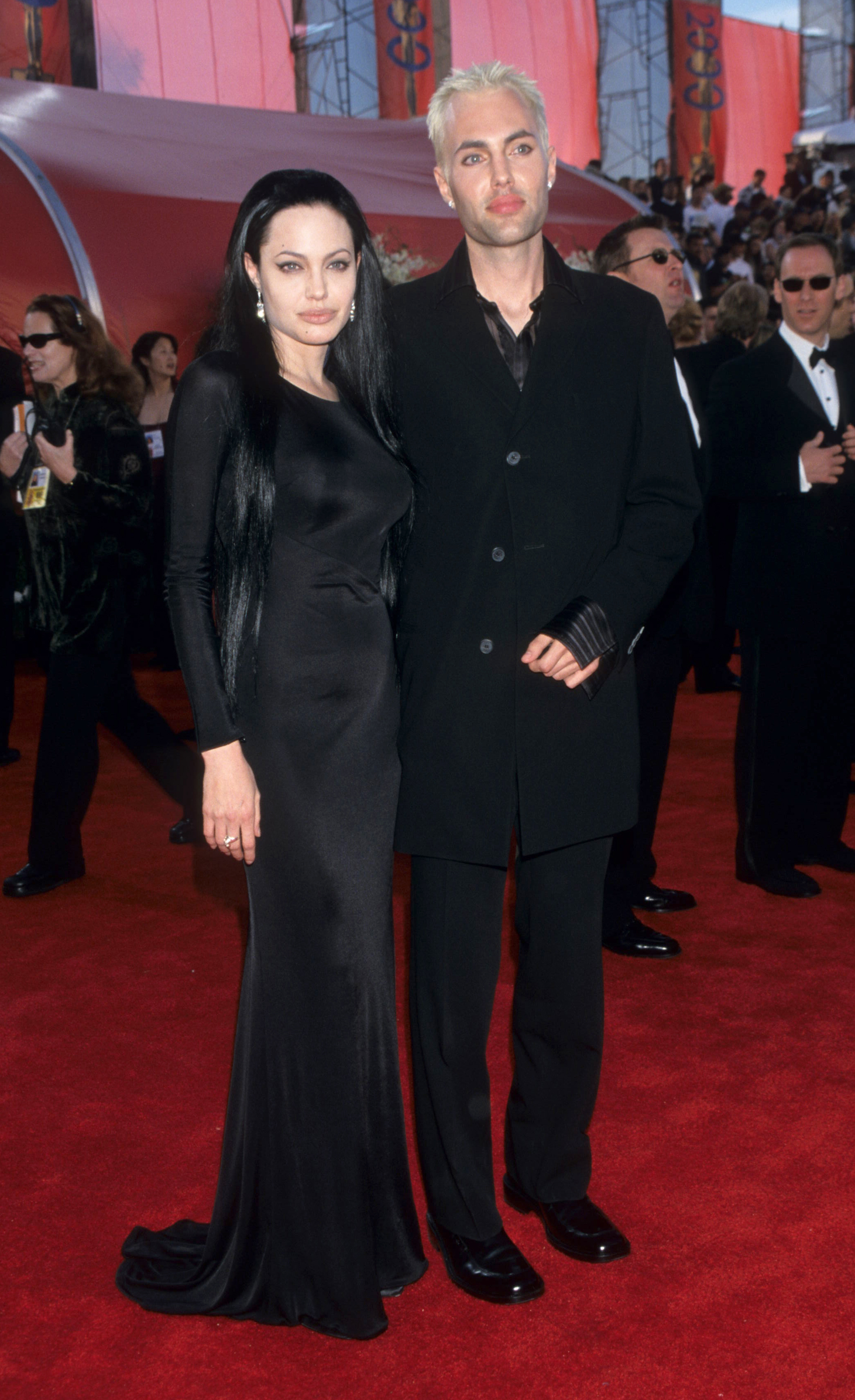 Photo by Ke.Mazur/WireImage
At the Oscars, 2000
Only two years after winning the television industry's most esteemed awards for Gia, Angie made her Hollywood breakthrough with the drama film Girl, Interrupted. Starring opposite fellow 90s babe Winona Ryder, the actress garnered critical acclaim and award nominations for her mesmerizing performance as sociopath Lisa. Perhaps inspired by the film's dark subject matter, for the Girl, Interrupted awards show circuit, Angie returned to her favoured goth-y look — this time with a glamorous edge suited to a Hollywood award-winner. Here, to the 2000 Oscars, where she took home the award for Best Supporting Actress, Angie wears the most memorable red carpet ensemble from this era: a Morticia Addams-esque black gown with matching 'do.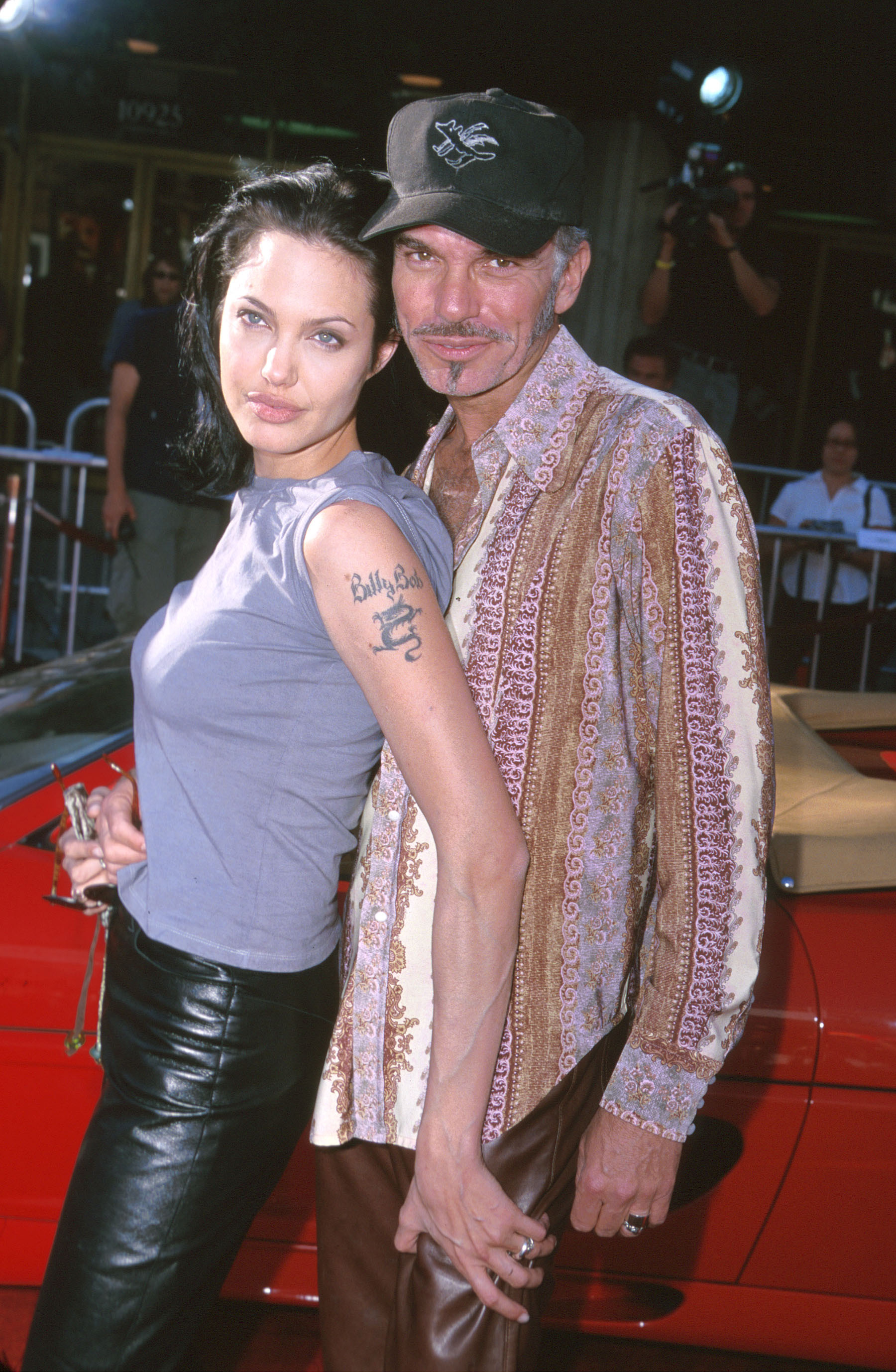 Photo by Steve Granitz/WireImage
At the Gone in Sixty Seconds premiere, 2000
Off the awards show carpets, Angie's turn-of-the-millennium style was less gothic and more biker chic. Think graphic and baby tees, singlets, blazers and duster jackets, stovepipe denim, cowboy boots, and leather, leather, leather. Remember the ultra low-rise lambskin pants she wore to the premiere of Tomb Raider? (No doubt inspired by Lara Croft, herself.) Here, with then-husband Billy Bob Thornton, the actress wears one of her quintessential Y2K outfits: a sleeveless tee with — you guessed it — a pair of leather pants. During her three year-long marriage to the actor, Angie's outfits were accessorized with his-and-hers blood vial necklaces and, of course, her dedicated upper arm tattoo.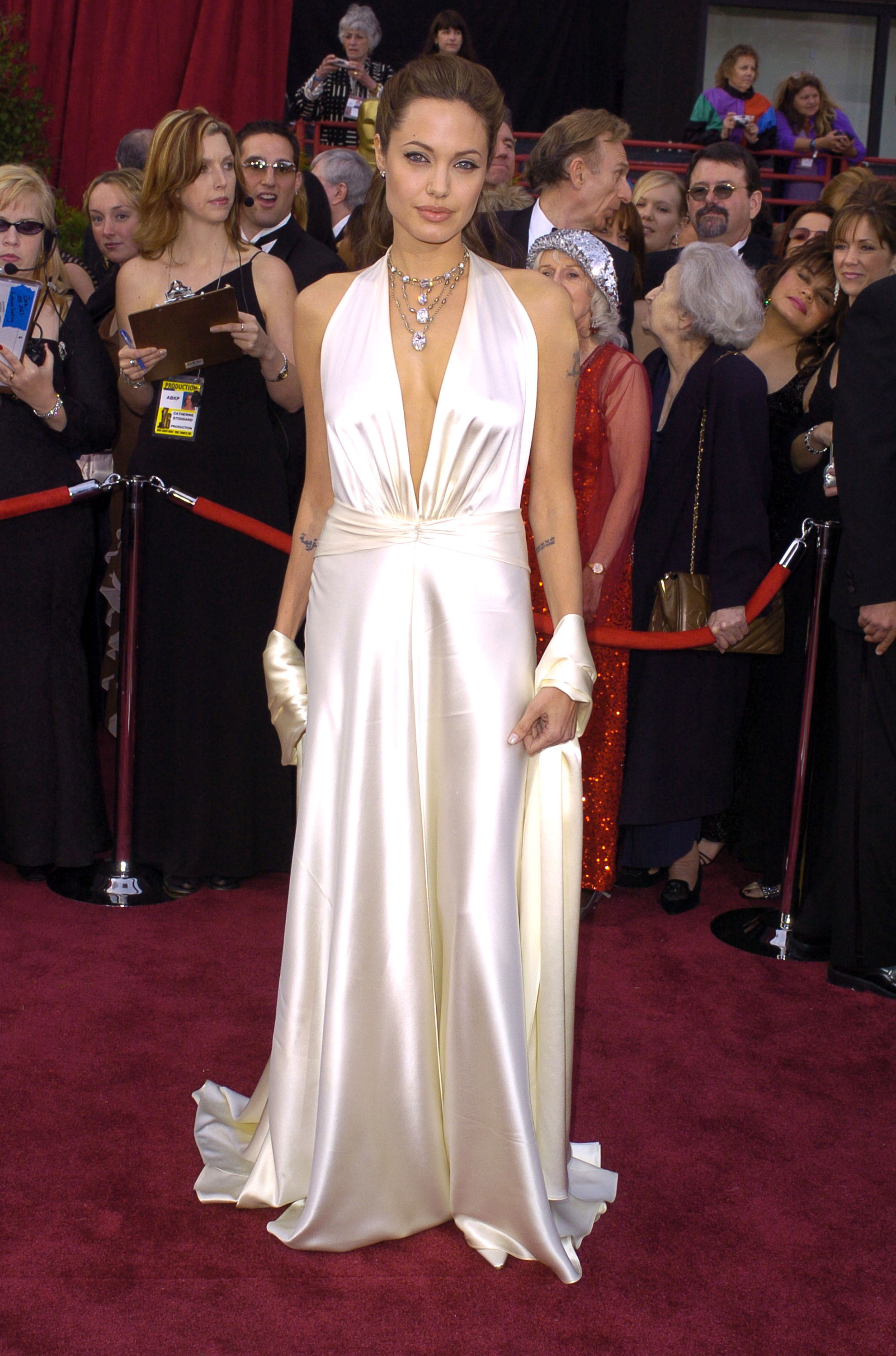 Photo by SGranitz/WireImage
At the Academy Awards, 2004
By the mid-2000s, with both an Oscar and an action film franchise under her belt, Angie was a bonafide Hollywood leading lady. Naturally, the actress' red carpet garb evolved to match her A-list status. During this era, Angie's iteration of movie star glam took in strappy halter styles, wrap dresses, and gowns with plunging necklines and deep center slits. Here, to the 2004 Oscars, the she wears a very Old Hollywood-inspired gown, reminiscent of movie stars past.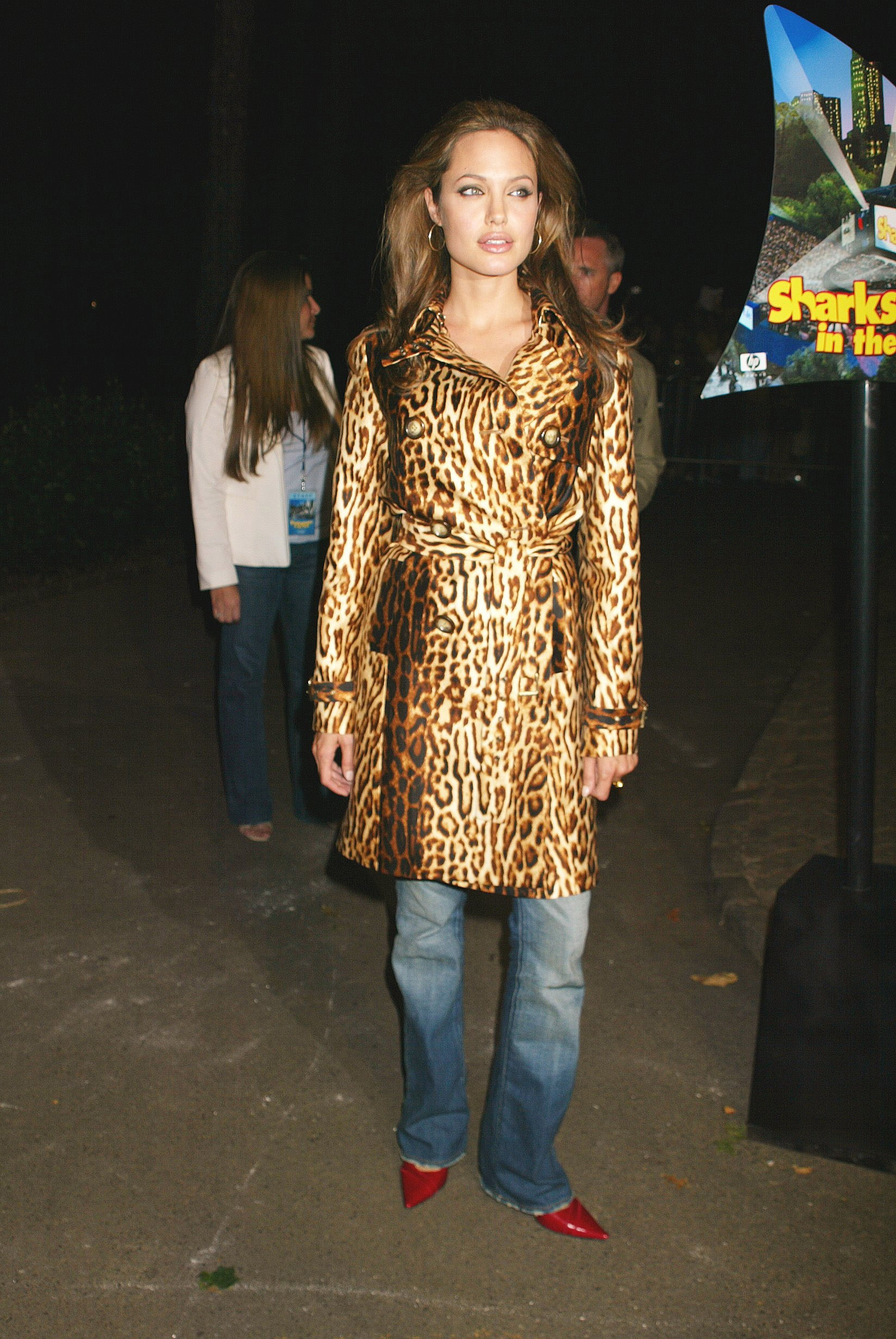 Photo by Sylvain Gaboury/FilmMagic
At the premiere of Shark's Tale, 2004
The 2000s also marked a major shift in Angie's personal life. After filming 2001's Tomb Raider in war-torn Cambodia, Angie became a United Nations Goodwill Ambassador and began her decades-long career as a humanitarian. The following year she adopted her first son, Maddox, from Cambodia, and separated from then-husband — and Hollywood bad boy — Billy Bob Thornton. "I took charge of our life when he came home. I decided to make big choices and live even bolder […] because it was our life suddenly," she told Barbara Walters, regarding Maddox. By 2004, Angie had a newfound lease on life — as both a mother and a humanitarian — and a more polished off-duty style to match. Now an A-list actress and a mom, Angie began wearing more sophisticated — but no less practical — garb off the red carpet. Whether attending a film premiere or hanging out with Maddox in her off-time, Angie was frequently photographed wearing jeans, trench coats, ballet flats, pencil skirts, cardigans, and massive shades to block out the flash of the paparazzi. Here, to the premiere of Shark's Tale, Angie wears a leopard trench, bootcut jeans, pointy kitten heels and her signature blow-out.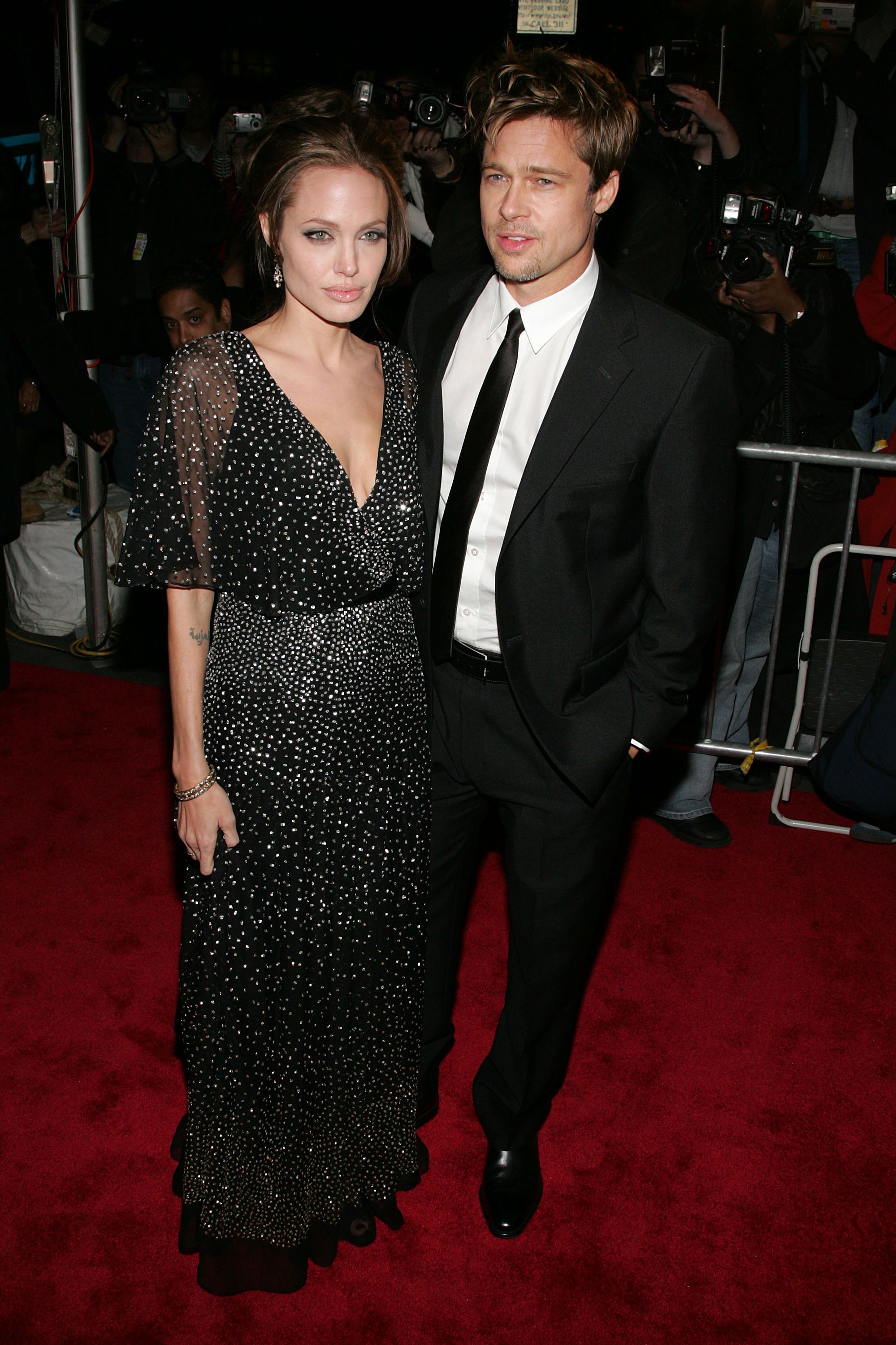 Photo by Bryan Bedder/Getty Images
At the premiere of The Good Shepherd, 2006
Oh, Brangelina. After meeting on the set of Mr. and Mrs. Smith in 2004, Angie and fellow A-lister Brad Pitt became the celebrity power couple of the aughts. During their highly-publicized 12 year relationship, the duo sported many twinning looks on red carpets from the Academy Awards to Cannes Film Festival. To match Brad's penchant for traditional suiting, Angie frequently wore head-to-toe black. Despite the palette, however, Angie's late-00s gowns read as glam rather than gothic. Here, attending her first red carpet with Brad, Angie wears a sparkling surplice gown with chignon updo.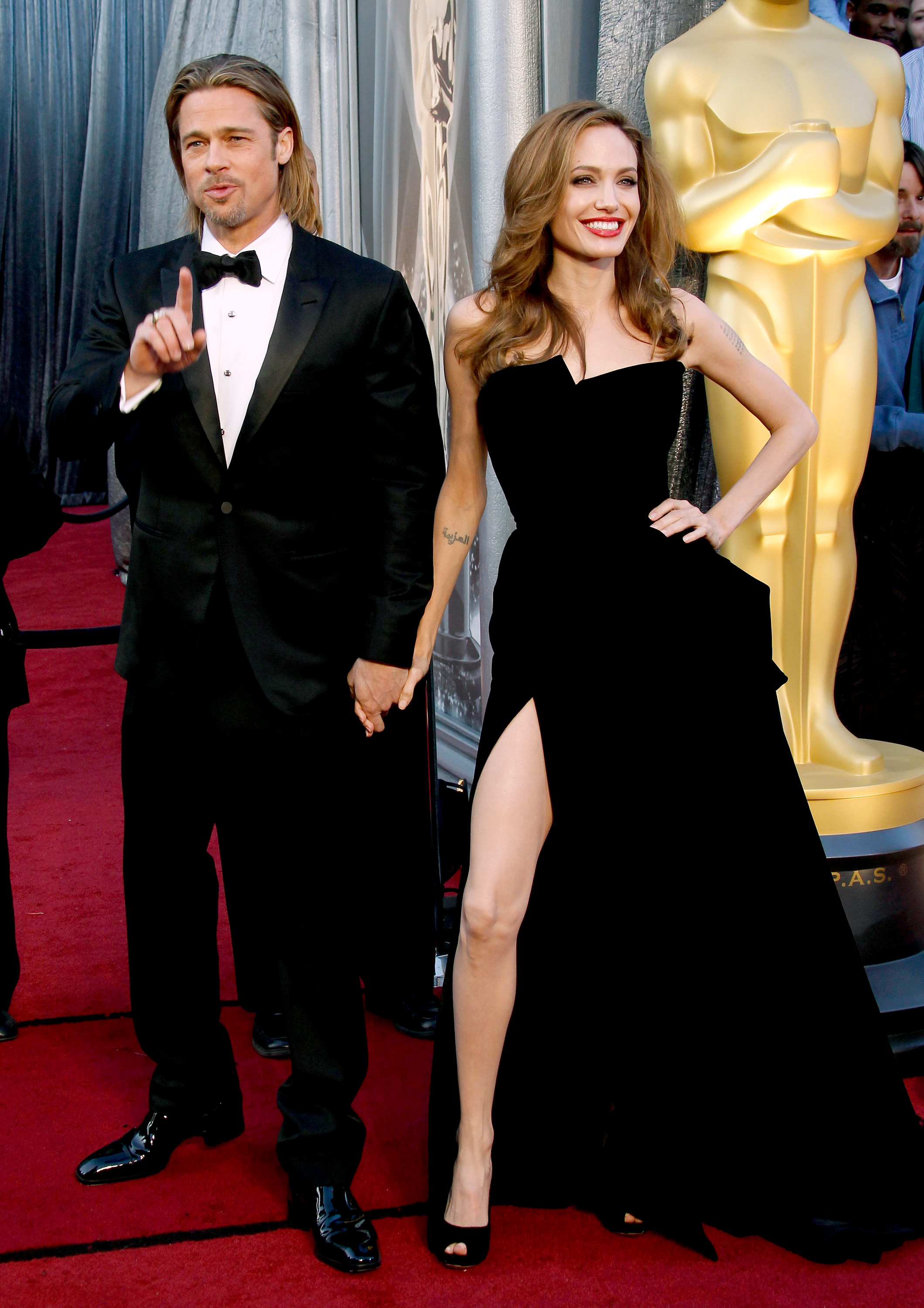 Photo by Dan MacMedan/WireImage
At the Academy Awards, 2012
In the early 2010s, Angelina was obsessed with a side slit dress. Before breaking the internet with this strapless Oscars gown, Angie wore the leggy style to The Tree of Life premiere in Cannes and the 2012 Golden Globes. This look, however, took the cake, becoming one of the year's most viral celebrity memes.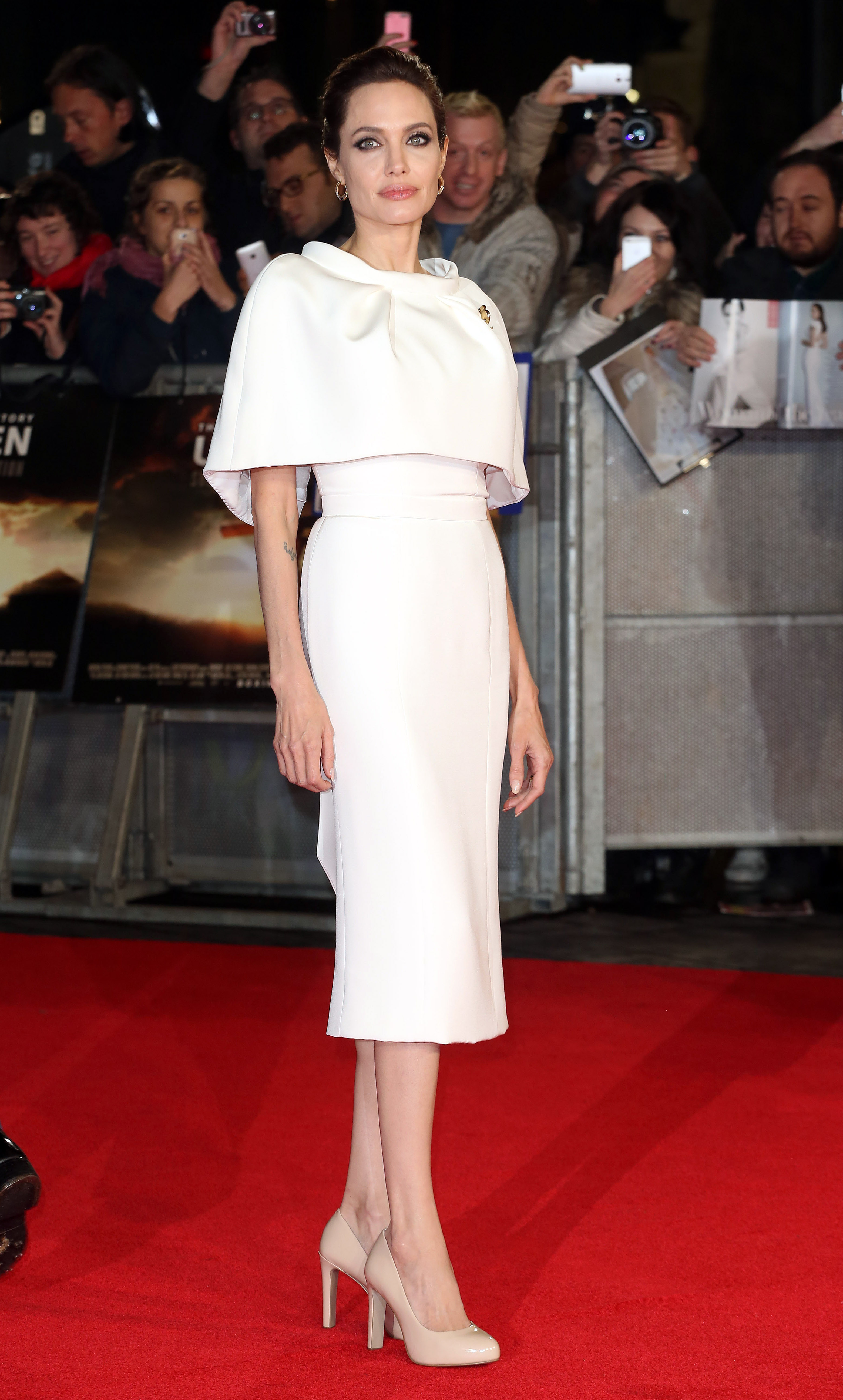 Photo by Karwai Tang/WireImage
At the premiere of Unbroken, 2014
In addition to her acting and humanitarian work, Angelina is also an accomplished film director. Since 2011, the multi-hyphenate has written and directed three feature films, including 2014 war film Unbroken and 2017 Cambodian-American thriller First They Killed My Father. While promoting her directorial work, Angie takes a more refined — rather than glamorous — approach to red carpet dressing. Here, at the premiere of Unbroken, she wears a prim shift dress with a structural capelet and nude heels.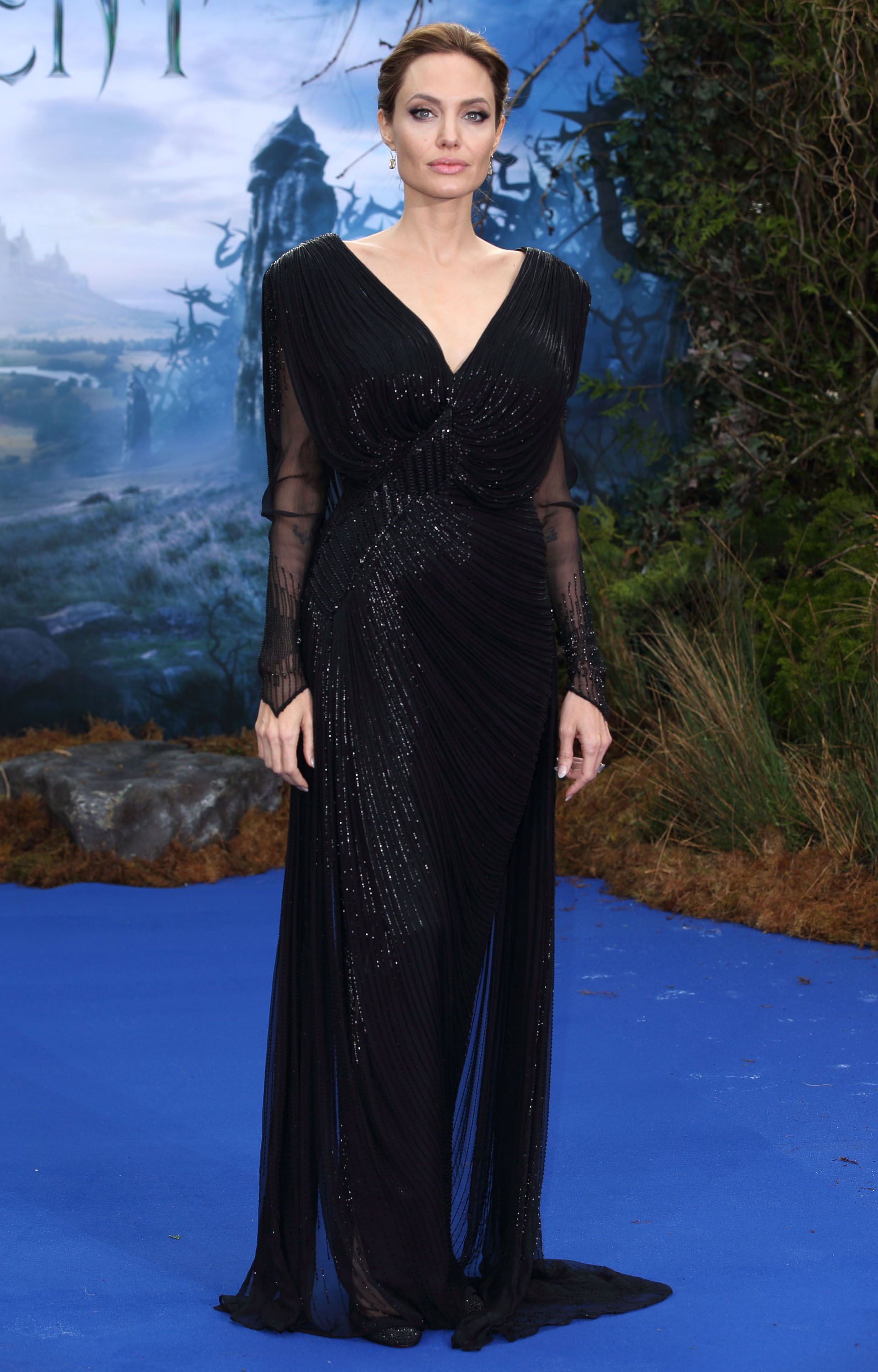 At the Maleficent premiere, 2014
In 2014, Angelina starred as dark fairy Maleficent in Disney's eponymous Sleeping Beauty re-make. The film marked Angie's return to live-action acting after a near four year hiatus. No doubt inspired by her spooky character, Angelina's Maleficent red carpet garb also marked a return to gothic form for the actress, for the first time in almost 20 years. To the film's LA premiere, the actress wore a faux-leather ballgown reminiscent of her mid-90s cybergoth attire. Here, to the film's London premiere, she wears a glamorous 30s-inspired gown with a twist: note the pointed mesh sleeves. Very witchy, indeed!
Photo by Mike Marsland/WireImage
At the Maleficent: Mistress of Evil premiere, 2019
Round two of Maleficent promotions — this time for the franchise's sequel Maleficent: Mistress of Evil — saw Angelina take a more avant-garde approach to red carpet dressing. To the fantasy flick's LA premiere, the actress wore a single-shouldered gown embellished with a sequinned spider. To its Rome premiere, she wore a cascading, purple pleated number by Givenchy. And, here, to the film's London debut, Angie wears an angelic chiffon gown with severe shoulders and a metal corset. A major look worthy only of a major movie star.