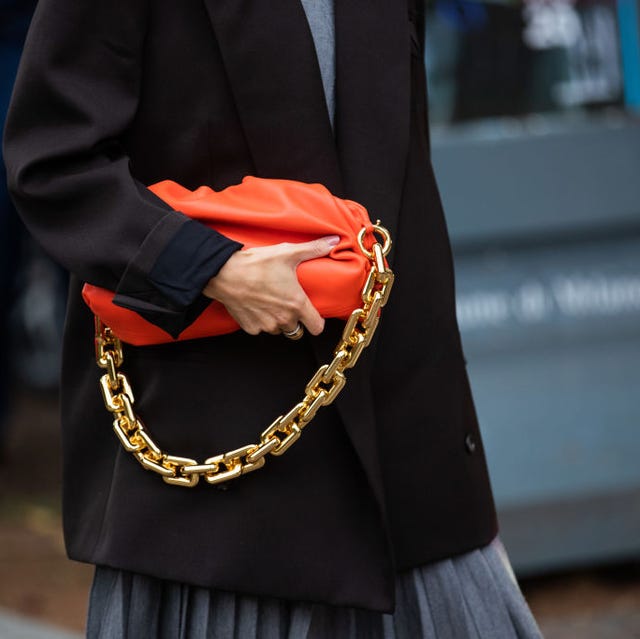 Christian VierigGetty Images
If you haven't heard, Hauliday is back for another 48-hour shopping party. On March 1 and 2, Cosmo and Klarna (the app that let's you pay in four interest-free payments) are teaming up for another fun-filled shopping fest with crazy-good deals and all our favorite brands.
There are a ton of retailers participating in the mega sale—from big, global sellers like Farfetch to up-and-coming indie brands like Favorite Daughter. So to help you strategize your spend, we've rounded some of the season's best fashion trends to score during the Hauliday sales. 40% off your spring wardrobe? Yep, it's going to be epic.
To help you finalize your game plan, here are all the season's need-to-know fashion trends to start saving for the sale. Scroll down and start setting your calendar alerts now because the deals will be here (and gone) before you know it.
Advertisement – Continue Reading Below
1
Buttery-Soft Bags
Mini Cloud Clutch
Mansur Gavriel
mansurgavriel.com
$495.00
You don't have to drop a bajillion dollars to get that buttery-soft clutch we've all been dreaming of because  Mansur Gavriel is offering 15 percent off full-price items.
Promo Code: HAULIDAY
2
Buttery-Soft Bags
Tessa Ruched Faux Leather Handbag
Vici
vicicollection.com
$38.00
When your friends see you wearing this cute lil bag in every color, they'll wish they'd snagged the same 30 percent off Hauliday deal from Vici Collection.
Promo Code: HAULIDAY 
3
Beaded Necklaces
Be Kind 14kt Rose Gold And Jade Necklace
Roxanne First
farfetch.com
$237.00
Fine jewelry can be expensive as hell, but it turns out 10 percent off full-price items at Farfetch can save you some serious dough on your next investment spend.
Promo Code: HAULIDAY
4
Beaded Necklaces
Pearl Station Necklace
Rebecca Minkoff x Sunnydaze
rebeccaminkoff.com
$148.00
The beaded jewelry trend is going to be big this spring and summer, so snag this colorful necklace at Rebecca Minkoff's 25 percent off site-wide sale to get a jump on the trend.
Promo Code: HAULIDAY
5
Ultra-Oversized Shirts
Green Poplin Oversized Shirt
Missguided
missguidedus.com
$48.00
Shirts got a serious scale-up on the spring runways. The good news is that you can score some major savings on the trend because Missguided is offering an extra 20 percent off your Hauliday purchases.
Promo Code: HAULIDAY
6
Ultra-Oversized Shirts
Oversized Corduroy Shirt
H&M members will receive 20 percent off their Hauliday orders, so be sure to sign up to scoop up big savings on your spring wardrobe staples.
Promo Code: HAULIDAY
7
Necklace Bags
Priority List pouch
FENTY
farfetch.com
$240.00
Necklace bags are a micro trend we can totally get behind, and you can bet we'll be shopping some of our faves from Fenty with the Farfetch 10 percent off deal.
Promo Code: HAULIDAY
8
Necklace Bags
turnlock pouch 10
COACH
coachoutlet.com
$45.00
Teeny-tiny bags are here to stay, and with the Coach Outlet's 20 percent off Hauliday deal, you don't need to drop big dollar signs to get in on the trend. 
Promo Code: HAULIDAY
9
Not Your Standard Sweats
Wide Ribbed Pant in Empire Wool
The cost-per-wear for a fancy shmancy pair of sweats goes way down when you can wear them 24/7. Make some smart investments in your loungewear essentials during Hauliday, because Theory is offering 20 percent off all full-price items.
Promo Code:  HAULIDAY
10
Not Your Standard Sweats
Knitted Lounge Set
There's no better time to refresh your entire stay-at-home wardrobe because Boohoo is 20% off on this set and all their other oh-so-amazing lounge looks.
Promo Code: HAULIDAY
11
Artsy Earrings
18kt Gold Kinetic Mobile Earrings
Anissa Kermiche
farfetch.com
$333.00
Pretty Zoom earrings are still the accessory getting the most face time into spring. You can grab the season's biggest fashion statement with a little bit of savings if you use Farfetch's 10 percent off Hauliday deal.
Promo Code: HAULIDAY
12
Artsy Earrings
Charm Hoop Earrings
Machete
express.com
$100.00
These cute hoops can be worn with or without the charm, meaning you get two chic earrings for the price of one. What's even better is that Express is offering them for an extra 10 percent off during Hauliday. 
Promo Code: HAULIDAY
13
Sporty Style
Colorblock Popover
TOMMY JEANS
usa.tommy.com
$149.50
Windbreakers are making a major high-fashion comeback for spring, and with Tommy Hilfiger's 40 percent site-wide sale, it's even easier to fall for this breezy trend.
Promo Code: HAULIDAY
14
Sporty Style
Oversized Hoodie
Reebok by Pyer Moss
reebok.com
$180.00
Snap up this ultra-covetable Pyer Moss and Reebok collab during the Hauliday sale. Reebok offering a 40 percent off discount across the site... need we say more? 
Promo Code: HAULIDAY
15
Retro Sneakers
Daybreak Casual Sneakers
Retro sneaker styles are back, and we are SO here for it. When you spend $150 at JD Sports, and you'll receive $15 off your Hauliday purchase, so you might as well pick up a few colorways. 
Promo Code: HAULIDAY 
16
Retro Sneakers
Carina Leather Casual Sneakers
An ultra-classic pair of white sneakers is forever on-trend. This throwback pair of Puma kicks just so happens to be one of the sale exclusives Macy's is serving up just for Hauliday.  Score!
Promo Code: HAULIDAY
17
Roomy Denim
Straight-leg Jeans
Off-White
farfetch.com
$610.00
After a year of non-stop loungewear, it's probably pretty hard to imagine squeezing into a pair of skinny jeans again. Luckily, spring's biggest denim trend is all about realllly relaxed silhouettes. With Farfetch's 10 percent discount, you can splurge on designer denim without breaking the bank.
Promo Code: HAULIDAY
18
Roomy Denim
Wide Leg Jean
WeWoreWhat
shopweworewhat.com
$148.00
Roomy silhouettes like these influence-approved styles are available at WeWoreWhat's 20 percent off site-wide Hauliday sale. 
Promo Code: HAULIDAY
This content is created and maintained by a third party, and imported onto this page to help users provide their email addresses. You may be able to find more information about this and similar content at piano.io
Advertisement – Continue Reading Below