Photo by Pascal Le Segretain/Getty Images, Marc Piasecki/GC Images, Pierre Suu/GC Images and Mike Marsland/WireImage
It seems that Bella Hadid sets the internet ablaze with every outfit she wears. Since signing with IMG Models in 2014 — and debuting on the Tom Ford runway a year later — the supermodel has both captured and defined the zeitgeist with her ever-evolving personal style. Throughout her career she's been muse to designers from Jacquemus to Mugler's Casey Cadwallader, the studied subject of Instagram style accounts and one of the world's most-photographed women both on and off the pages of fashion magazines. She's the undisputed queen of the Cannes red carpet — and the entire naked dress genre, for that matter. One immaculately styled outfit, or perfectly placed accessory, when worn by Bella, can launch a trend (2016's denim craze and 2018's micro-sunglasses) or reboot a dormant one (the Dior Saddle bag), boost the profiles of emerging designers (Nensi Dojaka, Charlotte Knowles, Supriya Lele), and nearly break the internet (her Schiaparelli Cannes moment.)
Despite the fact that her career is just getting started, Bella Hadid's style has undergone a complete transformation since her 2014 debut, dipping in and out of trends, and weaving through fully-realized "eras" that have defined Bella's style over the years. From gothic leather in 2016 and 2018's streetwear tailoring, to 2020's workwear looks and the pandemic's DIY aesthetic, we take a look back at how the super has — and continues — to define and redefine fashion today. This is Bella Hadid's style evolution.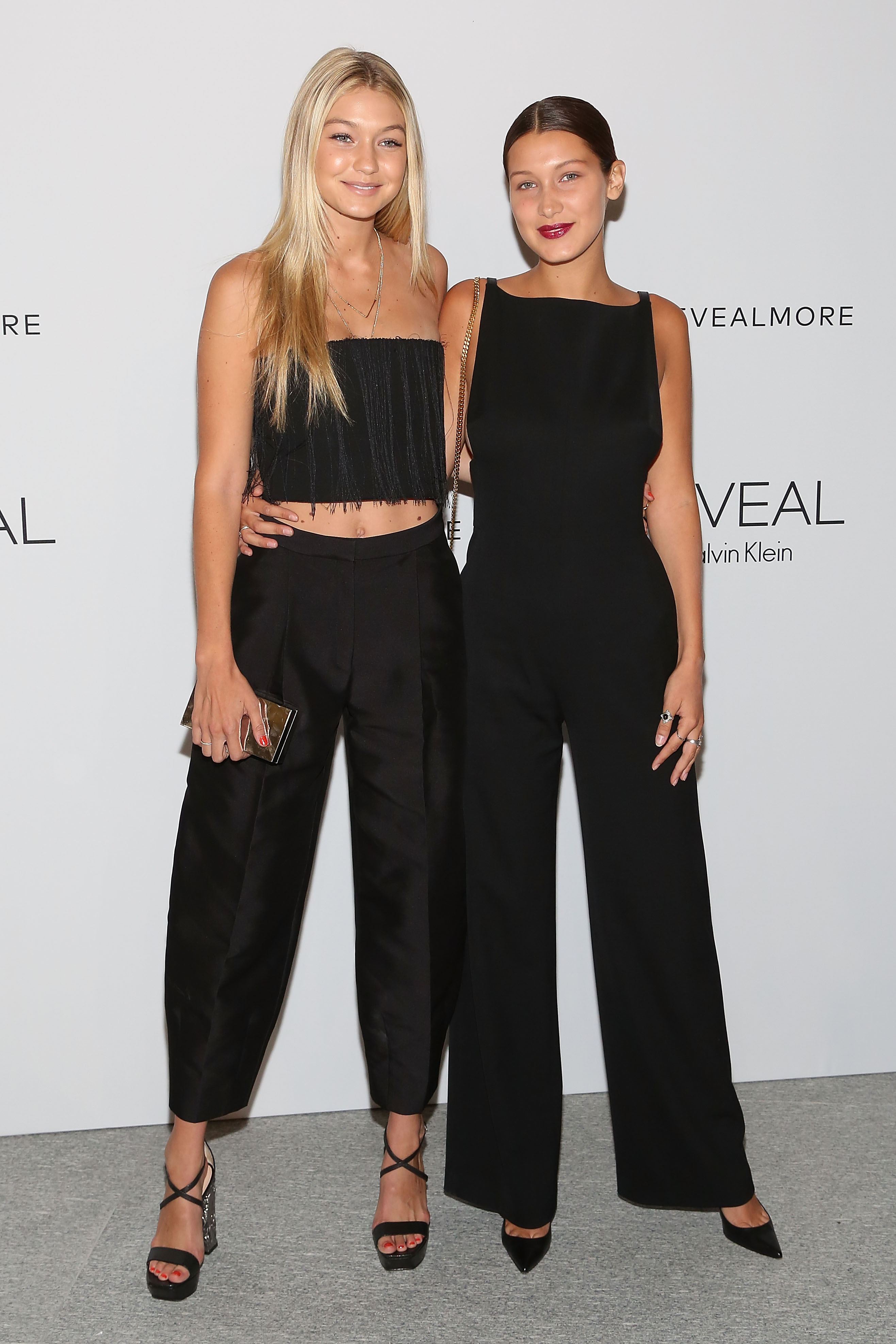 Photo by Taylor Hill/Getty Images
At a Calvin Klein launch party with Gigi Hadid, 2014
Before moving to New York City and becoming a model, Bella was known primarily for her guest appearances on The Real Housewives of Beverly Hills, where she shared the screen with her mother (and Real Housewife) Yolanda and big sis (and model) Gigi. During this era, Bella attended myriad fashion industry events alongside Gigi, wearing a series of sophisticated — and very safe — tailored looks. Think simple pencil dresses, all-black everything, pointed toe pumps, fitted blazers, tasteful leopard print and sleek jumpsuits, like the one seen here. Bella even stuck to this formula for her first-ever Met Gala look, a black embroidered sheath dress worn to the event's 2015 edition. While these looks are a far cry from the risk-taking, trend-setting fare Bella's known for today, they're perfect for a fledgling model dipping her toe in the fashion industry pond.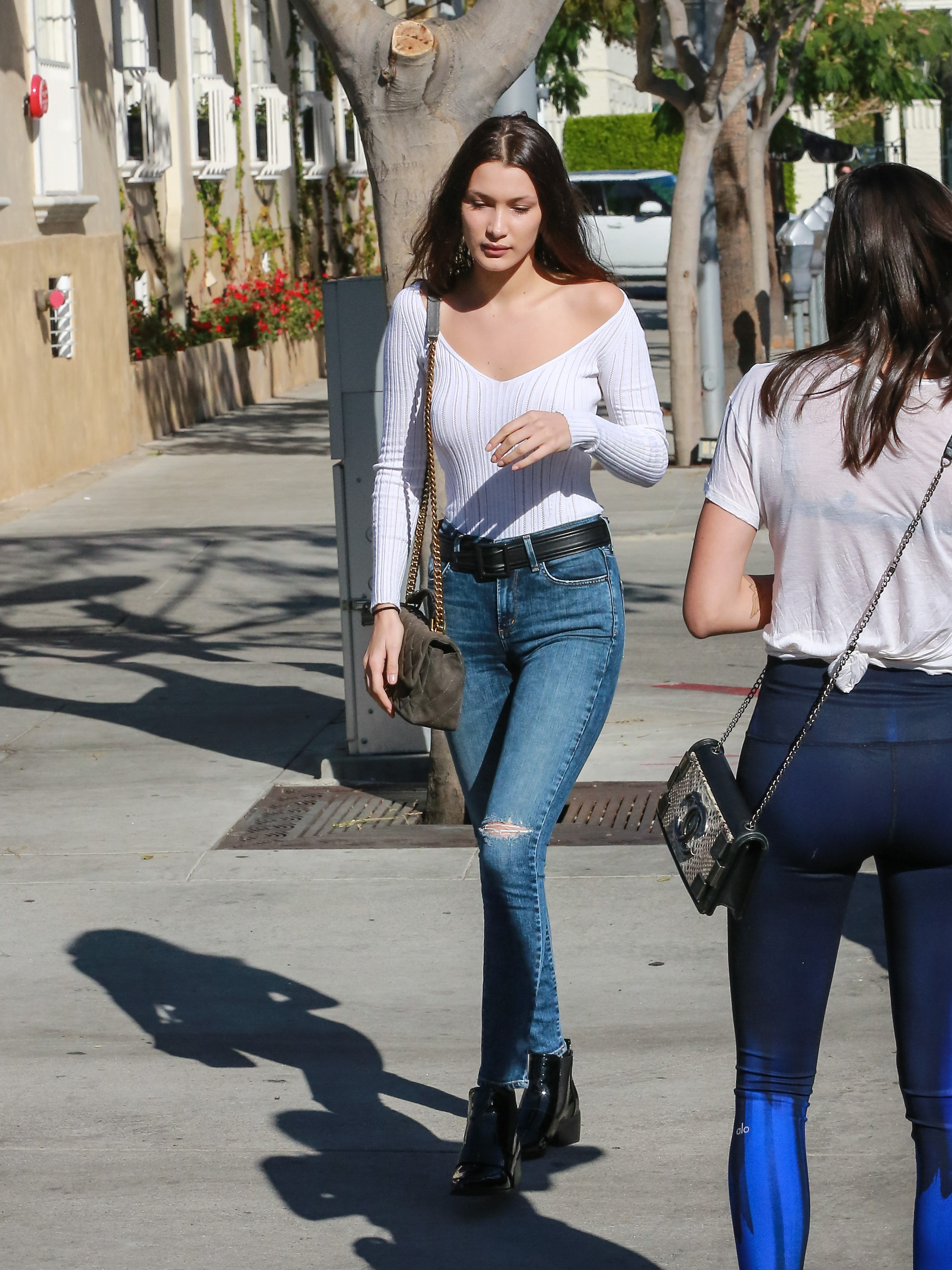 Photo by Bauer-Griffin/GC Images
Off-duty style in Los Angeles, 2015
A year after moving to NYC — originally to attend Parsons — and signing with IMG Models, Bella made her runway debut at Tom Ford's AW15 show. In the year that followed, Bella stuck to the era's standard model-off-duty uniform: tried-and-true basics like skinny jeans, turtleneck sweaters and bodysuits, leather leggings, hoodies and sweatpants, and leather miniskirts. All paired with either pointy black boots or simple trainers.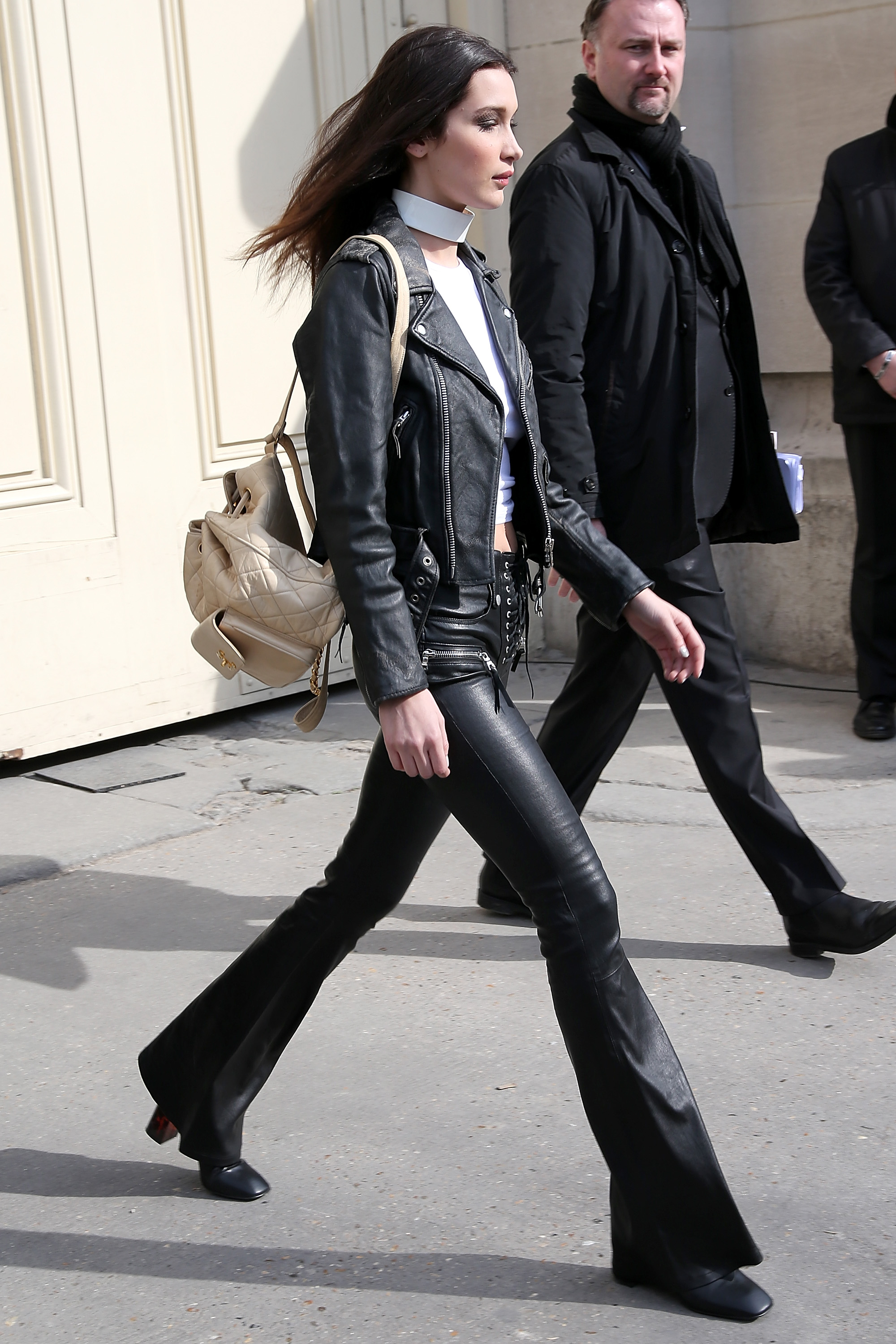 Photo by Pierre Suu/Getty Images
Leaving Chanel's AW16 show, 2016
Bella returned to Paris Fashion Week for her third season with a stacked line-up of blue chip shows (Chanel, Givenchy and Miu Miu) and a wardrobe to match. This time around, the seasoned model took a more fashion-forward — and subtly goth — approach to the model-off-duty uniform: faux-fur jackets, sheer hoodies, bralette tops, diamanté chokers, studded leather jackets and bootcut (rather than skinny) jeans. Here, she exits Chanel wearing the era's quintessential Unravel leather pants with a baby tee and moto jacket. Missing are her signature sunglasses — essential for blocking out the paparazzi's camera flash. During this era, Bella preferred big and round shades or simple aviators.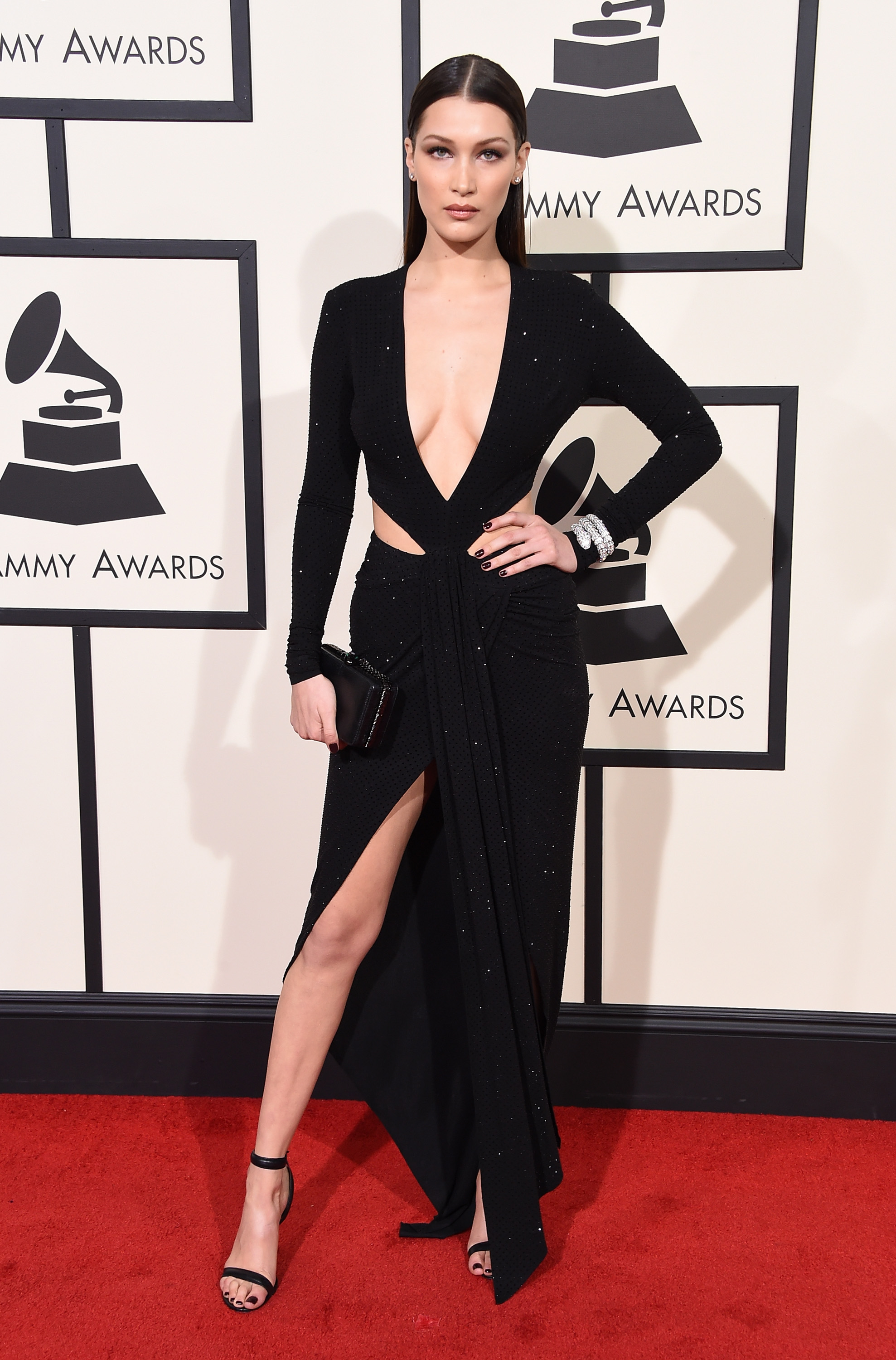 Photo by Steve Granitz/WireImage
At the Grammys, 2016
Bella's new model-off-duty look — a bit sexy, a bit goth-y — translated into her red carpet wardrobe too. Out were the tailored mid-length dresses and jumpsuits, and in were the draped gowns, plunging necklines and thigh-high slits — all in black, of course. This daring Alexandre Vauthier couture dress, worn to the 2016 Grammy Awards, was Bella's first major red carpet moment. And while this slinky number wasn't exactly a naked dress, it did give us a glimpse into the headline-making, internet-breaking red carpet looks that would become Bella's calling card in years to come.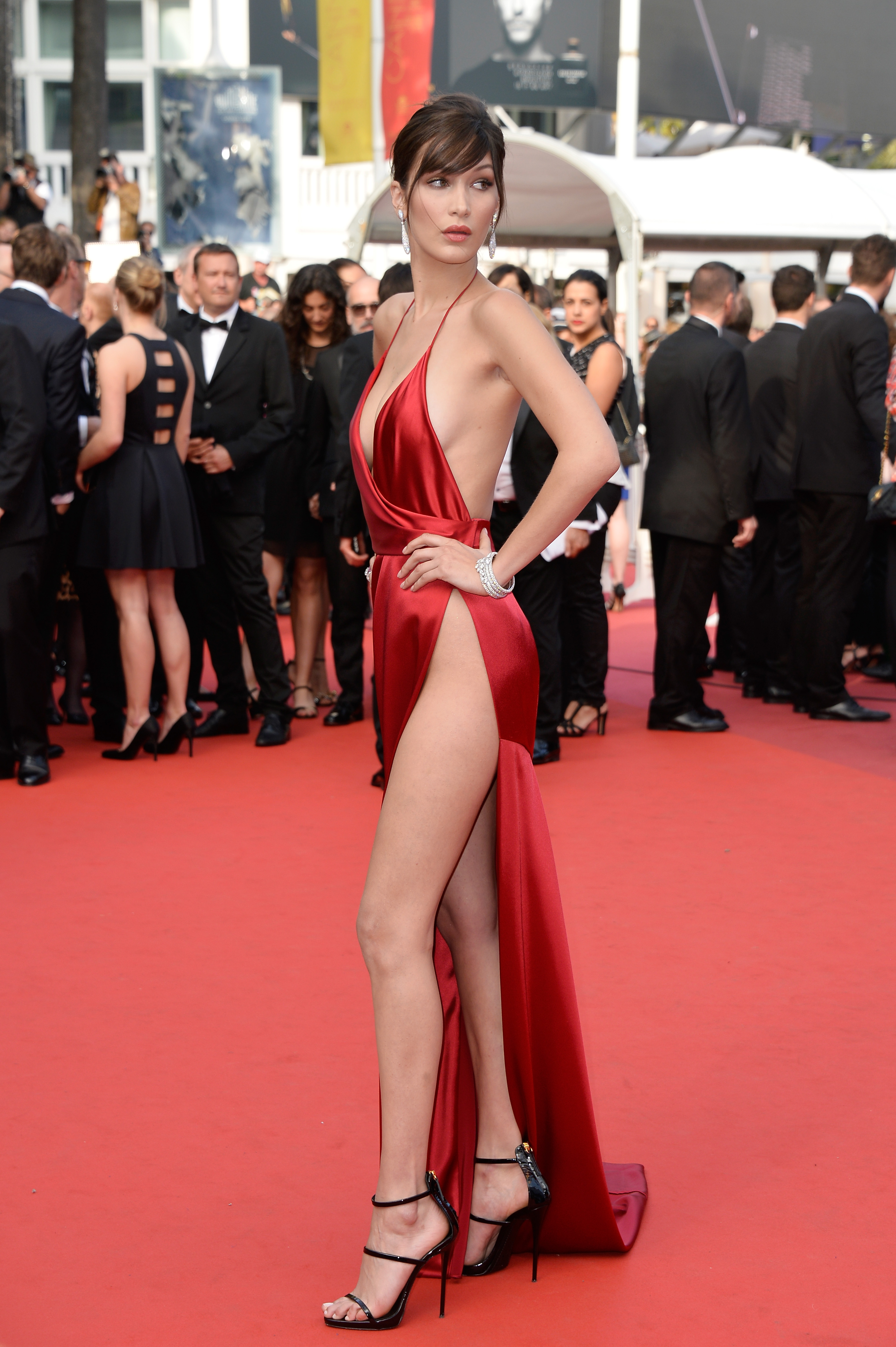 Photo by Pascal Le Segretain/Getty Images
At Cannes Film Festival, 2016
And speaking of headline-grabbing looks: this red Alexandre Vauthier couture gown, worn to the 2016 Cannes Film Festival, was Bella's first truly viral red carpet moment. Harper's Bazaar called it the sexiest dress at the year's festival. Huffington Post took it a step further with "the sexiest dress of all time." And Vanity Fair referred to the ensemble as "that red dress", the use of italicized determiner cementing its status among iconic dresses like J.Lo's plunging Versace number. With its slinky halter bodice and waist-high slit, the look was a veritable naked dress — the first of many. It also marked a departure from Bella's favoured goth-y style towards a more glamorous look.
Photo by Marc Piasecki/GC Images
In Paris, 2016
If the first half of 2016 was all about black leather, then the latter half was wholly dedicated to denim. No longer sporting the skinny jeans of yore, Bella took a more polished, fashion-forward approach to the beloved blue fabric, wearing covetable pieces like the year's ubiquitous Re/Done miniskirt and Frame denim jumpsuit, cut-off denim jackets and oversized Canadian tuxedos. Here, taking a break in Paris during her fourth runway season, she wears a denim bandage skirt and matching jacket over a sheer mesh top — an underlayer that's still a staple in Bella's wardrobe today.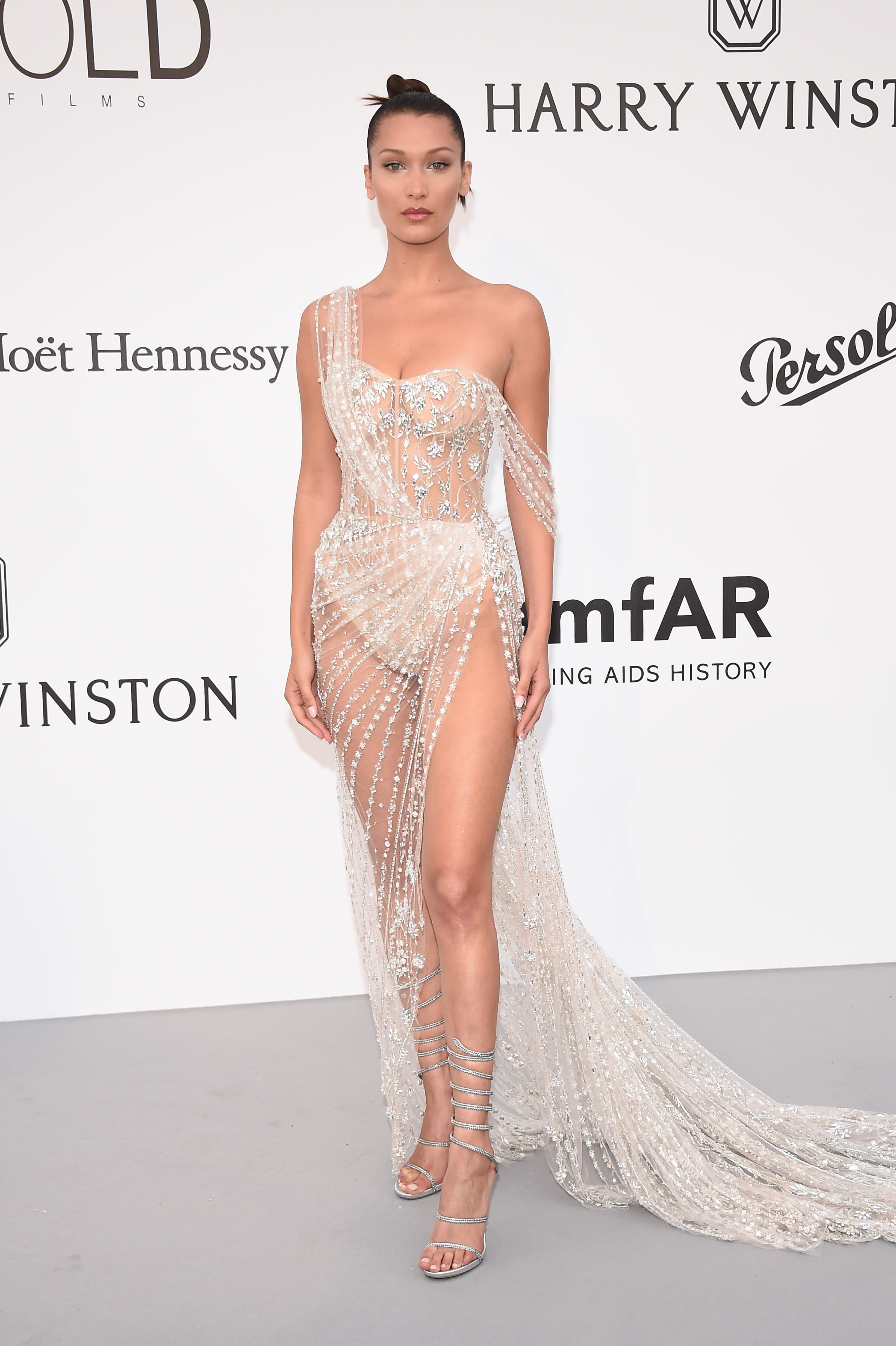 Photo by Stephane Cardinale – Corbis/Corbis via Getty Images
At Cannes Film Festival, 2017
By 2017, Bella had done naked dresses before (see: 2016 Cannes and the 2017 Met Gala) but never like this! To the year's Cannes Film Festival, Bella one-upped the previous year's red Vauthier look with an entirely sheer, crystal-embellished Ralph & Russo gown. It was, obviously, "the sexiest dress to ever hit Cannes." Featuring a corseted bodice and chiffon panels dripping with sequins, chains and crystal, the custom-gown was handcrafted for the supermodel over the course of 3000 hours. In the years that followed this headline-making Ralph & Russo moment, these kinds of near-sheer, lingerie-leaning gowns became Bella's red carpet go-to. Think this Dior underpinnings look, this slinky Julien MacDonald number and this nude Mugler catsuit.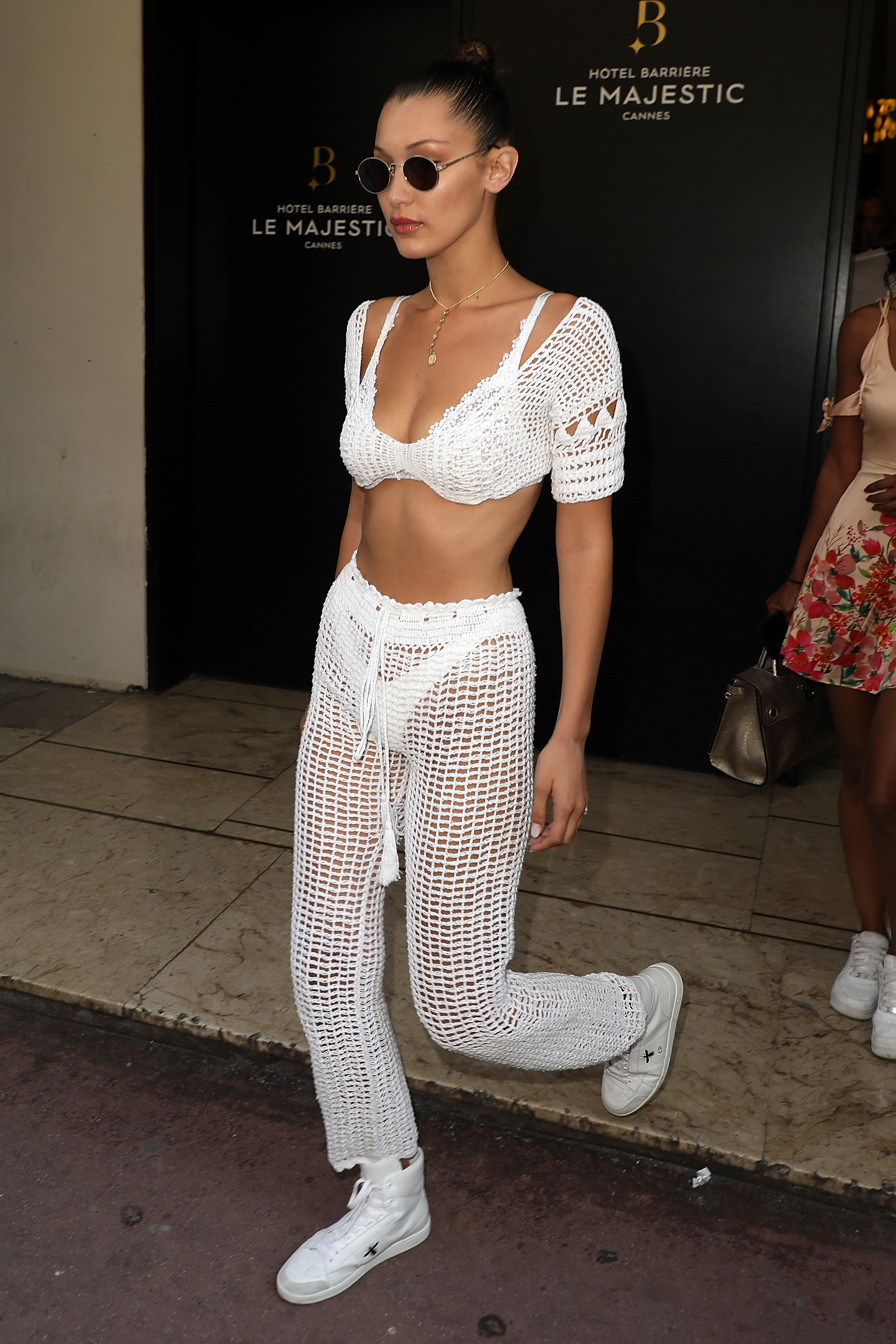 Photo by Pierre Suu/GC Images
At Cannes Film Festival, 2017
Always on top and ahead of Instagram's most viral trends, Bella was wearing this summer's sexy crochet and knits over four years ago. Spanning 2017, Bella's sexy knitwear era took in the quintessential Orseund Iris cropped numbers, off-the-shoulder sweaters (paired with her favoured denim), turtleneck mini dresses, cute cropped mohair cardigans, crochet mini dresses and even sexy crochet sets, like this one, worn while visiting the sunny South of France for the year's Cannes Film Festival.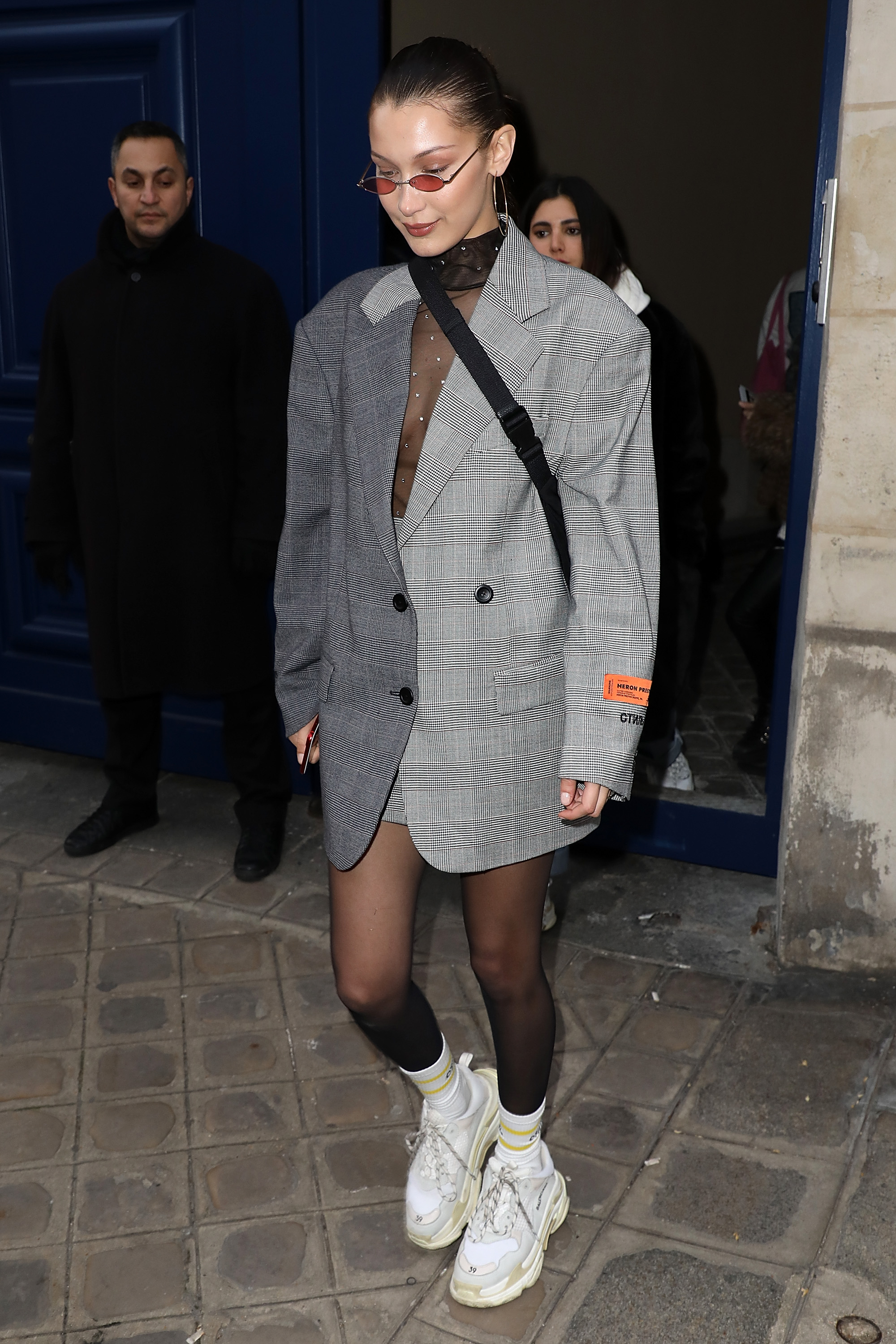 Photo by Pierre Suu/Getty Images
Arriving at the Heron Preston presentation in Paris, 2018
Ah, 2018: the year of Off-White, Roberi & Fraud shades and the infamous Triple S. It was also the era of streetwear tailoring. Think deconstructed blazers and trousers, massive shoulder pads and suits of David Byrne-esque proportions. From summer 2017, when she pulled up to the CFDA Fashion Awards wearing a chic fuschia Off-White blazer dress, to summer 2018, Bella partook heavily in the tailoring trend. During, the super wasn't snapped without at least one tailored separate on her person. Think corseted and cropped shirting (paired with Off-White denim, obviously), short shirtdresses, pinstriped trousers, oversized blazers and wool suiting in myriad check patterns, frequently paired with her staple mesh underlayer and Nike sneaks. Here, she wears a checked blazer by Heron Preston with a bedazzled mesh body, her signature micro sunglasses and a pair of Triple S sneakers, of course.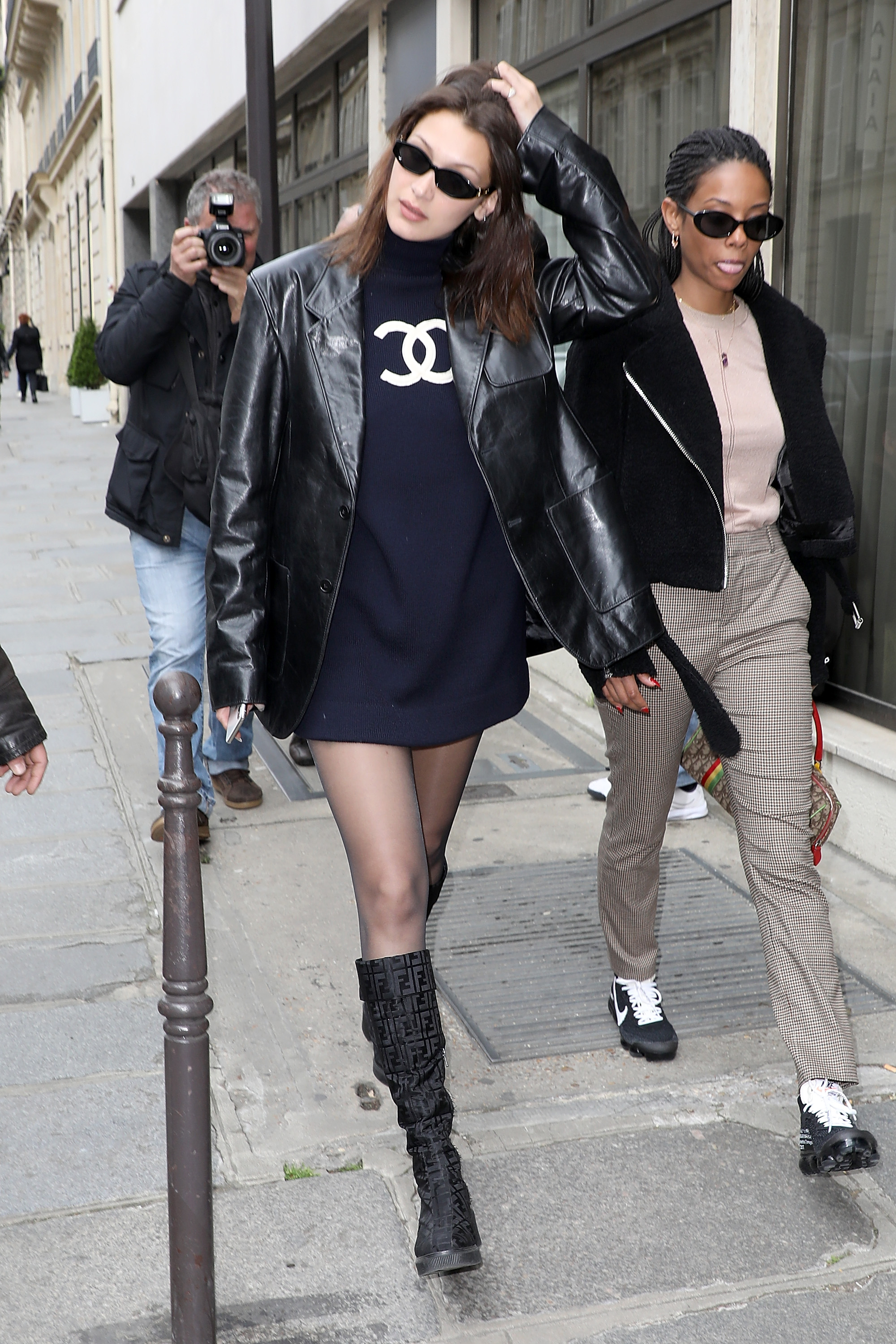 Photo by Pierre Suu/GC Images
In Paris, 2018
In 2018, Bella began dipping her toes in the style archives with an assortment of vintage designer pieces and a healthy dose of 90s logomania. During this era, some of Bella's most covetable archive finds included Chanel sweaters and swimsuits, Galliano-era Diorlogo tees, Dior saddle bags, Louis Vuitton x Takashi Murakami carry-alls  and her favourite Prada nylon handbag. This was also around the time, spurred by interest in vintage, that fashion houses began mining their own archives for inspiration. Prada revamped their nylon collection and Fendi relaunched their iconic baguette bags. Nineties logomania was back in full-swing and Bella jumped on the trend in old-is-new pieces like Chanel double C hardware belts and Fendi's double F canvas, seen here on a pair of the house's newly-minted boots worn with a vintage Chanel dress during Paris Fashion Week. Bella, however, was just getting started: hard-to-find archive pieces have since become a staple in the super's wardrobe. Into 2021, Bella continues to expand her impressive vintage handbag collection and champion Y2K pieces from designers like Jean-Paul Gaultier and Vivienne Westwood.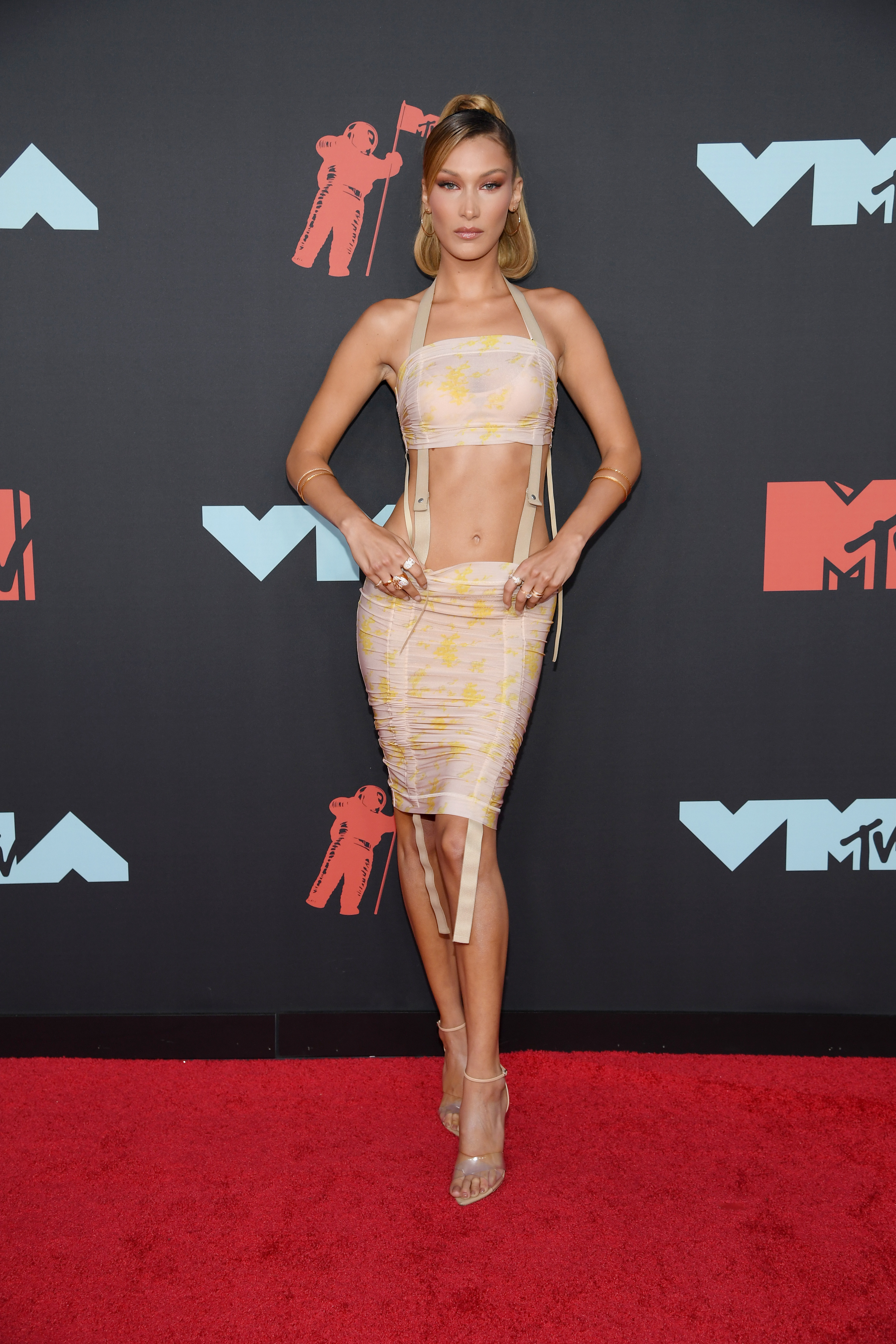 Photo by Dimitrios Kambouris/Getty Images
At the MTV VMAs, 2019
2019 marked a departure from Bella's regular rotation of high-fashion houses (Chanel, Dior, et al.) and Instagram brands (Daisy, Orseund Iris, etc.). Instead of going for big names and hyped pieces, Bella began championing small, emerging fashion labels both on and off the red carpet. In August of that year, Bella boosted the international profile of London-based label Charlotte Knowles when she wore a strappy set from their AW19 collection on the VMAs red carpet. Three months later, the model stepped out in a lace-up jacket from Royal College of Art grad Supriya Lele's very first LFW collection. Stunning and ground-breaking in their own right, these two outfits were, of course, precursory to Bella's ultra-viral Nensi Dojaka look at the next year's VMAs. Since 2019, Bella has shown her continued support of fashion's new-guard in Reese Cooper vests, Serapis' patterned denim and a series of looks from Charlotte Knowles, now known simply as KNWLS.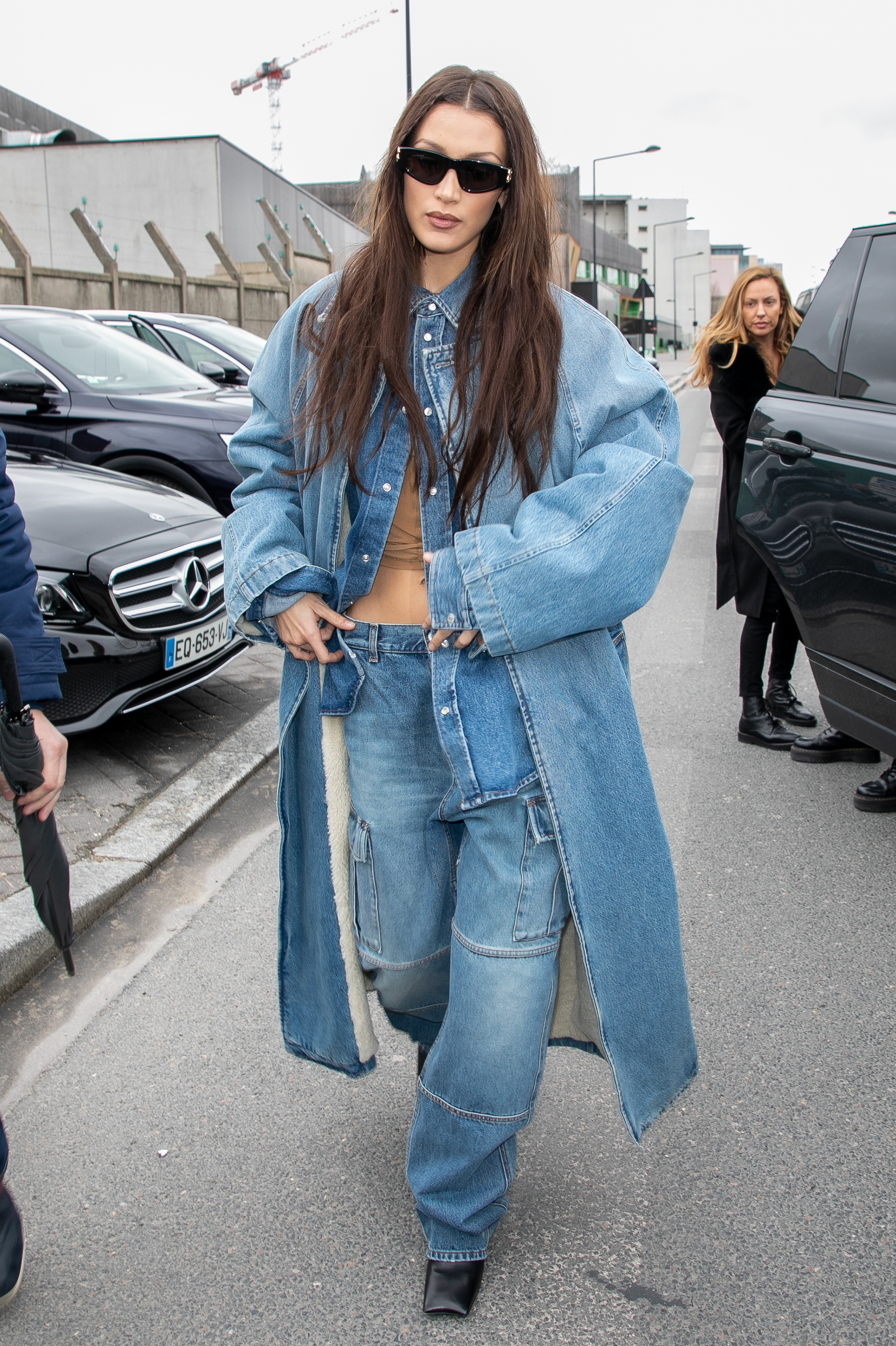 Photo by Marc Piasecki/GC Images
At Paris Fashion Week, 2020
In early 2020, as the pandemic loomed over winter's Paris Fashion Week, Bella went through a rather haute workwear phase. These immaculately tailored looks included cropped flight suits, flannel overshirts and performance fleece, a Louis Vuitton parachute set, chore jackets, carpenter jeans, Doc Martens and this Balenciaga denim cargo suit. In true Bella fashion, the super accessorized these androgynous, oversized looks with playful bucket hats, colourful sunglasses and her signature patterned mesh tees.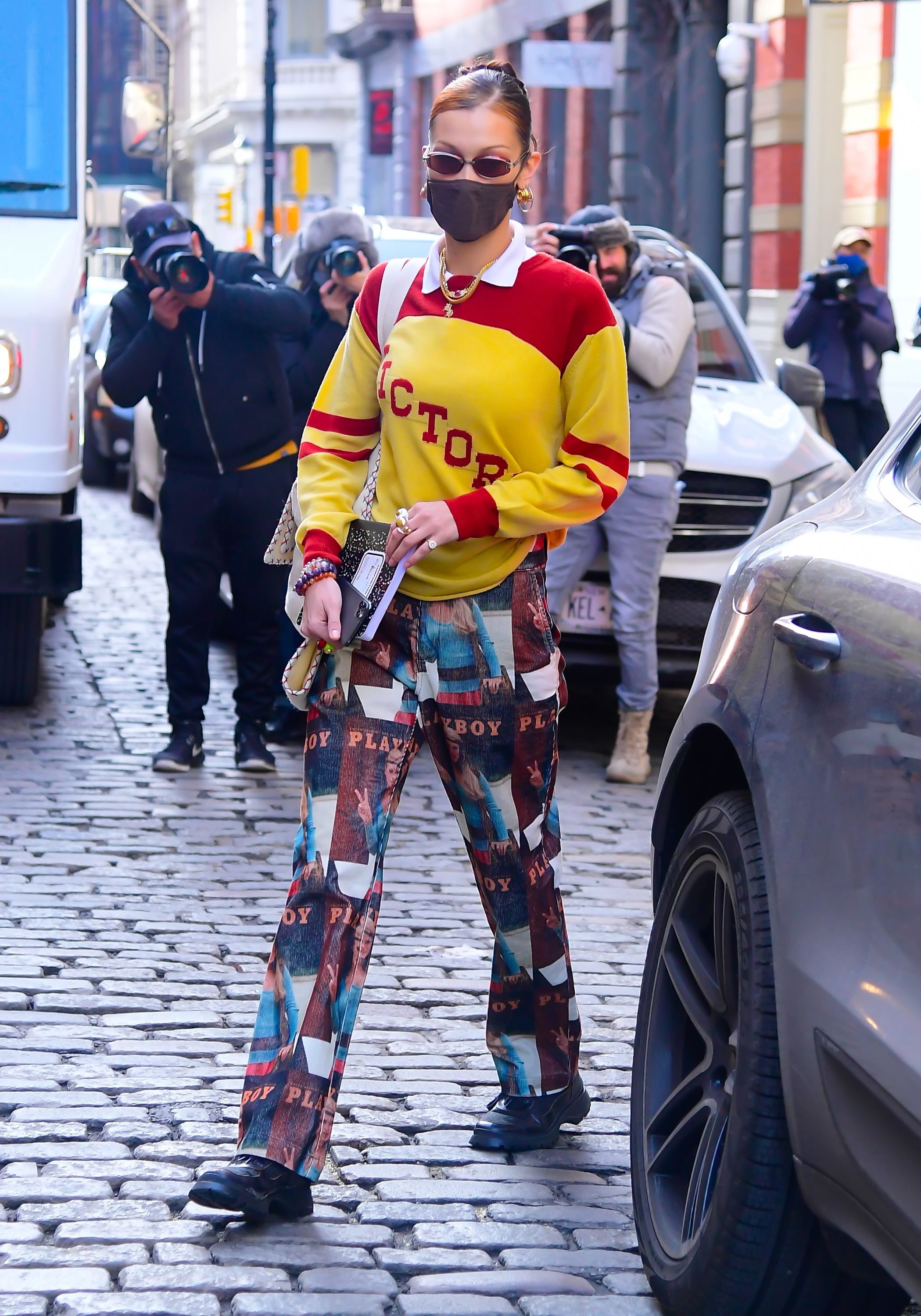 Photo by Raymond Hall/GC Images
Off-duty New York style, 2020
Then the pandemic hit. Red carpet events dried up, fashion week went digital and Bella's formerly stacked schedule came to an (almost) standstill. With the super spending time between her mother's ranch and her New York apartment, her street style became less polished and match-y match-y, and more natural and eclectic — "unstyled", even — favouring relaxed shapes, fun colours and patterns, and zany accessories. Think pinstripes paired with acid-wash denim and faux-fur. Paisley, plaid and lacy camisoles. Tie-dye on tie-dye. Graphic tee-and-cardigan combos. Varied sports paraphernalia, massive scarves. Here, she wears a delightfully mismatched, very 2020 outfit, comprised of Bella's favourite Soulland Playboy pants, a graphic knit, and loads of DIY accessories from Bode's hand-embroidered tote to an arm-full of beaded bracelets.
Photo by Pierre Suu/GC Images
In Paris, 2021
With post-vax summer approaching and red carpets slowly starting to roll out, Bella's 2021 style became a bit more polished​​ — and a lot more noughties-inspired. Out-and-about in NYC, Paris, and Cannes, the super put her spin on the pandemic's bubbling Y2K trend in patterned denim, nameplate belts, teensy cardigans, low-rise trousers, tiny (and chunky) leather vests and a series of strappy and slinky mesh tops from KNWLS and Jean-Paul Gaultier, worn here.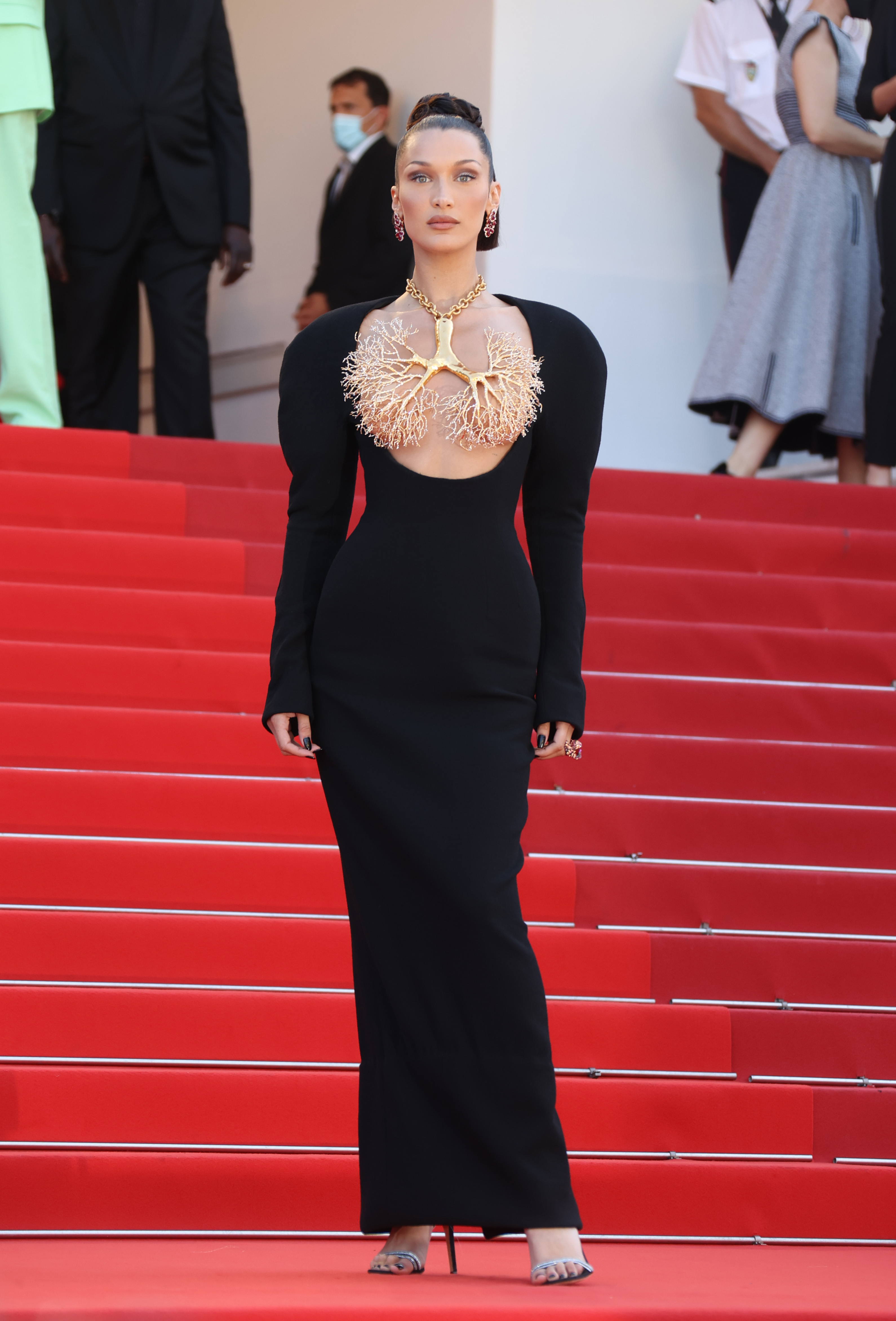 Photo by Mike Marsland/WireImage
At the Cannes Film Festival, 2021
Bella Hadid is the undisputed queen of the Cannes red carpet. Since setting the internet ablaze with her red Alexandre Vauthier number in 2016, the super has returned to the French film festival year after year to pull looks, turn heads and make headlines. After a hiatus in 2020 due to the pandemic, Bella took to the famed red-carpeted steps in what would be her most avant-garde look, to date. Designed by Schiaparelli's newly-minted creative director, Daniel Roseberry, for the label's AW21 couture collection, the gown in question featured a cut-out bust overlaid with a massive gold and rhinestone pendant necklace, shaped like a pair of lungs. Like Bella did with Vauthier in 2016 and Ralph & Russo in 2017, this look took over Instagram and Twitter feeds, fashion publications and tabloid headlines for the duration of the festival. An instantly iconic and innovative iteration of the naked dress for a truly iconic fashion innovator.