As the cornerstone of every beauty routine, the best makeup brushes simplify application, accentuate specific features, and deliver a flawless finish.
Long gone are the days of using one large brush and calling it a day with broad strokes. Today's tools come in an array of shapes, sizes, and textures, and finding the right ones for every step is no easy feat. 
Quality brushes are better for the skin as they will feel soft and gentle against the skin rather than scratchy, rough, and hard—stiff brushes will inevitably lead to skin irritation. 
While investing in quality makeup brushes may seem expensive initially, it will help you save money in the long run. These tools can withstand years of maintenance and abuse, meaning you won't have to constantly cycle through replacements.
How to choose the best makeup brushes
To get to the crux of the matter, we spoke with Christen Dominique, the co-founder and brains behind Dominique Cosmetics, a leading cruelty-free beauty brand. As a leader in the industry, she has become a herald of practical application tips that have since become viral, particularly through TikTok.
Start with the essentials: Seven makeup brushes will serve as the pillar of your kit—the foundation brush, concealer brush, powder brush, blush brush, and a trio for the eyes: an eyeshadow blending brush, flat eye shadow brush, and an eyeliner brush. These standard tools will help you refine and nail down your application technique.
Top your kit with add-ons: Expand your kit to include more targeted tools, like a lip brush, contour brush, and crease brush. 
Synthetic versus natural bristles: Synthetic bristles are man-made, typically composed of nylon and/or taklon fibers. Since they don't contain animal hair, they are vegan and cruelty-free (depending on the brush handle). Natural bristles are made of real animal hair, primarily sable or goat. They're softer than their synthetic counterparts. "Depending on the texture of the makeup I look for either synthetic fiber to glide on cream products or soft hair-like bristles for powders," says Dominique. Synthetic bristles are less porous and won't trap liquid-based products, while natural bristles move freely, enabling users to pick up and blend out powders.
Brush head shape: The brush shape ultimately determines its purpose, the product you'll use it with, and the level of pressure you should add during application. Common brush head shapes include round flat, flat-top, pointed, angled, fan, and liner. 
Size: Small, stubby makeup brushes target hard-to-reach areas, ensuring precise application. Large brushes sweep on a variety of formulas to larger areas of the face. Long bristles offer soft application and coverage, which is especially great for recreating natural makeup looks and easy makeup looks. Conversely, short bristles provide full application and coverage.
Fiber density: Fiber density defines the number of bristles placed into the ferrule, which is the metal ring that separates the bristles from the handle and keeps them intact. Densely-packed brushes guarantee a higher color payoff, while low-fiber brushes deliver a softer, more subdued look. Overall, Dominique says to avoid stiff and easily movable bristles prone to fallout.
Handle material: Dominique asserts that it's crucial to assess the sturdiness of a brush's base, as it'll dictate its longevity. Prioritize durability, and look out for brushes made of premium wood, aluminum, and/or metal.
When it comes to application, Dominique offers simple, yet effective advice—whether you're an expert, a beginner, or someone in between seeking the best makeup tips for older women. 
"Overall, you'll want to use light pressure over any area you are trying to blend, unless you are using cream contour or brighten to target a specific area." This will help you achieve an airbrushed finish. "Do not push down onto the skin when blending eyeshadow," she adds.
The best makeup brushes, as chosen by our experts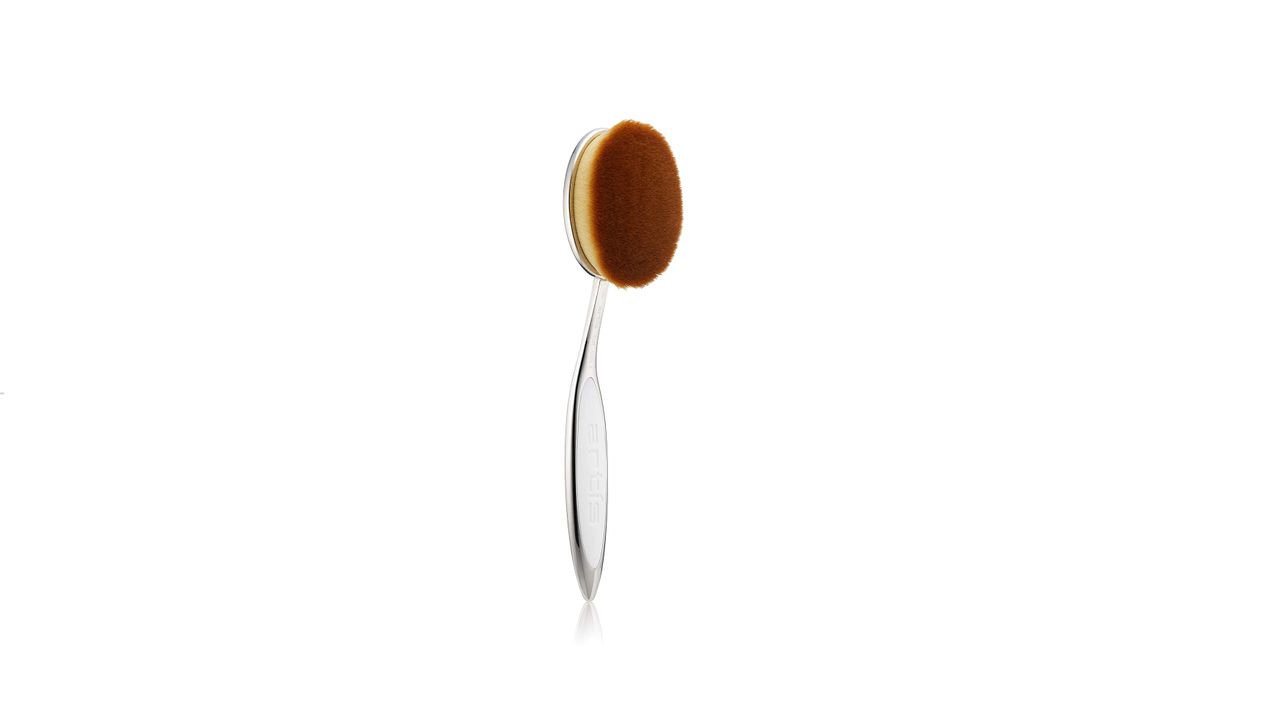 The Artis Oval 8 is hailed as the "Rolls Royce" of makeup brushes by Oprah Winfrey, and with good reason. Albeit pricey, it's highly versatile and eliminates the need for multiple purchases.
The Oval 8's cult following stems from its unique shape and natural orientation, which mimic how you'd apply makeup with your fingers. Unsurprisingly, Oval 8 features an oval shape, plus a handle made of metal alloy. This handle offers a secure grip, without feeling plasticky or flimsy.
Consequently, the brush covers large areas of the face and décolletage with minimal product. As a streamlining tool, it quickly applies and blends cream, powder, and liquid-based makeup, like foundation, blush, bronzer, contour, highlight, and setting powder. However, concealer application may be less precise, given its substantial size.
Oval 8 uses CosmeFibre, a monofilament fiber constructed and trademarked by the brand. CosmeFibre is not a bristle type—in fact, the brand doesn't use bristles in its production process. 
Artis created CosmoFibre as a solution to a common problem: synthetic bristles that often fall off since most manufacturers glue them in place. Wet glue loosens these tiny hairs, rendering their quality and function over time. Animal hair also degrades with continued use. Similarly, these options pick up formulas but do not evenly distribute them across areas. This explains why you may frequently find leftover products on top of the bristles post-application. 
On the contrary, CosmeFibre is a soft and fluffy material that helps individual brush hairs retain their shape. Unlike traditional bristles prone to shedding, this material stays intact and absorbs formulas with an iron hold. Above all, it ensures gentle and exacting application.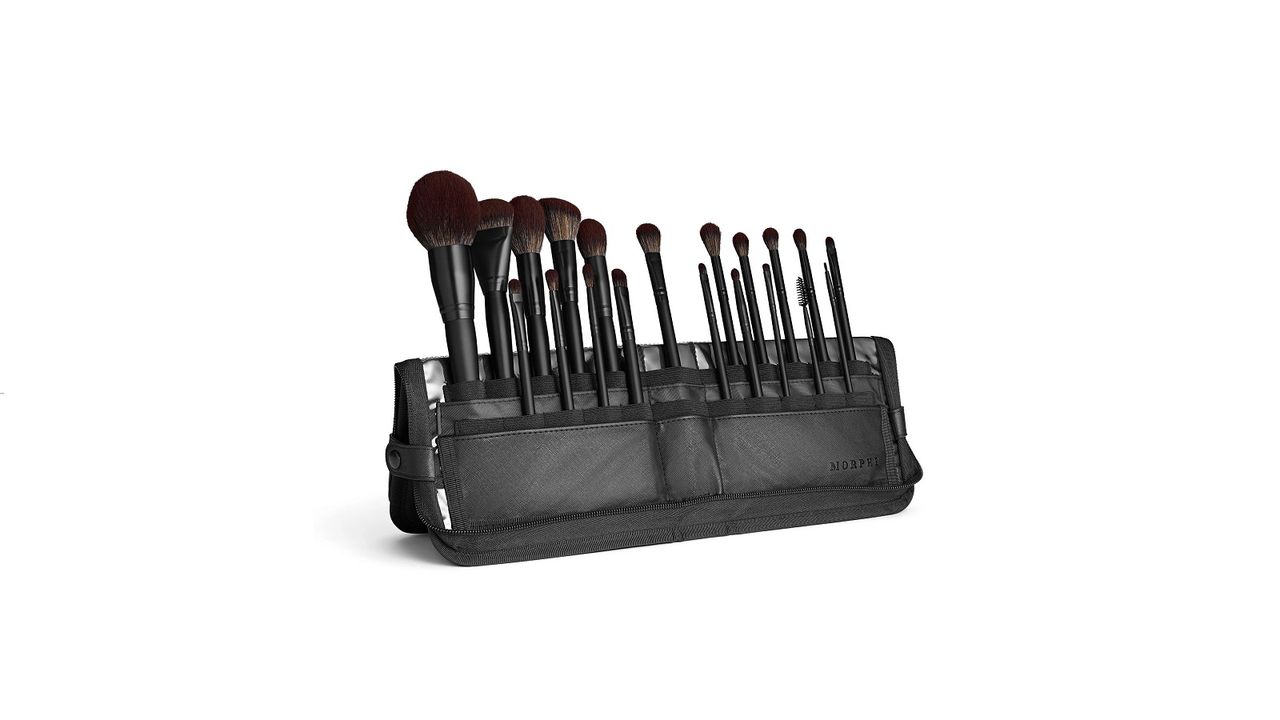 Morphe's MUA Life Collection is a colossal 20-piece bundle of eye and face brushes. Encased in a TSA-friendly portfolio pouch, this set comprises a vast range of shapes, from wide-angled, shadow, angled, and pointed tools for each area of the face. Our favorites include an angled contour brush designed to accentuate jawlines; a round deluxe blender blush that applies a vivid dose of pigment to the cheeks; and a do-it-all deluxe blender brush, which softens harsh lines.
$80 seems like a substantial investment until you consider the added value and convenience. One brush for the entire complexion isn't going to cut it, especially if you want flawless coverage. There's a slew of brush options available in different shapes, targeting specific areas of the face. Naturally, it's difficult (and overwhelming) to narrow down what exactly you need. This is where a robust makeup brush collection comes in handy, whether you're a pro-MUA or eager for an introductory foray. After all, the price of these tools adds up, with many individual brushes priced well above $100.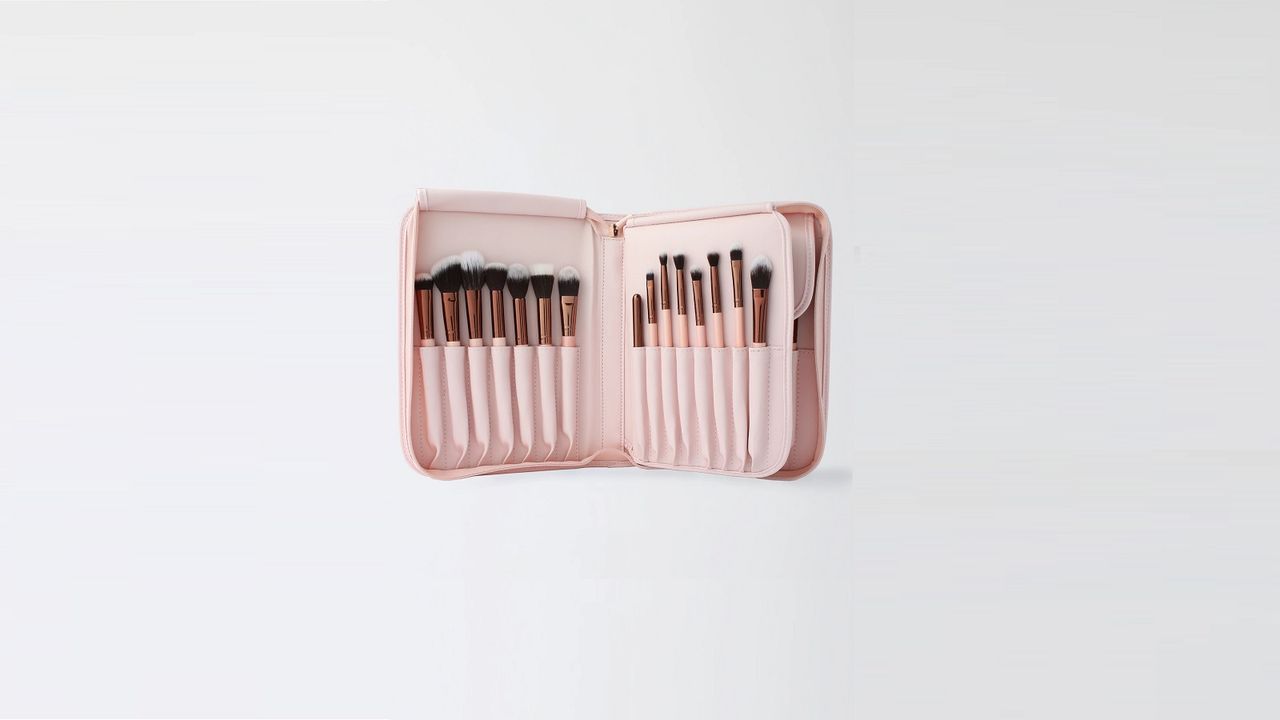 Luxie's 30-piece set is rose-gold vanity candy, featuring a host of synthetic, vegan, and cruelty-free brushes for your complexion. Undeniably, it's the lovechild of Elle Woods and bubblegum Barbie—down to the millennial pink handles and ferrules. 
Aesthetics aside, Luxie brushes are functional for creating understated and bold looks. There are ample sizes and shapes: from large powder, angled, and duo-fiber stippling brushes to concealer and tapered highlight brushes. You'll even find special inclusions, like a lip brush for preventing smudges and bleeding; and a spoolie brush for shaping, grooming, and defining lashes and brows. Simply put, it equips users with the essentials.
Of course, this pretty bundle costs a pretty penny; and we'd argue it's worth the splurge. More often than not, inexpensive bundles skimp on quality as brands focus on providing quantity. Conversely, these brushes strike the perfect balance. There are enough brushes to last and each one incorporates soft, yet dense bristles that won't fray. They deposit rich pigment, blend like a dream, and are easy to use, courtesy of their lightweight construction. Plus, they're quick to clean with bar soap and water. The convenience? Now that's priceless.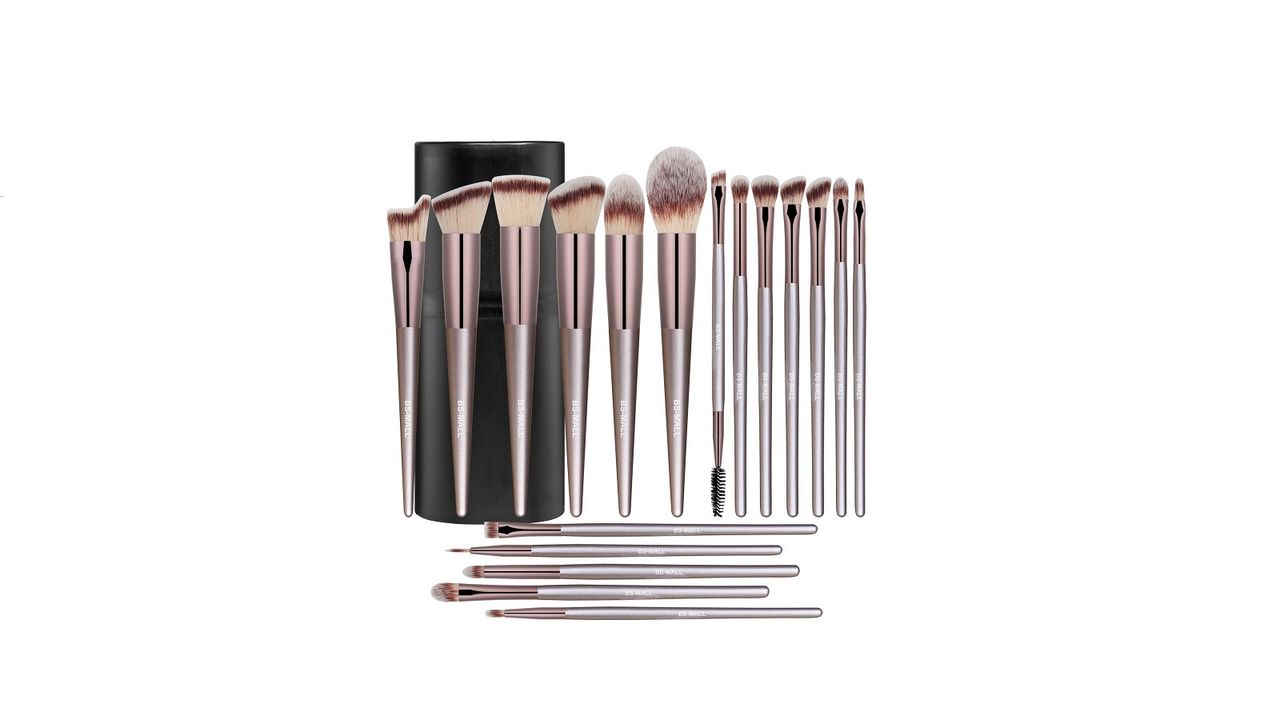 If your budget is tight, consider the BS-MALL 18-piece set, an affordable bundle that doesn't sacrifice quality. From applying and blending foundation to creasing and shading eyeshadow, there's a suitable brush for every type of application. You'll also find an array of brush shapes, including flat angled and tapered among others.
These bristles incorporate soft and silky, yet firm nylon: a common characteristic across synthetic brushes. Nylon is a premium fiber material that won't wear out or shed with long-term use. Compared to natural bristles, nylon fibers are easier to clean and maintain—they can be sanitized with alcohol and won't dry out in the process.
Even so, this set works primarily with cream and liquid makeup, not powders. Since they lack a cuticle, synthetic brushes don't absorb formulas, meaning they don't distribute powders with ease. Contrarily, natural bristles are permeable and hold onto fine particles.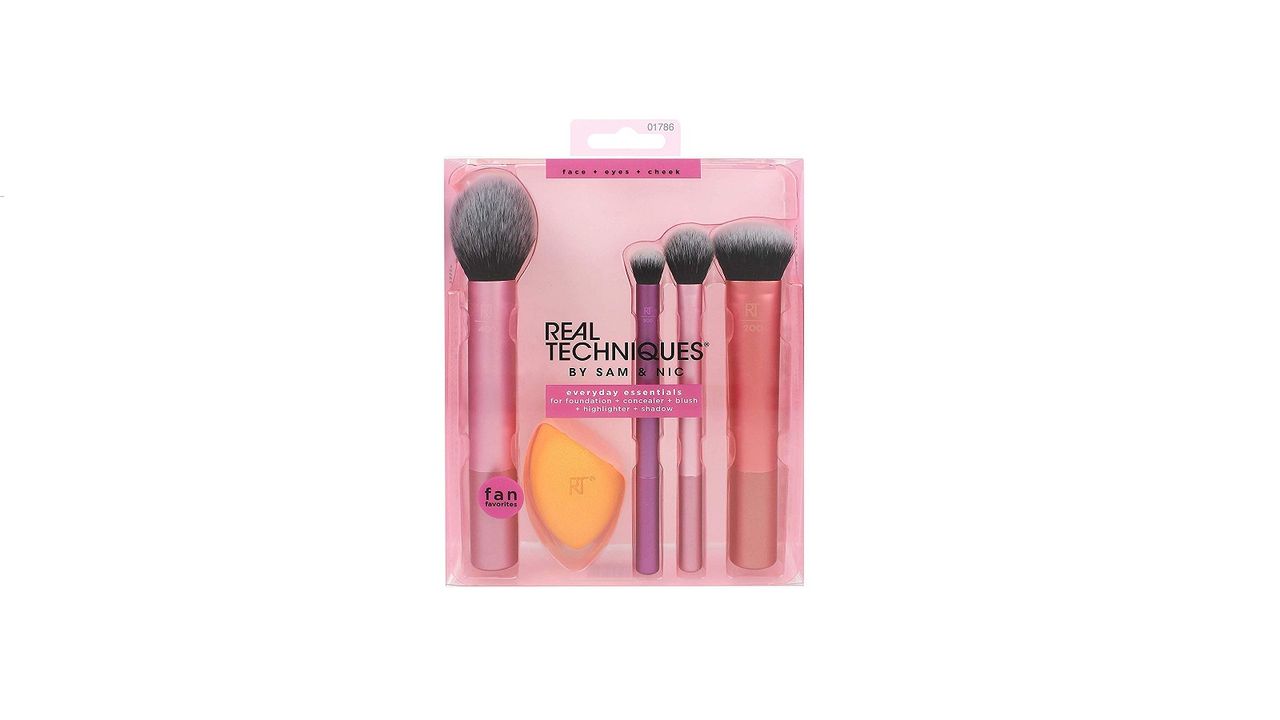 At first impression, the Real Techniques Everyday Essentials looks scarce, with just four brushes and a beauty sponge included. Nevertheless, these tools are multipurpose, working well with sheer skin tints and full coverage foundations, along with concealers, blushes, highlighters, and eyeshadows across textures and formulas. Each brush features custom-cut synthetic bristles, plus extended aluminum ferrules which are lightweight (but durable) and color-coded. They're also numerically labeled as RT 200, RT 300, RT 400, and RT 402. 
RT 200 is the Expert Face Brush, backed by firm bristles for buffing liquid and cream foundations. The dense bristles rub product in, withstand shedding, and grant users the right amount of control over application—seamlessly. Or, use this brush to apply and disperse cream blush across your complexion. This will create a natural glow and long-lasting flush of color.
Tagged as RT 300 is the Deluxe Crease Brush. This tool features short and firm bristles, which layer and blend cream and powder eyeshadows into the eye crease. (The eye crease is the folded area of the skin just above the eyelid, where the crease forms.) Since it's dome-shaped, the brush carves out the perfect cut-crease look, enabling users to apply more concentrated colors directly above and into the eyelid area. If you want greater depth to the crease, opt for medium to dark matte shadows. 
RT 400 is ideal for powdered blush, featuring tapered and fluffy bristles that blend in product for a smooth finish. Though the bristles aren't densely packed, softer, fluffy brushes perform well with bronzer and highlighter. Plus, the brush is a perfect size, not too big and not too small. As a result, it's great for the forehead and the large apples of the cheeks. It's also great for reaching inaccessible spots, like the tops of your cheekbones or under the eyes. 
The RT 402 is a domed-shaped setting brush, with soft, long, and fluffy bristles that precisely dust on powders. It leverages rounded, tapered bristles for precise application and, more importantly, preventing base makeup from rubbing off. Finish your look with the Miracle Complexion Sponge, a flexible tool for blending liquid and cream foundations and concealers. With a quick damping session, it delivers a near poreless finish in a matter of minutes.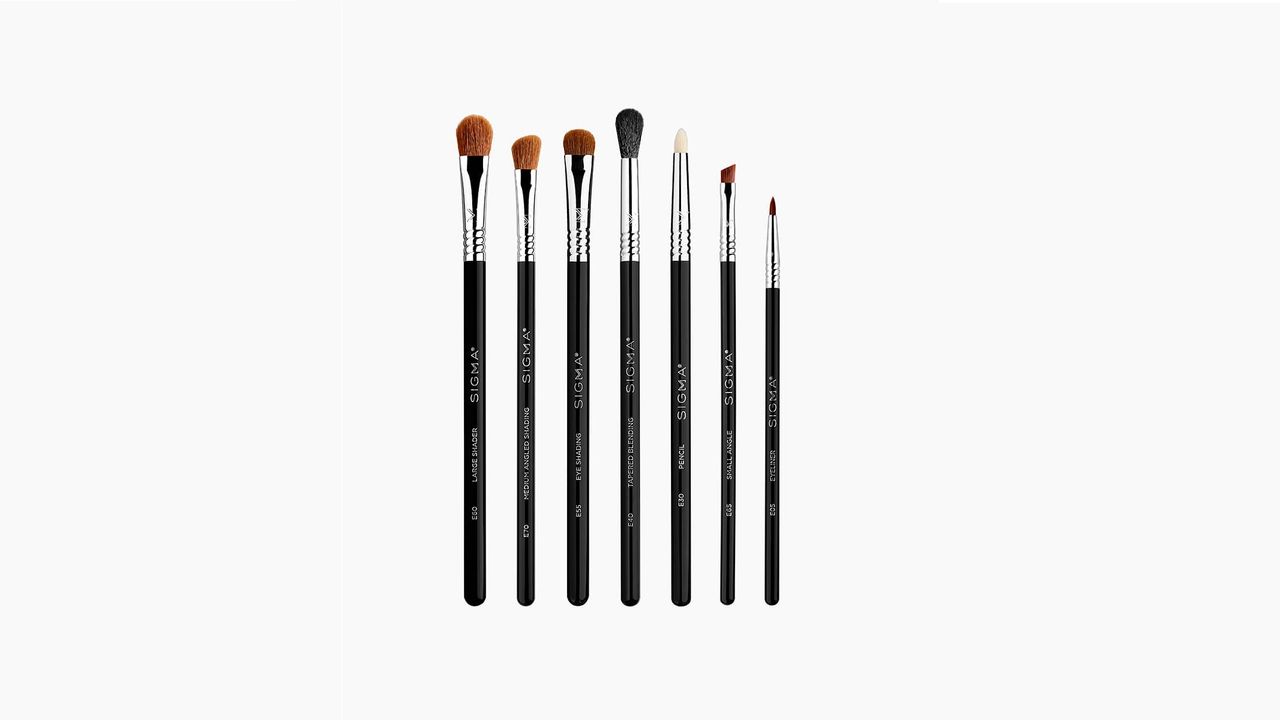 It's easy to go wrong when applying eyeshadow and sadly, many brushes exacerbate the mess. Luckily, the Sigma Basic Eye Brush Set houses the requisites for defining the eyes, adding dimension, and crafting a smooth finish. 
With these brushes, Sigma Beauty integrated thoughtful design elements—and as beauty experts, we certainly appreciate this acute attention to detail. They feature synthetic antimicrobial fibers, which grip and blend powders, creams, and liquids. (Antimicrobial products kill or slow the spread of germs.) Their ferrules incorporate hardwearing and corrosion-resistant SigmaAlloy, exclusively created by the brand. SigmaAlloy is a special metal alloy of copper and zinc that offers protection and a stunning shine. Additionally, the handles are polymer-based and waterproof, meaning they can withstand abuse. Best of all, each brush is numerically labeled.
There are seven brushes included, each with a specific function. The brand's best-selling E40 Tapered Blending brush softens harsh color lines and works in tandem with the E55 Eye Shading brush and E60 Large Shader brush. Simply put, this trio evenly applies, blends, and covers color across the entire lid. For creating precise lines, use the E65 Small Angle Brush, designed to create fine strokes with compact, densely packed bristles. 
Complete your look with E30 Pencil Brush or E05 Eyeliner Brush. First, go in with The Pencil Brush that's firm enough to define your eyes. Then, soften your gel or liquid liner along the lashline with the Eyeliner Brush.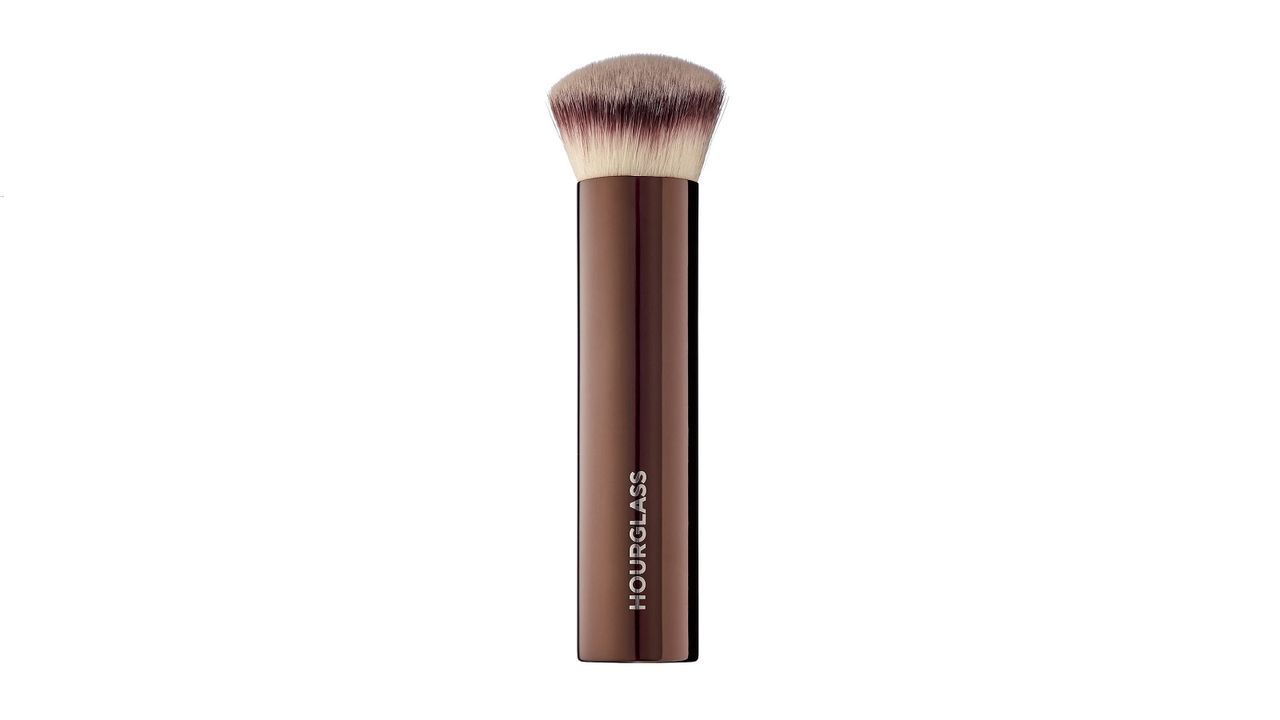 Foundation is notoriously tricky to apply and blend out, and the default application method—adult finger-painting—can get grimy. Thankfully, the best foundation brushes deliver an even, smooth, and natural finish, especially when especially dispersing liquid makeup. But if you don't choose wisely, expect brittle bristles and more replacements than anticipated.
That's why we love the Hourglass Vanish Foundation Brush—the cream of the crop, the belle of the ball, and a handy tool designed to last. Most notably, the brush boasts an ideal shape, density, and texture for applying liquid and cream formulas. And for that, we have to pay homage to its flat-topped shape and dense bristles. The unique shape fits nicely into natural contours, like around the nose, under the eyes, cheekbones, and jawlines; while the soft bristles are crimped and sweep easily across the planes of the face. Together, this pair allows the formula to seep into the skin and guides it along the hairline, with less product used. The brush is also compact, providing users with better control and precision over the best foundation.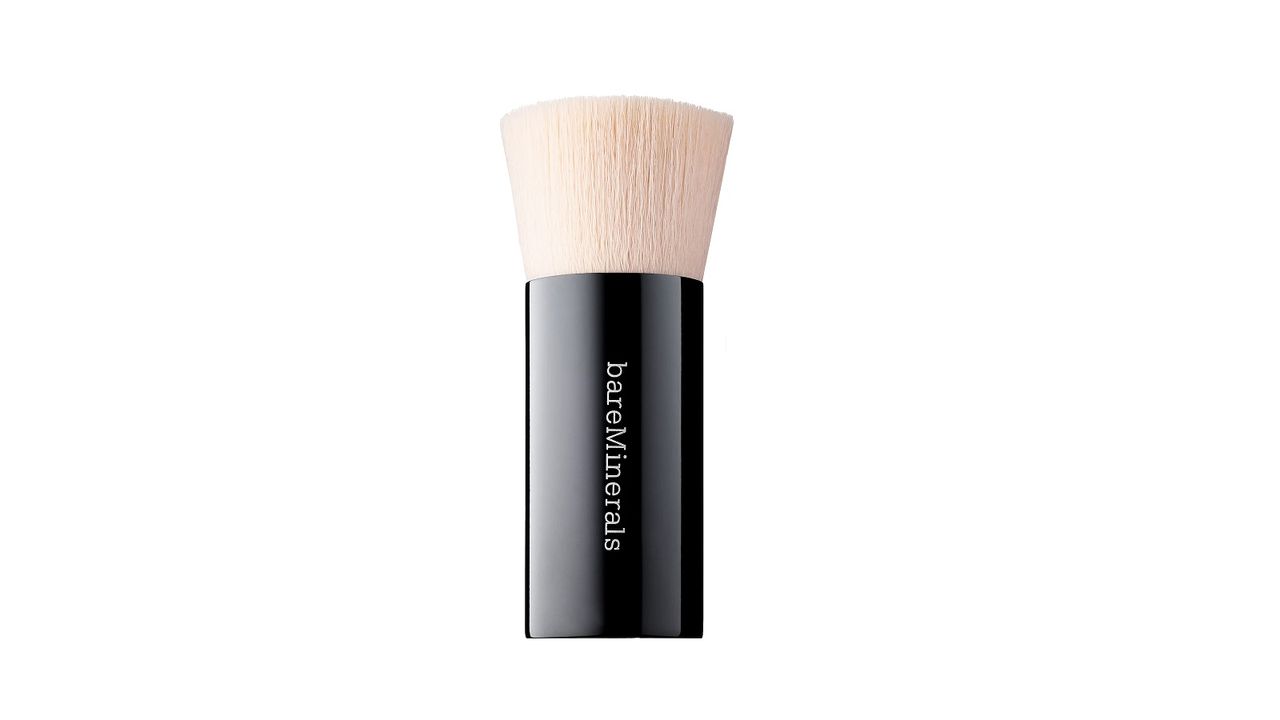 For powder foundation application, you'll need a soft, feathery head that'll dust on and buff out the formula. This design will help you achieve light to medium coverage that won't look cakey, streaky, or flaky on your complexion. 
Cue: the bareMinerals Beautiful Finish Foundation Brush, which holds onto loose particles like water in a sponge. With a stout profile and advantageous round shape, it deposits the right amount of powder and won't leave behind excess to gently tap off. The brush is powered by elongated bristles, a skirted silhouette, and a convex dome center, which evenly disperse powder and capture each area of the face. 
Furthermore, the brush is protected by a clear plastic sleeve, designed to minimize shedding and quality decline. Lo and behold: you'll enjoy even, controlled, and long-lasting coverage, with less product used.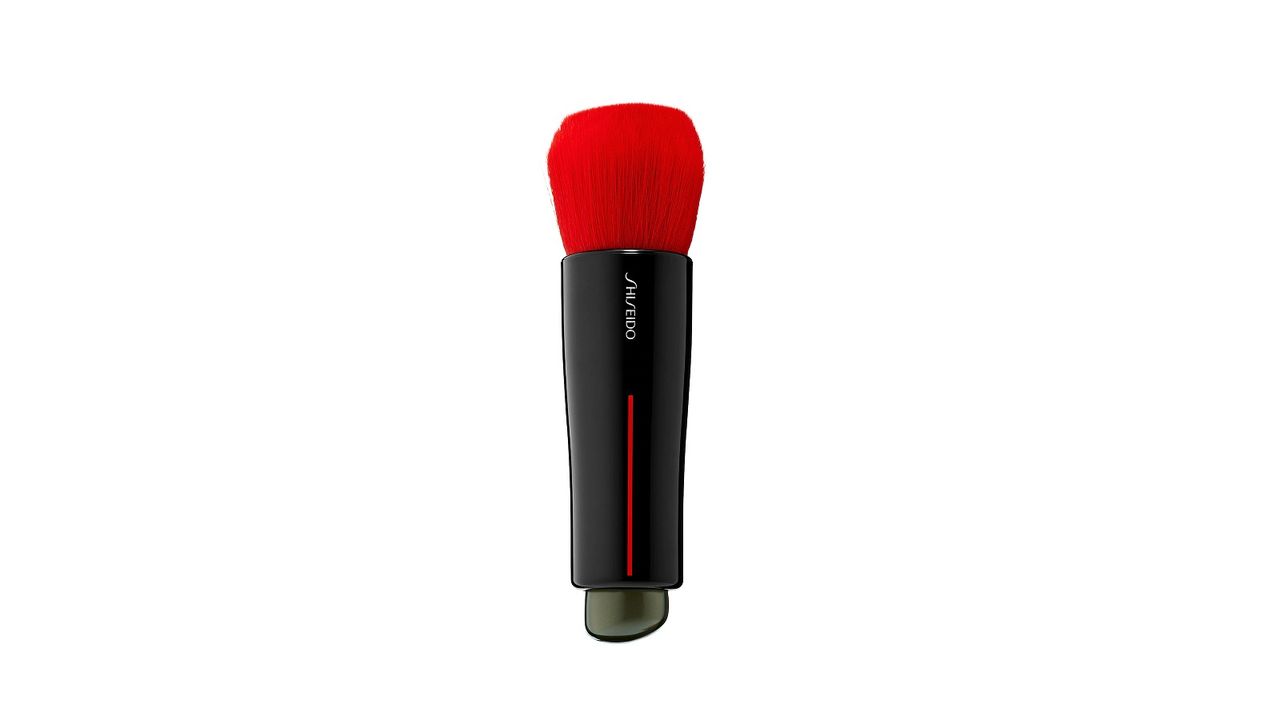 The Shiseido Daiya Fude Face Brush Duo is a double-ended tool that quickly sweeps on and blends formulas, assuming the role of multiple brushes in one. Its diamond shape softens harsh lines from liquid, cream, and powder makeup, like foundation, bronzer, blush, and contour.
Much like the Artis Oval 8, this ergonomic brush imitates the motion of fingertip application, thanks to a cushiony gel at the end. The gel top taps on liquid and cream formulas but doesn't absorb product like a traditional sponge. This, in effect, creates a hands-free, more hygienic routine—with less mess left behind.
By distinctive construction, the Daiya Fude Face Brush balances strength and flexibility. In particular, it includes an inner core entirely composed of dense bristles for achieving an even finish with liquids. What's more, this condensed center helps the brush retain its shape with continued use. Still, it's considerably feathery and as such, excels at distributing powder products.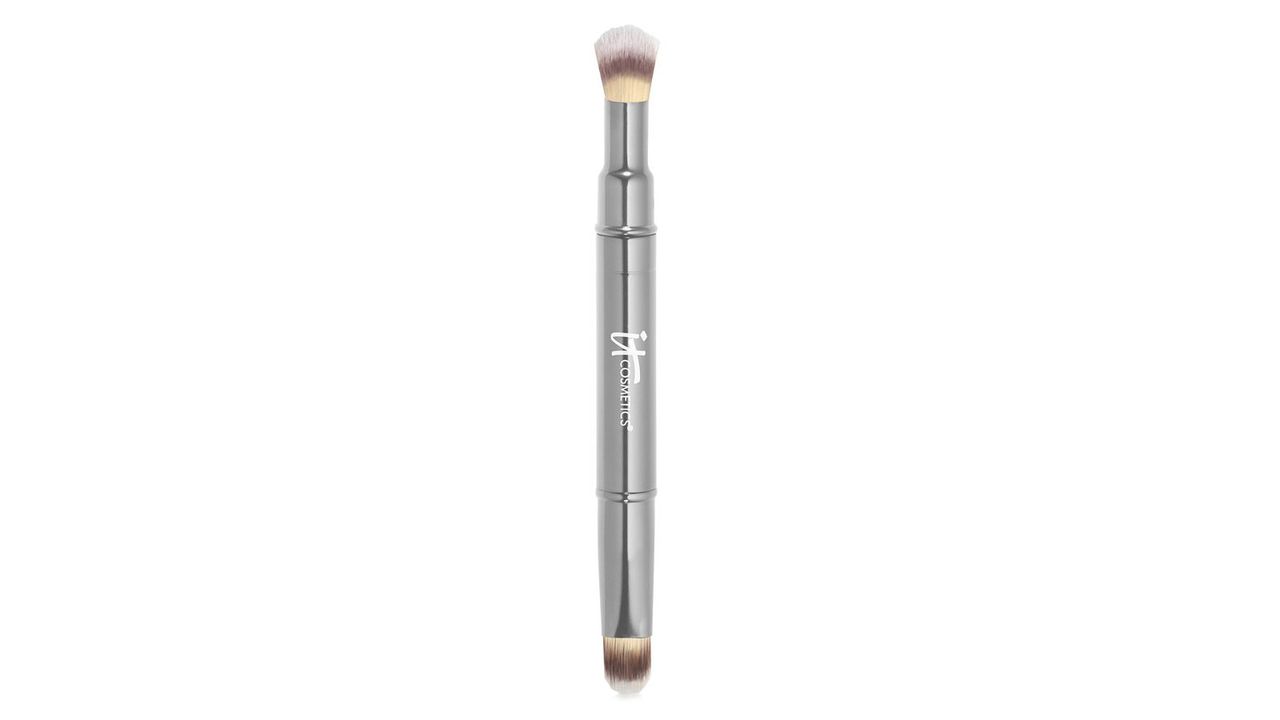 Applying concealer can get fussy. For starters, most concealer brushes only target small spots given their petite shape and size. Then, we tried the top-rated Heavenly Luxe Dual Airbrush Concealer Brush #2 conceived by IT Cosmetics: a tried-and-true brand adorned in industry accolades. Undeniably, this dual-ended brush reaches every corner of the face with precision.
Atop one end are dense, flat, and tapered bristles, which cover both tiny and large spaces—like the under-eye area and around the nose. Best applied in sweeping strokes, the other side includes round and fluffy bristles that pick up and distribute compact and/or loose powders. Whichever you choose, both maintain a symbiotic relationship from start to finish. More importantly, they revive dull eyes that have seen far too many episodes of Bridgerton. 
With this brush, the only potential drawback is its telescoping shield. Sure, it's designed with sound intentions as a protective cap but if you're not careful, it may jam in bristles and lead to shedding. Fortunately, it's easy to forgo the cap as it doesn't determine the brush's ability to function.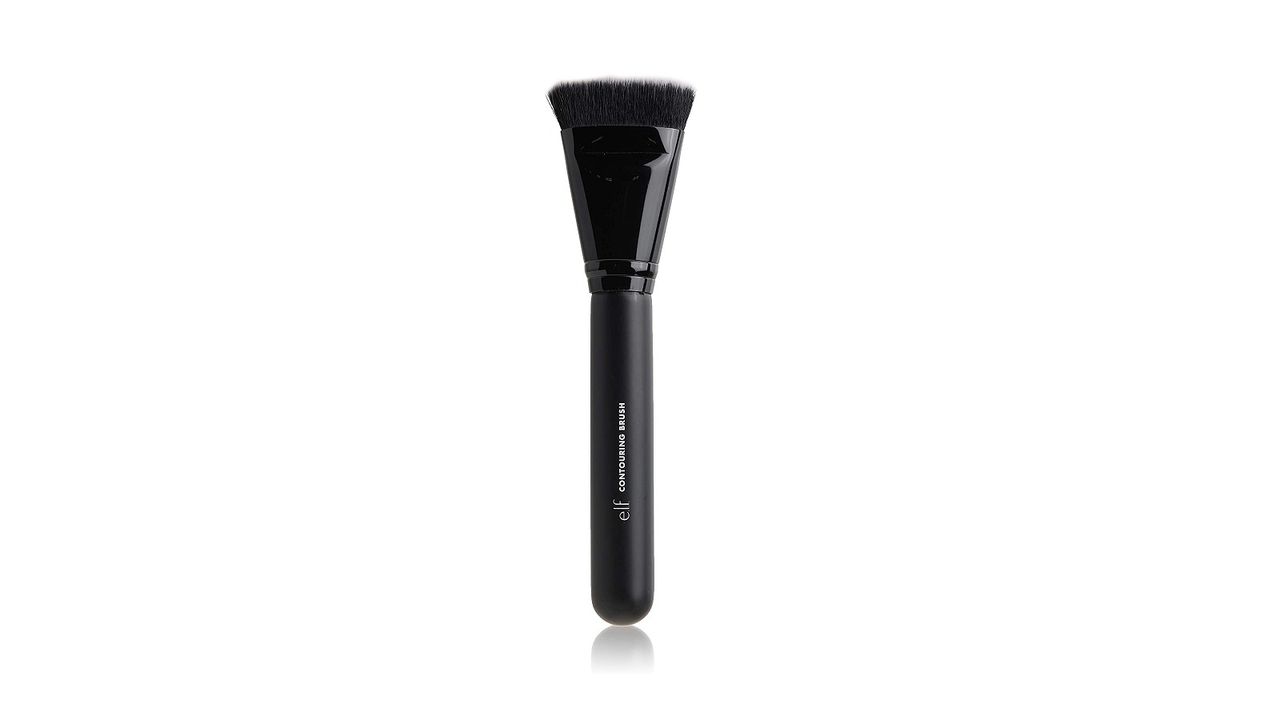 It's challenging to master the fine art of contouring despite your skillset and expertise. If you want flawless results, you must nail down your technique, shade, and formula. And to perfect your technique, you must invest in the right contouring brush, considering its size, shape, and type of bristles. Should you choose not to heed our advice, your contour will either look barely there or muddy from being overworked without enough impact. 
Among the masses lining the shelves, e.l.f. Contouring Brush's is a resounding favorite as it offers pinpointed application. No one has ever complained over a $5/£6 price tag, either. Cost aside, the brush incorporates a combination of soft and dense bristles, ideal for softening and diffusing harsh edges along the cheekbones, forehead, and jawline. Its structured angled shape hugs the hollows of cheeks to create a gradient (aka the coveted chiseled effect). Its slanted tip grants greater control over defining, shaping, and sculpting the face.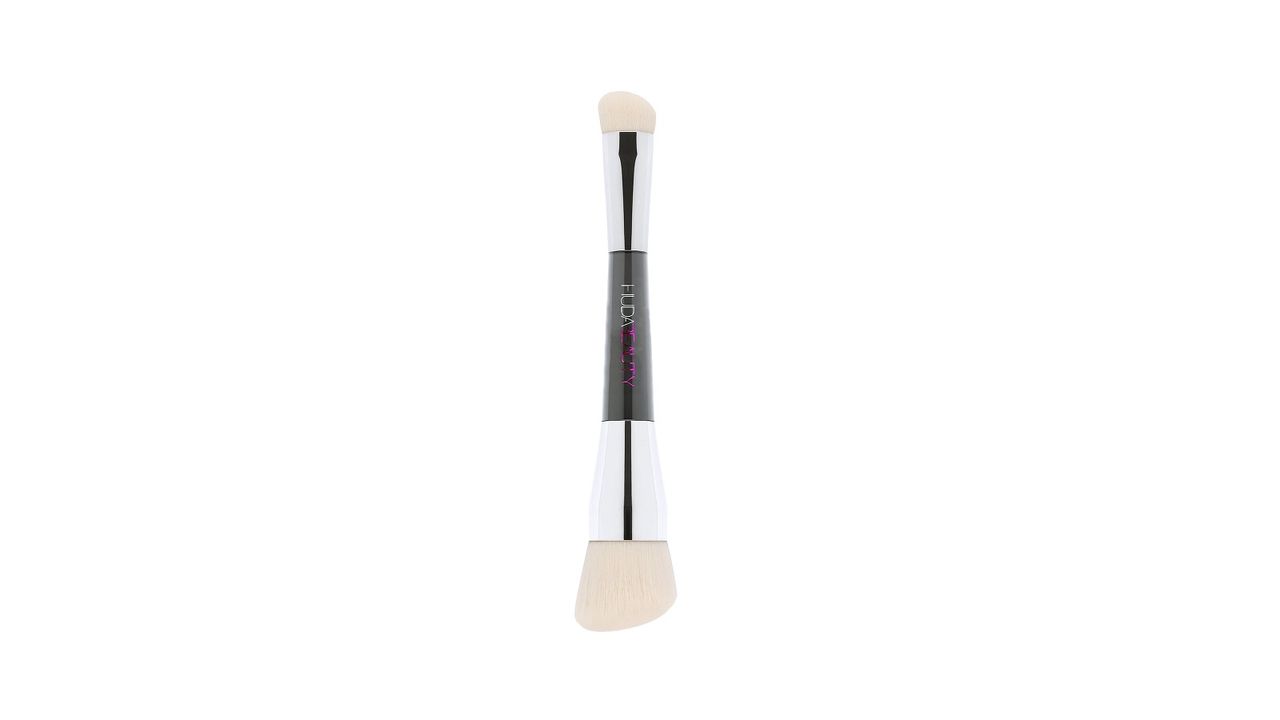 Compared to their powdered siblings, cream and liquid bronzers are best paired with densely packed, synthetic bristles, which won't soak up product like natural hairs. Here, rigid brushes yield better results: they fill in specific areas, deliver long-lasting coverage, and make it easier to contour. Accordingly, it's important to veer away from plush tops without structure. 
As one would expect, we're drawn to the Tantour Face Contouring Sculpt & Shade Brush crafted by Huda Beauty, a household name with a strong command over the beauty industry. As a dual-ended tool, this brush contains bristles that pick up and evenly spread these bronzer formulas. 
Whereas the compact, angled head is suitable for contouring the hollows of cheeks, inner eyebrows, and edges of the nose, the fluffier end buffs and blends out harsh lines. In short, the smaller end delivers precise and concentrated application, while the larger end offers greater coverage with circular strokes.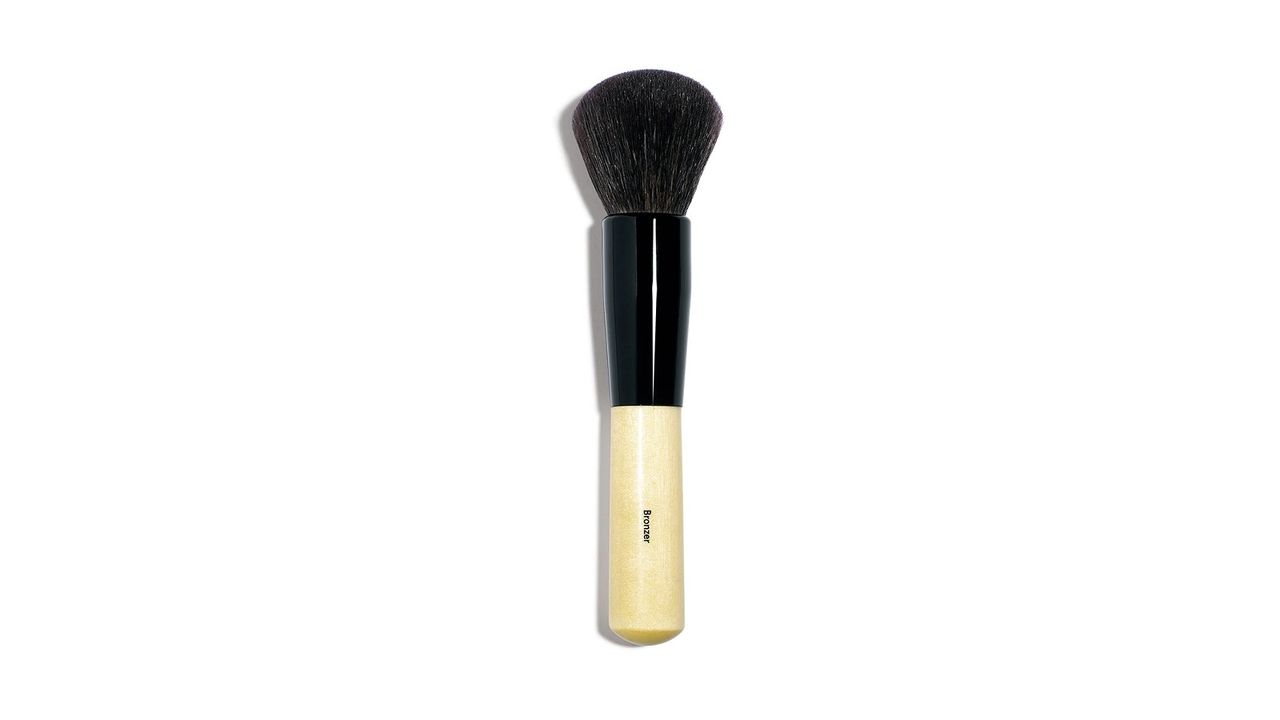 Unlike cream and liquid products, powdered bronzers pair well with a plump bristle head and density. (In other words, bristles that aren't densely packed into the ferrule.) This design will lift, set down, and blend out the formula, sans streaks and excess. It's not the most effective for contouring, but as a quick solution, you can pinch bristles together to form a line.
And so, we have to praise the Bobbi Brown Bronzer Brush, the master at applying bronzer for a natural glow, this tool delivers a smooth, even finish with a round head. This, in turn, enables users to easily dust over and highlight areas of the complexion: the cheeks, nose, chin, and forehead.
Moreover, it integrates luxuriously soft goat hairs, which conceal blemishes and even out texture when applied in big, circular strokes. The brush also leverages a sturdy handle that provides a firm grip over each step of the makeup process.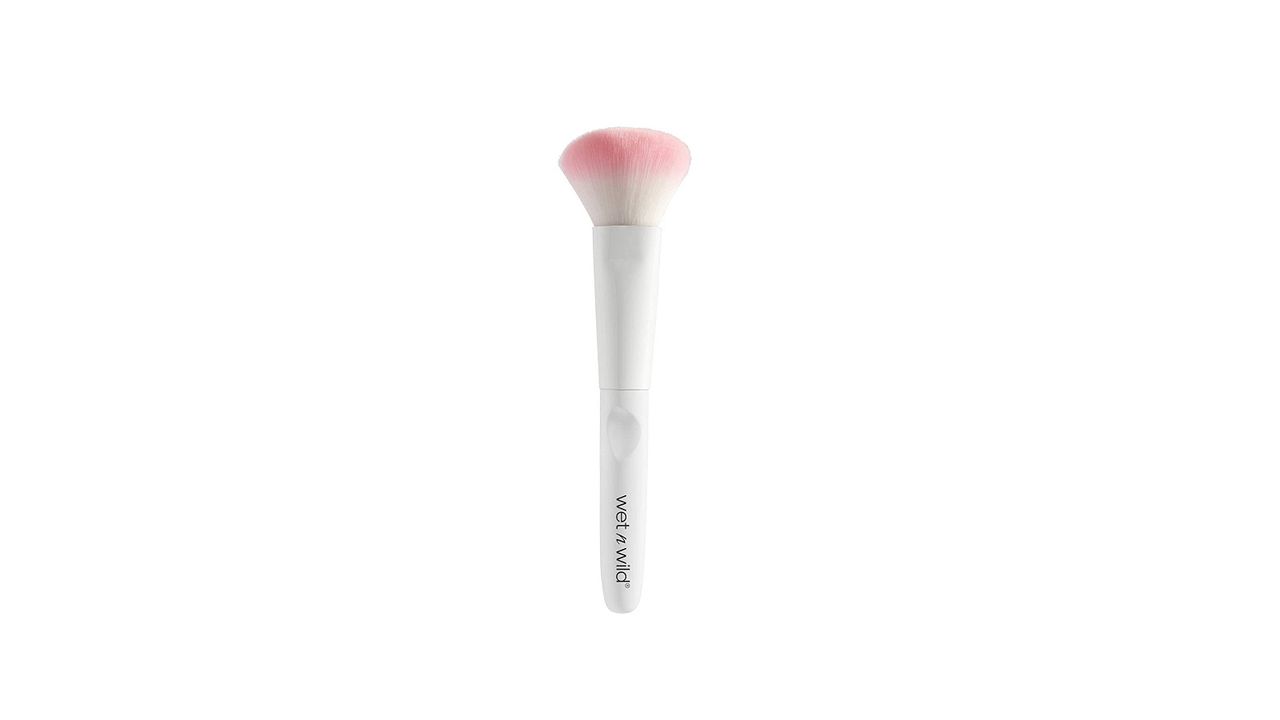 The perfect blush brush boils down to size, bristle type, and shape: a hardworking trio that'll help you apply blush with ease and achieve a glow-from-within look. And as much as we love shades of light coral and deep red, you never want to see where color begins and ends.
A brush that's too large won't offer concentrated application, while a brush that's too small won't cover enough area of the face. Either way, the outcome is less than ideal: the former painting on color where you don't want it, and the latter leading to product waste and not enough blending. 
This brings us to Wet n Wild's Blush Brush. Ideal for blending in soft, circular motions, this tool defines cheekbones in a rich flush of color, regardless of your head shape. Evidently, the Blush Brush boasts an ideal construction for powder application: a plush head, an ergonomic handle, and two-toned synthetic Polymax fibers, which mimic the consistency of natural hairs. Jargon aside, this bad boy will pick up formula without leaving behind a trail of excess.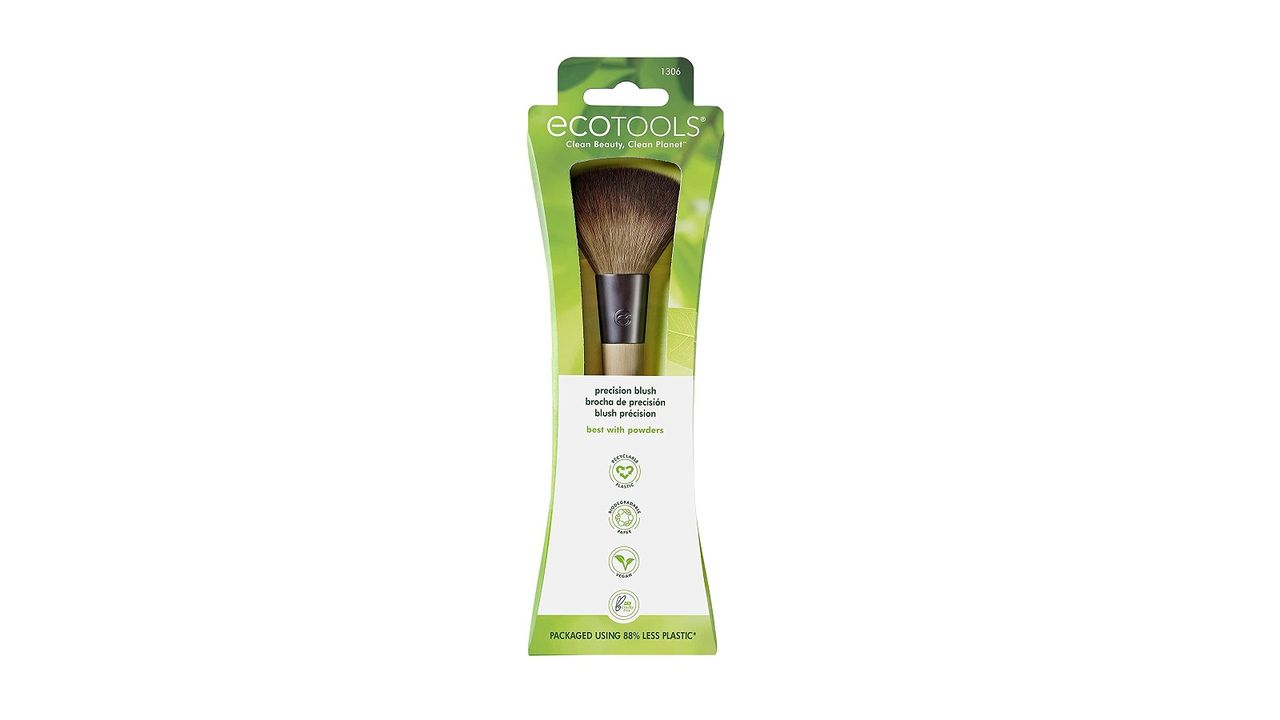 Blush contouring, also known as blush draping, is an emerging trend, popularized by online beauty influencers and experts. As well as your best cream blush, invest in a timeless tool for application—it'll impart the ultimate chiseled look with ease. 
Meet the EcoTools Precision Blush Brush, featuring a dense, flat tip and square-cut for sculpting and defining the bridge of the nose, cheeks, and up towards the brow bone. Essentially, this construction allows users to "lift" cheekbones and make them more pronounced. From there, you can build up and buff out the formula to your liking.
The Precision Blush Brush also features a durable bamboo handle, constructed from recyclable materials. All EcoTools products are PETA-certified and cruelty-free.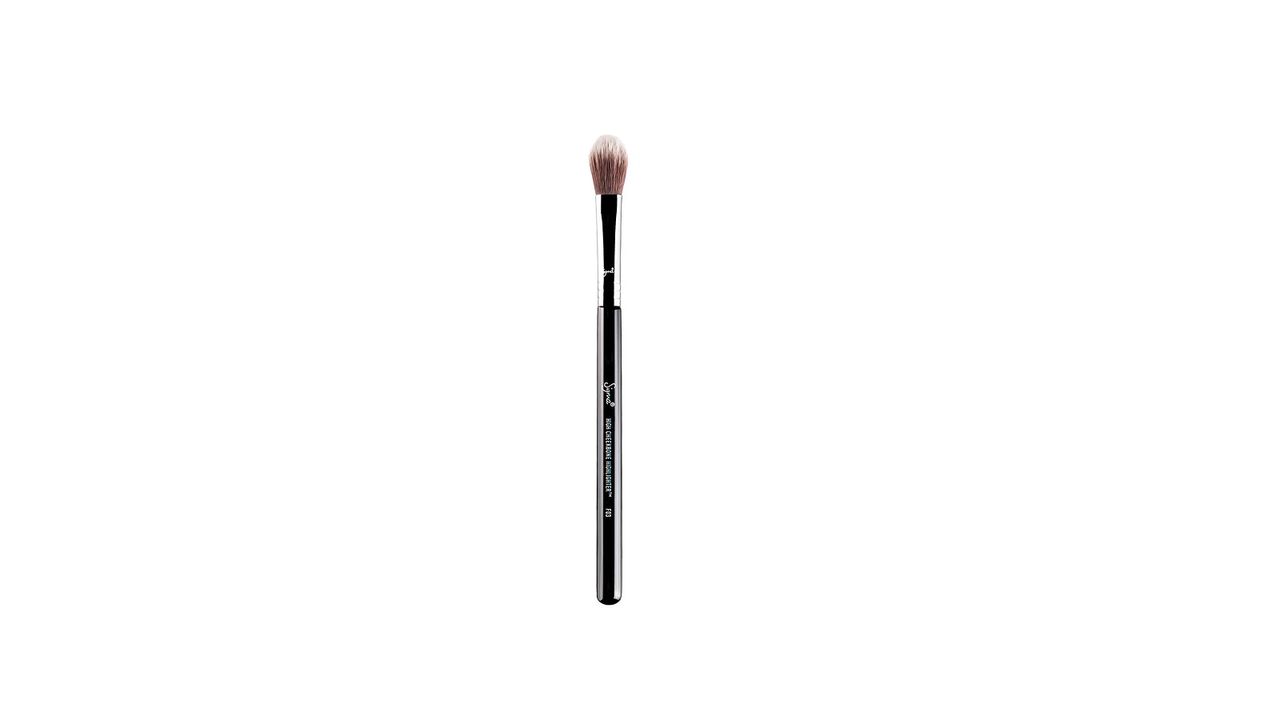 Backed by fluffy, but firm bristles, Sigma Beauty's High Cheekbone Highlighter deposits liquid and powder shimmers across high points: cheekbones, cupid's bow, above the brows, corner of the eyes, and down the nose. This brush features an ideal long-tapered, dome-shaped head for detailed application—be it sheer or dense formula. The fibers are antimicrobial, while the ferrules are backed by durable and corrosion-resistant SigmaAlloy. For quality assurance, this brush is enclosed in metal plating—a sleek and resilient detail you'll come to appreciate.
That being said, if you'd rather not err on the side of subtlety, you may want to go back in with a large, angled tool, like the Sigma Beauty F24 Strobing Fan Brush.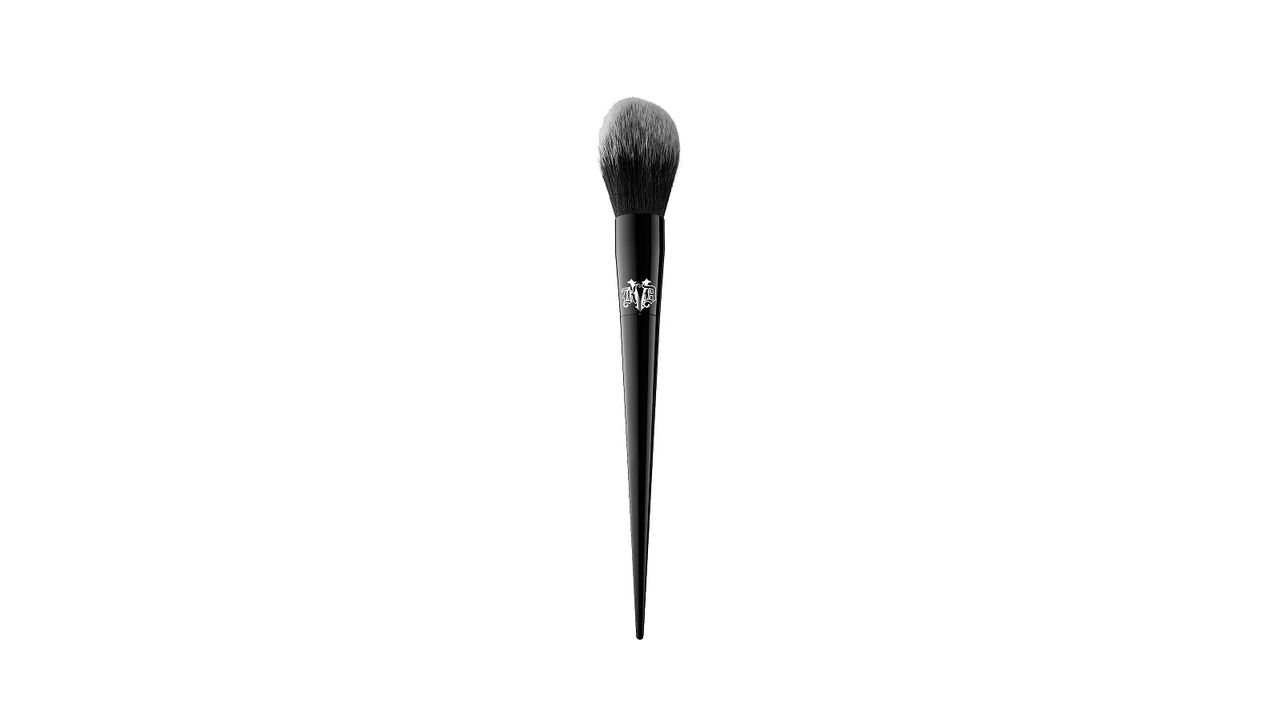 Compact, yet long and slender in stature, the KVD Lock-It Setting Powder Brush certainly covers enough surface area. With tapered bristles, this fluffy, rounded tool sweeps translucent powders and finely milled particles across the entire face, sans cakey residue, or a layer of white cast. 
Most setting powder brushes are too wide for the delicate under-eye area; however, its strategic arched shape fits nicely in this tight space. In that way, it assumes the role of a contouring brush, but softer. You can create precise angles and edges, and place product exactly where you want it. And since you can target hard-to-reach areas, you'll enjoy an enviable soft-matte finish that blurs imperfections—from zits to dark spots.
How do you clean makeup brushes—and how often should you clean them?
Cleaning makeup brushes involves six steps. The process is simple, though you must follow each one to a T. But first, be sure to have some anti-bacterial dishwashing soap and paper towels. 
Soak the bristles with lukewarm water: This will help the brushes absorb your anti-bacterial soap.
Apply the soap into the palm of your hand: Gently swirl the bristle tips into your palm to get rid of any dirt.
Rinse the bristles: Use lukewarm water to cleanse and cut through the grime. Point the brush downwards with the bristles at the bottom, not the other way around—this will erode the glue that keeps the bristles intact.
Squeeze out excess moisture with a clean towel: This will make drying easier and faster. Plus, it'll allow you to reconfigure the brush head back to its original form.
Allow the brushes to air-dry: Don't place your brushes on a towel if you don't want mildew. Instead, let them hang on a drying rack or use a hairdryer.
To make the process of cleaning your makeup brushes more effective, you'll want to invest in a solid brush cleaner, brush cleansing palette, and/or cleaning spray. We particularly love:
It's recommended to deep clean makeup tools once a week, according to makeup artists and dermatologists. This is especially imperative for concealer and foundation brushes, as they're frequently used on the face. You can adopt a more liberal cleaning approach with eyeshadow, bronzer, blush, and liner brushes. Experts say these tools should be cleaned twice a month.
If you believe there's room to procrastinate, think again, especially if you have sensitive skin. Synthetic and natural brush hairs, plus sponges, are Petri dishes. They're absorbent and cling onto debris, grime, and oils. Dirty makeup brushes will also complicate blending and application, and you'll end up with muddy spots and blotches.
Ultimately, thorough lathering will eliminate bacteria buildup and prevent related breakouts, skin irritation, and clogged pores. It'll also extend the lifespan of your trusted tools.
Where should you store your makeup brushes?
The best places to store your makeup brushes are:
A brush roll: This storage solution keeps brushes separate from one another to ensure easy access. Since brushes can't get buried, it's particularly great for travel.
A makeup pouch: A space-saving storage solution that nicely into purses, luggage, etc.
Stackable drawers: They prop up brushes, and keep them organized and well within your reach. Place yours on your vanity, bathroom counter, or bedroom side table.
Whichever you choose, Dominique says the key is to keep your brushes at dry, clean room temperature—this will help preserve their lifespan with continued use.
woman&home thanks Christen Dominique of Dominique Cosmetics for her time and expertise.