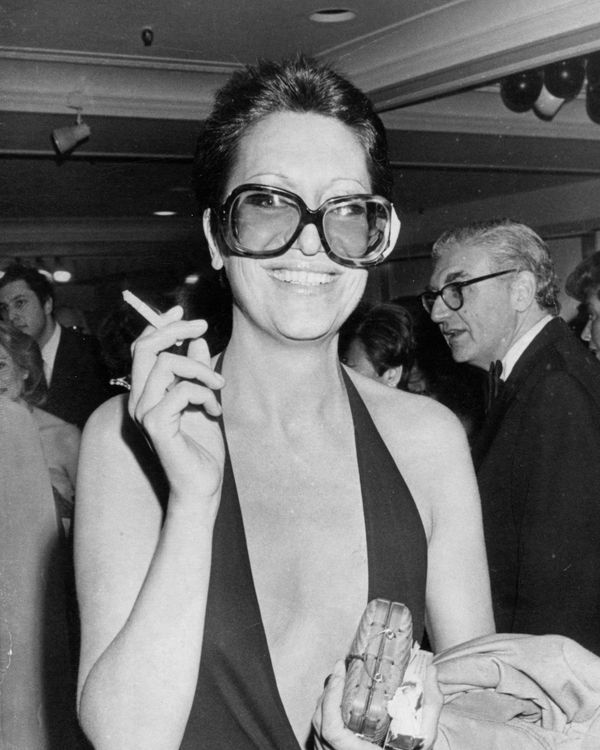 Photo: Vernon Shibla/New York Post Archives /(c) NYP Holdings, Inc. via Getty Images
When you look at Elsa Peretti's work over the span of her career — the sensual perfume bottles and necklaces, the lighters, the Champagne cups — you can tell she was a woman who really knew how to live.
Born in Florence, Italy, the model turned jewelry designer left home at the age of 21 and moved to New York in 1968. There, she quickly became a fixture of the art and fashion scene, posing for now-iconic Helmut Newton photographs and working with Halston as both a model and a collaborator.
She was also a regular at spots like Studio 54, whose patrons, including Grace Jones and Liza Minnelli, often wore her designs.
By 1974, Peretti had signed an exclusive contract with Tiffany & Co., where she went on to design some of its most recognizable pieces, including the Bone Cuff bracelet, which recently celebrated 50 years of success. She is known for elevating the status of sterling silver during her time at the brand and for introducing diamonds to fashion as a part of everyday wear.
Last week, Tiffany & Co. shared the sad news confirming Peretti's death at the age of 80. According to a statement from her family, she passed away in a village near Barcelona of natural causes.
"Elsa's poetic designs and legacy will remain a constant inspiration for generations to come," Tiffany & Co. wrote in a statement on Friday. Her organic shapes were drawn from nature and her own travels and experiences. With a scratchy smoker's voice and confident personal style, she seemed like the life of the party, and her designs had a life of their own, too. "I did something for fun, and it became a success," she once said.
Below, a brief list of some of Peretti's greatest hits, from jewelry to accessories to home goods.
Photo: Ron Galella, Ltd./Ron Galella Collection via Getty Images
Shortly after moving to New York in 1968 to further her modeling career, Peretti met Halston, the American fashion designer, and became his muse and collaborator. In the early '70s, she designed his now-famous teardrop-shaped perfume bottle. He wanted the shape to be so iconic that you wouldn't need a logo to recognize it, and Peretti's voluptuous silhouette stood out from everything else on the shelves. At one time, it was reportedly the second-biggest-selling perfume behind Chanel No. 5. Later, Peretti would go on to design her own perfume bottle, which was in the shape of an apple.
As the story goes, Peretti used to visit the the cemetery of a 17th-century Capuchin church with her nanny as a child. The rooms there were decorated with human bones, which she would steal for herself as souvenirs. "My mother had to send me back, time and again, with a stolen bone in my little purse," she said. "Things that are forbidden remain with you forever."
The Bone Cuff became a favorite accessory of everyone from Grace Jones to Liza Minnelli, who was photographed wearing it on the cover of New York Magazine in 1997.
Modeled after a vase Peretti found at a junk shop, the Bottle Pendant is actually hollow, allowing for a small flower to hang around your neck.
Peretti was way ahead of the bean craze. For her, the humble legume was a symbol of life's beginnings. She turned it into something like a precious stone, with necklaces, suit cuffs, and, yes, even lighters (above). The bean's shape, which gives the impression of a gentle thumb print, allows it to fit naturally in your hand.
Inspired by horse-riding equipment Peretti saw on a trip to Mexico, this belt buckle was styled with a number of Halston designs. Minnelli wore it on the cover of Vogue in 1989, contributing to its popularity.
Watching Peretti herself drink from this goblet in this video is enough to make you want one for yourself. On her table also sits a small fishbowl, which she designed in addition to a number of other sleek home goods.